The below-mentioned DIY projects are ideal for any party decor and can be used for celebrating the special occasions of your loved ones.
There are numerous reasons to throw a party, but nothing beats the fun of organizing a birthday party for a loved one. The actual fun lies in the decoration for the same, and the chore turns into happy memories. Even if you are not crafty, choosing the right DIY solutions can help you create a festive appeal and ensure the success of the event that you are planning for.
The below-mentioned DIY projects are ideal for any party decor and can be used for celebrating the special occasions of your loved ones. These elements will enhance the ambiance of the area without burning a hole in your pocket. You can also repurpose old stuff to create exciting party decorations.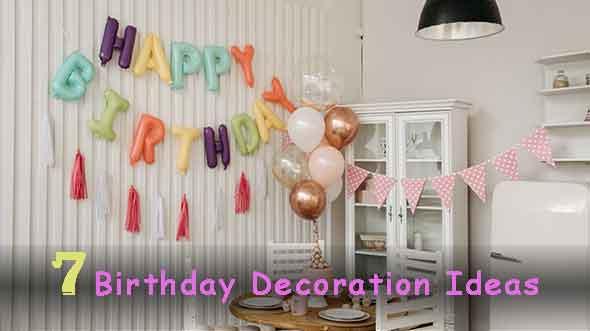 1. Special birthday decor ideas
Birthday straws
If you are celebrating your kid's first birthday, then you can use these DIY straw decorative elements to attain the best results. Using an oval cutout design, place an image of your child. Then thread a large straw to place as a cake topper or use as a decor item.
Funky drink umbrellas
Design these amazing drink umbrellas at home. You can craft these to match the theme of your party. Trace a small circle on scrap paper or old gift wrapping paper. Cut in the center and then fold the edges around the same. Once you have a conical shape, use hot glue to hold onto the straw.
DIY lantern
DIY lantern decor is an easy and affordable way to decorate for a birthday. You need to have tissue paper, glue, and empty mason jars. Brush a thin layer of glue on the mason jars and then place bits and pieces of tissues on the glue. Once done, let it dry completely, and then use a tealight to brighten up the area.
Chinese fan decor
You can opt for using Chinese fans or paper blooms to decorate your party. These offer a magnificent decorative element to your special day. Alternatively, you can buy wall paintings to amp up the home decor.
You can buy these fans and blooms online or create the same using DIY solutions. The ideal materials for the purpose are glaze paper, tissue paper, etc. You can also create peonies, roses, lilies, etc.
Easy peasy tassels
This easy to craft project helps you create tassels from old newspaper, craft paper, and wrapping paper. You can place these below your wall paintings to create a special appeal. Similarly, you can use it to dress up a dessert or snack table or doorways. The idea is extremely cheap and cheerful. It can be the perfect craft to enjoy with your kids as you plan a surprise for your spouse.
2. Quirky ideas that rock
Midas touch
Here is an excellent way to make your party memorable. Haphazardly cut gold coverings and place these onto your drinking glass or decorate the cake table. The idea is to craft a variable pattern to achieve a stunning look.
Photo wall
Repurpose the frames of old wall paintings to create a photo booth. The idea is always a big hit. Use decor ideas to amp up your wall or use crepe paper or Chinese fans to create a perfect photo-op.
Princess treat
The party treat works well as a gift as well as a decorative item. To make this, you need to have a watermelon cut into 1 inch thick flat. Then using a cookie-cutter, you can create the stars. Also, put small berries, the star, etc., on a barbecue along with the wands to get the perfect treat.
Birthday posters
Forget wall paintings for birthday decor and instead use this amazing photo poster idea to impress the birthday guy. Use a dozen photos in black and white. Then use a large foam board, place these in a collage or as the age. Once the party is over, the board can be kept as a keepsake. Similarly, you can cut a poster board into the shape of a popsicle. Place lots of images or scrapbook paper (if you wish to create a party prop).
You can read also:
- Top 15 Birthday Decoration Ideas At Home With Balloons | Balloons Decoration Ideas
- Birthday Decoration Ideas: 12 Wonderful Wall Decoration Ideas For Birthday
3. Stunning balloons decoration
Dino balloons
It is one of the easiest ways to have the right balloons decoration, albeit with a twist. Simply use a cutout of a dino and place it on a blown balloon. If you wish, you can use your creativity to craft the dinosaurs on the balloon itself.
Superheroes in the house
Another twist to the above-mentioned balloon decoration idea is to use superhero mask patterns and then use a scrapbook to cut the shape. Once done, use a double-edged tape to stick the masks on the balloon. You can also attach these to plastic straws or sticks so that you can impress little ones.
A bit of sea
Use this amazing balloon decor idea to amp up your birthday decor. Use a long banner that states a Happy Birthday message. Use multicoloured balloons and place these in a transparent mesh to hold these up. You can get creative and use sea animals or glitter to complete the look. This decor idea works well for both kids and adult birthday parties.
4. Urli decoration ideas
Floral urli
Handicrafts like an urli make any party worthwhile. This simple urli decoration to the party can give it a royal appeal, especially when the same is adorned with flowers or petals. Alternatively, you can fill an urli with water and place jasmine and rose to enhance the appeal of your home.
Floating diyas
You can place diyas into water-filled urli to create an elegant and soothing appeal. The floating diyas create the perfect ambiance and enhance the beauty and richness of your surroundings. You can also buy a peacock urli that helps to enhance the beauty of the home even more. Peacock is also associated with Goddess Saraswati, and this helps to promote patience, kindness, and compassion.
Bright buntings and rangoli
Making DIY birthday decorations to match the theme of the party is not an easy task. Find a thick ribbon or bunting in the desired theme and then twirl these to create a stunning effect. Use rangoli colours to decorate the area around the urli for that perfect party decor. Check out these interesting ideas and get your home ready for stunning birthday celebrations.