10 Best Wall Decoration Ideas | Wall Decoration ideas Online
Wall plays an essential role in creating a beautiful ambience of your home. Bare walls of the room offer a dull look to every person. Wall decoration of only living room is not essential; instead, it is must to decorate the wall of the entire home accordingly.
All the rooms of your home must offer a stunning look. Bare wall of the rooms provides a deadly look. Wall decorations contribute a lot to your home and give a pretty look to every room of your home.
There are numbers of wall decoration ideas which enhance the beauty of your home to an extreme level. You can decorate your wall by wall hangers like hanging wall plants, beautiful wall hooks, decorative mirrors, decorative wall clocks, shelves with unique trinkets, different shapes baskets, high style sconces, multidimensional wall sculptures, illuminated wall signs and many others.
It is challenging to find the right wall decoration ideas for your bare wall within your budget. Plain walls offer a deadly look, and it is the enemy to creative, cosy and lived-in-home.
Most of the people are fond of collecting particular photograph and original art so that they have cherished artwork gallery. There are numbers of ways to comfortably dress up your walls which are innovative, affordable and intriguing.
If you are bored with the typical artwork and framed photos and are struggling continuously by bare wall syndrome, then there are numbers of excellent suggestion for decorating the different walls of your home. Some of the wall decoration ideas apart from Photographs and Paintings:
Hanging Plants as Wall Hangers

:
Beautifully dressing up your wall by beautiful hanging plants offer an excellent look to your room. Especially the places which are rich in natural lights provides a splendid look with sweet and sexy hanging plants.
For the colourless environment, you can take the idea of vertical gardens to offer a fantastic look to your bare white wall. Apart from beauty, it will provide a green and fresh look to your toxic and colourless environment. For this decoration, you don't require the help of anyone.
You can easily do it yourself with the help of old photo frames, vintage containers, reclaimed wood and many other things lying in your house or something from the flea market. You can easily create a beautiful decoration for your wall.
High Style Sconces

:
Top lighting designers offer different beautiful latest wall lights which are sufficient to capture an attractive look to your bare wall. You have to choose exceptional wall lights which offer intriguing and pretty artwork as well as lighten your room nicely and beautifully.
You can make use of wall lights in different ways. Choose the wall lights which are decorative, unique and most suitable to your room. Some high styles scones offer the super luxurious feeling. You must add it to the first wall of your room to enhance the beauty and the atmosphere.
Beautiful and Interesting Wall Clocks

:
Similar to lights, wall clocks also offer an elegant look to your home. You can quickly get wall clocks in different looks like some of them provides intrigue of some old school on your walls.
They are functional, fashionable and adds beauty to the walls of your home. Antique or vintage wall clock selections are perfect for enhancing some interest in the farmhouse, traditional, restoration and country design styles.
You can style the wall clocks anywhere, solo in the home office or kitchen or it can also be used to create a cluster motif which attracts the entire beauty of the living room.
Multidimensional Sculptures on Wall:
Multidimensional sculptures is a traditional artwork, and it attracts the entire beauty of your wall as well as your home. Similar to paintings and photos, sculptures can bring high art and abstract feel to your wall.
They add some extra excitement to your wall as well as to your home. You must select the right multidimensional sculptures for your right wall. Then only it will offer an extraordinary look to your bare wall and changes the look and the standard of your home.
Beautiful and Decorative Mirrors:
You can decorate your bare and deadly wall with beautiful and decorative mirrors. It will offer a lively look to your home. Attractive and Decorative mirrors are the most beautiful and underrated pieces of wall decoration.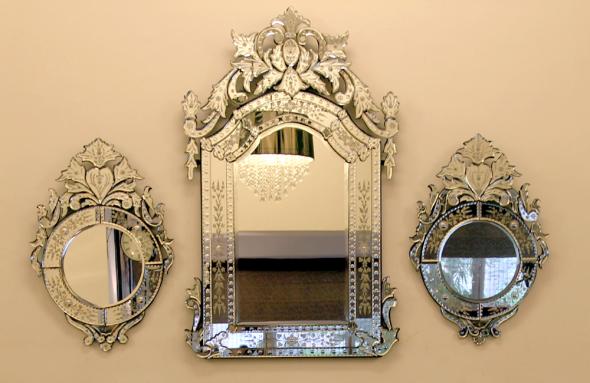 They can be beautifully placed above the fireplace, foyer or above a credenza to offer some stylish and dimensional look to your blank walls. They are available in the market in a wide range and are of different variety and different shapes.
You can say that these decorative wall mirrors are the best-fitted solutions for your stubborn walls where nothing is suitable. But you have to choose accordingly so that it suits best to your wall and the home.
Illuminated Signs on Wall:
If you want to give a retro touch to your wall then you have to create a whimsical gallery wall. You can easily craft your signs, or you have to search and shop for some old-fashioned ascents which offer you a vintage feeling.
You can beautifully use the reproduction signage or your original one to decorate your wall. You have to add some beautiful texture and colour to your wall before placing these illuminated signs.
It is advisable to search for some pieces which reflect and tell some unusual story so if you want to decorate your wall with an illuminated sign than it will be better to select some authentic things to get a unique feeling.
Wall Decoration with Different Shapes and Colorful Baskets:
You can decorate your empty wall by colourful different types and styles of baskets. Especially if you love earthy, natural handwoven decorative baskets, than you can uniquely paint them on your wall, and you can easily create a basket gallery on your wall.
Initially, you will get the feeling of an old school by hanging these rustic containers on your empty wall, but as soon as you cluster them together in a beautiful way, they will offer you a royal look. Different colourful baskets placed carefully in a sequence in actual offer an eclectic feel.
You can read also:
Decorate your Empty Wall by Old and Reclaimed Windows:
Whenever you find a stack of abandoned, old windows in any of the antique store, immediately plan to styled on your bare wall. It will add some intrigue to your bare looking wall.
They are especially ideal for farmhouse, restoration and vintage styles of decoration. Decoration of wall by antique windows and different kinds of shutters offer a rustic feel to your space.
But always try to place these windows after a fresh coat of suitable colour paint and a good wipe down. It will offer an exciting and a new feeling to your room.
Decorate your Wall by Tapestries:
Whenever we talk about tapestries, automatically our mind imagines about the fabric stapled beautifully on the wall. There are plenty of things made of cloth by which we can decorate our wall beautifully.
They are handmade macrame beautifully crafted, elaborately woven beautiful rugs, beautifully crafted quilt and many other things. Wall textiles décor offer a unique texture and warmth in the living room or bedroom.
Wall Décor with Beautiful Shelves

:
Add some beautiful shelves of different and unique shapes to your wall to offer a different look. You can decorate your books and other decorative items on these shelves nicely and beautifully.
But always try to have calculated and a methodical approach to your different style and shape shelves so that it will not offer a tossed together or messy look. Place the shelves beautifully with unique trinkets and try to feature the worthiest display items there. It will provide a trendy look to your wall and the room.
Apart from all these ideas, you can also hang some 3D objects to your room which are not made for hanging on the wall but have lots of sentimental value. It will offer a romantic feeling to your room.
Only different types of creativity are the only remedy for your blank and bare looking wall. You can quickly transform your numbers of creativity into wall art and thus enhance the look of your wall and your home.