VENETIAN MIRRORS
A complete masterpiece in art, a true art form in its complete sense, this beautiful man-made creation has surpassed all other art forms. We are talking about the one and only, Venetian mirrors! Venetian mirrors are eye-catching decorative mirrors that are transforming your house into a beautiful décor. Building its roots since 15th century, from Italy, vintage mirrors have gained popularity over the years. One major reason is the newer generation has an instinct of vintage items as they leave a lively impact in your living areas. And another reason is over the years, simple large glass panes have now been casted with intricate designs such as floral, motifs, leaf designs and many more.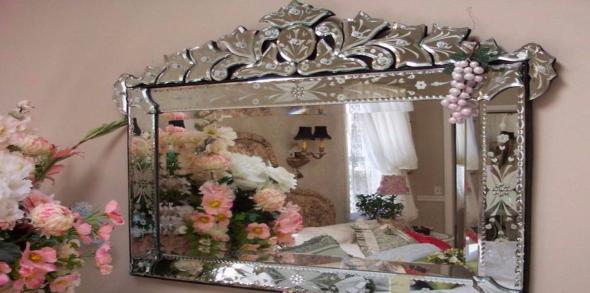 Gone are the days when mirrors were just used as illumination. The time has now completely transformed I terms of using these beautiful art pieces for elegance and sheer beauty. Using them for the actual purpose of use is now an afterthought. Almost every big lavish house want to summarize and add a class and elegance to their homes by adding vintage mirrors. But making these mirrors as a centre of attraction is a tricky tasks as for that you requires to renovate your entire rooms décor keeping in mind the placement of these mirrors. These beautiful art pieces are created with abundance of hard work and creativity, carved with intricacy and meticulously.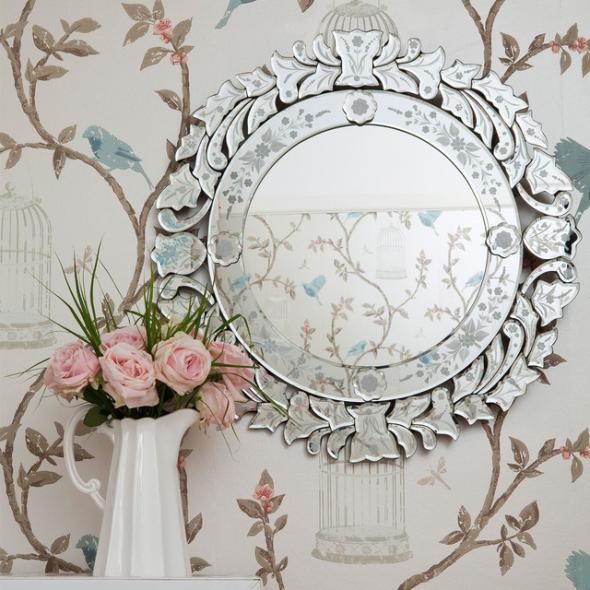 Venetian mirror glasses come in various designs and sizes. They can easily be a part of any room, living room, bedroom, and bathroom and transform your monotonous rooms into a unique personality, taste and style. Ranging from makeup mirrors, decorative wall mirrors, round mirrors, small, big; vintage mirrors come in a huge variety of designs and sizes and can adjust in every form.
Majorly, these vintage mirrors are available in 2 forms. The first one are the etched designs that are created with big glass panes and are engraved, cut and beveled to create sharp and shiny mirrors deigns. Sometimes these mirrors are beautifully recreated by adding different shades of rainbow colors which are in a complete sense a unique art form. The second category are the glass blow mirrors that are recreated by literally blowing the glass panes and then decorating these small glass pieces n various craft forms such as flowers, leaves, motifs and other amazing designs.
Indianshelf has each of the beautiful pieces of Venetian mirrors that will leave you awestruck once you visit the website. They showcase each and every variety of decorative mirrors that will surely transform the ambiance of your room. Some of the varieties are:-
Vanity mirrors- decorating your living areas with vintage but leaving the bathroom area is seriously unfair! Vanity mirrors are unique designs that are not found in every household. Adding vanity mirrors in your bathroom, will make your bathrooms look much broader and elegant.
Make up mirrors- make up mirrors are a small handy mirrors that are either available with a stand or simply handy that can be carried in your purse. Beautiful Venetian make up mirrors become an apple of everyone's' eyes.
Acrylic mirrors- acrylic mirrors are acrylic sheet that are placed on the walls which are only for the purpose of adding a whimsical touch to a traditional or a modern room.
Bedroom mirrors- bedroom mirrors are the ones that truly reflect your style and class. They enhance your room décor and make even small bedrooms look brighter and wider. We have a huge variety of such mirrors that are worth trying and buying.
Mirrors with lights- now with modern technology, we have mirrors with LED lights that are an added advantage for the make up lovers and are also safe to touch.
Mirrors in different sizes- mirror creating art is in itself a unique style of creativity. We have a huge variety of mirrors available in various sizes which are perfect for your dining rooms and your bedrooms. The round shaped ones can be used in your main living rooms as they give a brighter look o your rooms. Similarly, small mirrors can be used in your entrance areas and will leave your guests' eyes wide opened. Small mirrors at the entrance give an elegant look to your halls as in the very beginning your home leaves huge palace look impact!
Purchasing the mirrors is comparatively an easy task. The tedious job is to find a perfect place for placing the mirrors. The mirrors should be placed in such a way that they gain everyone's attention and the most important part is that must be working as a reflector for any light color object such as the window or any unique piece of art.
Venetian mirrors looks vivid when added on a bold color on the wall. Bold colors give a distinctive feature to the mirror and outshine it over other art pieces.
Another form of placement is hanging them over the headrest of the beddings. They make the rooms look big and beautiful. You not need to opt for buying mirrors with many designs, instead simple glass panes with just a simple mirror art will suppress other unique items. One thing that should be kept in mind is that these decorative mirrors have their own personality and hence they should be placed keeping in mind that no other art pieces are overshadowing their beauty. Placing oversized mirrors near the wall hangings is also a unique idea.
Venetian mirrors have a different traffic in the handicraft industry. Art workers spend months in creating a single piece of art and after working for hours, comes a masterpiece. The intricacy and beauty of these mirrors make them a unique creation.
Like all forms of glass, the Venetian mirror or Murano glass - one of the most popular and the expensive ones are not resistant to cracks or breaks. Moreover, once it falls or breaks, it is not the most suitable ones that can be repaired or replaced on a budget. If in case, you opt to glue Murano glass, it is not an easy task. It is observed that in most cases, most of the glues fail to leave their mark on this stuff. As a result, if your mirror or especially if it is a Venetian one breaks down in two or more pieces then you surely need professional quality results.
Yes, with little care and upkeep, you can opt to place and flaunt your Venetian mirror for ages to come. These are created with abundance that lingers closely on the lines of delicate masterpieces. Venetian mirror glasses often come in various designs and sizes and can be easily put on any room of your home. Thus, it has the power to transform your monotonous and dull rooms into a unique piece of decor and accessory. The same has a unique personality, charm, taste and style. So, these excellent mirrors can be used for a variety of decor alternatives and styles. These can be very well adjusted to suit both classical and contemporary home decor needs.
There are numerous ways in which the Venetian mirror has a clear edge over the other alternatives available for purchase. Most of all the lavish homes these days carry the same and have a clear edge over the others. You can attain a significant edge and style by investing in a high-end version of this mirror that will last with you for a long time. Even if you are planning to renovate your home, using these mirrors is a good idea. Equal care must be given to their placement so that the best results can be achieved. Moreover, all these mirrors are art pieces that are created with abundance and care apart from having intricate carvings.
Using a Venetian mirror means that you have access to an eye-catching and attractive set of mirrors that have the power to transform your home with its beautiful charm. One of the major reasons that people use it is that the same features excellent results especially with its intricate details that may include motifs like - • Floral arrangements • Motifs • Leaves, etc. Using the Venetian mirror available from leading online stores is a great idea to attain the best results for your investment. Alternatively, you can visit our online store to attain the best results for your benefit and save huge money on the same.
A Venetian mirror is an art masterpiece and a true art form. This is one of the most important man-made creations that have the capability to wow all your friends and family members. These eye-catching mirrors are not only functional but also extremely decorative in style and appeal. These have a capacity to transform your home into a beautiful abode. It traces its legacy to the earlier 15 centuries where it was firstly created in Venice, Italy. The same has gained huge popularity over the years and as a result, is known worldwide as one of the finest quality craftsmanship that uses extensive experience and skills.
The Venetian mirror finds its origin in the Italian island of Murano and is therefore also called the Murano glass. These are produced using the utmost care and a labour-intensive manufacturing process that ensures that the resultant product is incredibly beautiful and one of the purest forms of mirrors ever designed by mankind. Since its origin in Venice in the early 15 centuries, the Venetian mirror has been the epitome of the best quality mirror that sets the bar for other quality mirrors. Therefore, the same is an ever-popular investment for many luxury homes and rich investors.