Silver jewellery is always in fashion and never goes out of trend. But the major concern which makes most of us to think twice before wearing junk jewellery is how to style silver jewellery.
Silver jewellery is always in fashion and never goes out of trend. But the major concern which makes most of us to think twice before wearing junk jewellery is how to style silver jewellery. In this blog we will discuss from great ideas you can inspire from Bollywood celebrities in styling your jewellery.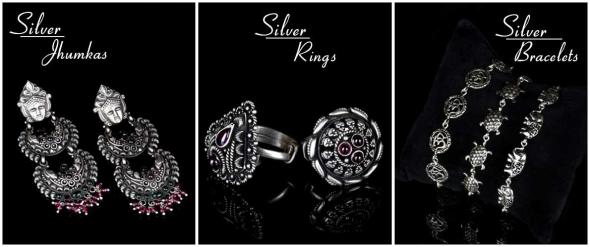 We often wish to buy great varieties and designs of silver jewellery but get confused on how to wear them in accordance with which outfit. Let's take some great ideas from famous B-town divas. These beautiful celebrities have altogether different style statement and wear sterling silver like a pro.
1. Silver necklace
Silver necklace works well on every occasion but requires some basic know how while styling it. Bollywood diva, Sonam Kapoor is famous for her unique and trendy style statement. She is often seen carrying some amazing silver jewellery designs that are inspiration for all the girls.
You can carry a heavy silver long necklace over a light cotton kurta or a plain long dress and create your own style statement.
Chose for a simple kurta pajama with a heavy silver necklace, some set of silver rings and open hair.
2. Silver jhumkas
Silver jhumkas can never go out of fashion. They will always retain a unique and evergreen style statement. You can get a look alike from the very beautiful and elegant, Aditi Rao Hyadari who is most of times seen carrying silver jewellery. The heavy jhumkas look great for any ethnic occasion or any informal office party.
Sonam Kapoor is often find styling the beautiful designer silver jhumkas with sarees or kurtis.
3. Silver rings
Silver rings are always in trend and can never go out of style. Famous b town divas, Jhanvi Kapoor and Alia Bhatt are often found carrying wide variety of designer sterling silver rings.
Wearing a silver ring even for the wedding has now become an edge over gold rings. This is mainly because sterling silver always maintains its shine and remains fresh and crisp every time.
4. Silver bangles
Silver bangles are always a silvery sheen to the jewellery wardrobe to make you stand out from the crowd. Silver bangles go best during festive season because of their added volume and designs.
Silver bangles, often seen as style statement with a blend of contemporary and ethnic look are spotted being worn by Jhanvi Kapoor with embroidered cotton kurta and palazzos.
Silver bangles and bracelets boost a pristine yet gorgeous charm that can never fade away. You can wear them easily with any ethnic outfit in one hand and junk watch on the other.
You can read also:
- 9 Ideas for Organising Your Fashion Accessories in Cute Small Chest of Drawers
- 7 Jewellery Trends to Wear in 2021
- Guide for Building Your Fashion Jewelry Collection
5. Chandbaalis
Chandbaalis are a go-to wear to flaunt the desi-glam look. They are mostly spotted on famous celebrities in their airport look. If you are planning to wear some heavy chandbaalis then avoid carrying anything on your neckline as this will make your entire look messy.
With these heavy silver earrings, a single statement ring is enough to complete your jaw dropping look. You can find some amazing silver earrings designs online market.
6. Silver anklets
Silver anklets or mostly called as payal in India is an age old tradition which will never lose its roots. During earlier times. Silver anklets were wore by the Indian brides during and after their marriage as a sign of Hindu rituals. But now, these anklets are now a style icon and is also spotted on big celebrities.
You can find great varieties of these silver anklets which are now worn by women of all age groups. You can style your anklets in any way you want to. Flaunt them over crop pants and open heels and loafers.
A unique style is to wear a very light weight silver anklet on the top of the sneakers and customize your aesthetics to a great extent.
7. Chokers
Chokers are a great choice of silver jewellery over other metals. After fading away in 90s they are a great comeback for that fun and fresh accessory that is suitable for all age groups.
The best part about chokers is that they can be paired with any outfit. Pull any low cut bohemian dress or a royal blue dress and style the silver statement piece around your neck. You can also chose to layer your chokers with other necklaces in a finished and a crisp look.
8. Toe rings
Similar to silver anklets, toe rings are also one of the essentials after wedding to be worn by the brides but now silver toe rings have gained popularity because of their subtle yet stylish tone.
They have their own style which looks great in Indian skin tone.
9. Silver nose ring
The very famous tribal nose ring is now commonly found in every girls' wardrobe who is a fashionista for junk jewellery.
While given a choice between gold or silver nose ring, silver nose rings are gaining votes because of their luster and affordability.
The unique designs of nose rings in silver metal, lets you indulge in different styles. Complement your look with a casual top, cigarette Pants and block heels and nevertheless your tribal nose ring.
10. Color combination with silver
Most of us want to try our hands on different designs of silver. You now know well on latest trendy silver jewellery designs that are wore by famous Bollywood divas.
But have you noticed that there is one thing different which makes them look a step ahead of you! That is their choice of color of outfit while wearing silver jewellery.
Never wear silver with bright, florescent and nylon colors as it will surpass the jewellery and fade away its vibrancy. While choosing to wear silver, select outfits of darker shades like black or grey. Silver also looks great on subtle colors such as white, cream, darker shades or green and blue.
It completely depends on you on how much you are comfortable in wearing silver jewellery. Sterling silver is available in great varieties in affordable prices not only offline but also online.