Jewellery in its most exquisite form is designed from silver. The same is known to add an ethereal charm and beauty.
For years, silver jewellery has been a favored piece of attire. To add a unique appeal, you can choose from shimmery Jhumkas, sparkly anklets, oxidized pieces, etc.
Silver also charms international designers with its versatility and appeal. As a result, one finds a plethora of silver earrings and ankle bracelets among the top offerings from these brands.
1. The classics that are making a comeback
Tribals and rural hamlets offer numerous chunky and metallic silver jewels that testify to their elaborate detailing and fine craftsmanship. Moreover, the designs from areas like Himachal Pradesh, Kashmir, Rajasthan, etc., are distinct and well-liked by people of all ages.
Evergreen Silver Anklets
Alternatives like silver anklets exude tribal charm and can be a great way to contribute to the growth and upliftment of the rural areas.
Charming Chandbalis
The Chandbalis from Kashmir and Himachal Pradesh are making a comeback. These help to add uniqueness to any bland outfit with their intricate detailing and patterns.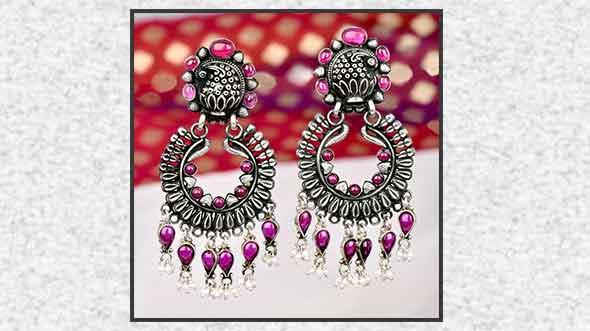 Intricate nose pins
The nose pins and bracelets feature designs inspired by local flora and fauna. The offerings from Rajasthan and Gujarat are praiseworthy and bold. By wearing this, you can leave an indelible mark on all presents.
The cummerbund
You can also try tribal versions from Jharkhand and Bihar that feature chunky and handmade oxidized versions.
You can choose from silver bracelets, earrings, pendants, cummerbund, and headpieces. Some of these also feature silver enamelling.
Unconventional maang tika
Indian silver beauties are hot favourites of people around the world. These have intricate patterns, unique styling, and a polished finish.
The return of Maang tika and headgear is making waves. Fashion influencers and celebrities are riding on the trend to flaunt their style statement. A single piece of this is enough to keep you posted for your next festival shopping.
2. The modern takes
Apart from enamel-coated jewels, the silver versions are going hot this year. However, there is a clear end to the blingy versions, and instead, options like silver pendants, chokers, and chain belts are making waves in the fashion world. These play well and perfectly with statement outfits and low-key basic ones as well.
The jewellery pieces that ride the trend wave today have an experimental and character-injecting charm. It makes you stand out from the crowd.
Orb necklaces
Sculptural and orb-shaped necklaces are back. These are quite popular forms of silver trinkets that have effectively replaced expensive and layered gold chains. Similarly, silver statement pieces have been flaunted by top Hollywood artists.
Silver mix and match versions
The runway's favourite trend is here. Endorsed by the likes of Paco Rabanne and Gucci, the asymmetrical mix and match versions of the silver earrings are recommended for your next outing.
The creative and innovative way of blending and retaining the beauty of metals plays well with party dresses. Choose velvet gowns and pair them with these chic jewellery pieces to add individuality to your style.
Dangling beauties
Choose from an oversized stud or a mixed-length hoop earring that makes heads turn to you. You can also opt for DIY solutions to attain a similar result. Choose various silver pieces and then layer these to create a bold statement. To accentuate the look, choose a biker jacket, leather pants, and square shoes.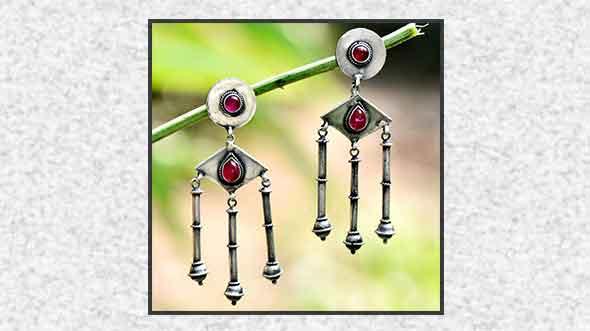 You Can Read Also:
- Top 11 Silver Jewelry Trends You Can Start Wearing Now
- What Is In and What Is Out of Style: The Most Popular Jewelry Trends
Abstract pieces
The current trend is all about adopting a fun-loving state and taking risks. The same is found in the distinctive silver offerings from top designer brands. So, instead of opting for dainty and classic pieces, the challenging designs from Alexander McQueen and Hannah Jewett are making waves. You can choose from multi-hoop to chunky jewellery. Some carry elaborate vine-like textures, while others can have geometric mesh shapes.
3. The gem-encrusted pieces
Gem embellished silver pieces are in trend and act as great conversation starters. These appear like statement pieces but can be easily worn with casual wear. You can choose from sophisticated versions to ultra flashy versions. Designers like Mounser and Santangelo have paired silver with pearls, neutral stones, etc., to get jewellery that offers soft pop of colour and pairs well with any wardrobe. The best part is that these work perfectly when paired with LBD for your next date.
Silver tennis jewels
The tennis jewellery brings back the retro style along with a sophisticated twist and charm. It helps to act as a crossover between athletic versions to evening wear.
The signature tennis-style necklaces with thin cuffs and box clasp are trending. Similarly, contemporary art and style are embedded to achieve contemporary iterations. You can also choose diamond-encrusted versions and bracelets to leave a strong impression on all. Pair these with a gown, and you are ready to rock the party!
The cuff bracelets
Extravert designs and dressing trends are on this season. The trend is highlighted by cuff bracelets that make for a true fashion collectible. These are bold and beautiful that easily make you forget all about sophisticated versions.
At the same time, layering bracelets are in trend, and as a result, one can choose between these cuffs or colourful silver gemstone bangles that make heads turn.
To style these, choose a lean and paired attire to accentuate the jewels. You can also opt for neutral gowns and dresses or white button-down shirts to nail that perfect look this season.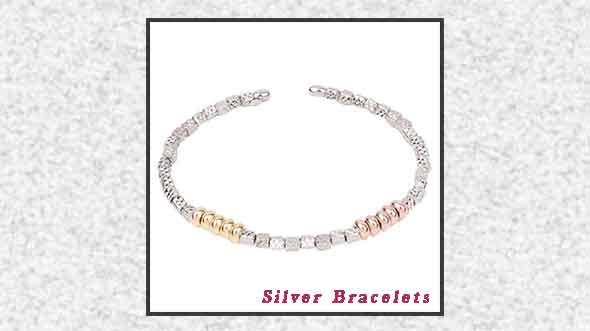 Chain and jewels
After outliving their welcome, the simple chain-style bracelets and necklaces have graduated to a bold avatar. These are given a new lease of life using gemstones and diamonds to make them return to the fashion world.
These come in a range of aesthetic designs and options that fit all your styling needs and expectations. The edgier versions fit all spectrums using a style complete with antique brass, metals, etc. Another favourite is the carabiner clasp and the thin elongated link.
Opt to pair these with any routine ensemble to look like a true fashion diva.