The pandemic had drastically reduced the demand for modern jewellery pieces. The zoom meetings hardly had space to accommodate the swish and distinct styles. Today, the demand for jewels is back on track, and designers are flaunting their drool-worthy styles on the streets of Paris and Milan.
The demand for jewellery items has turned high, and bold statement pieces like silver earrings, anklets, Chunky necklaces, elaborate pearls, and fun bracelets are rising. The trend is expected to make up for the past year's dullness and emerge bolder and brighter than the previous years. Experts assert that such a trend is a mood booster and can help people forget the rueful days of being stuck at home.
Building Your Fashion Jewelry Collection
Fashion jewellery is a major trend these days. As designers get ready to design and experiment with various metals, gemstones, and materials, the options are increasing. At the same time, it becomes difficult for customers to decide from these options.
The right jewellery pieces in your drawer can add a unique dimension to your personality and accentuate your outfit. Thus, having only the best jewels in your collection is recommended to leave a lasting impression on all.
Thus, before opting for any particular material, you must identify if the same suits your style. Today options beyond diamond and gold are available, including silver bracelets, brass, natural stones, resins, etc.
Here are must-have items for your jewellery box this year -
Although silver jewellery is riding the trend waves this year, pearls remain the classic addition to your wardrobe. However, the modern variants of these are entirely different from the ones owned by your grandmother. The exquisitely carved pearl jewels make your heart skip a beat.
Pearls have been loved for beyond a century, yet these manage to add a royal charm to all modern outfits. Pearl jewels have been given a makeover to be either sophisticated and chic or ethnic best. As the clothing trends for the year turn bolder and brighter, adding pearls can help balance the look without appearing outrageous or overbearing.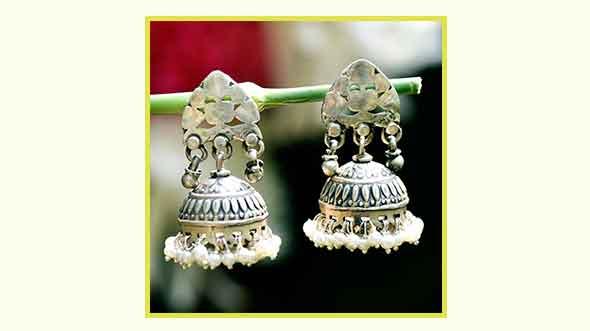 The rekindled love for silver pendants is enhanced by using beautiful diamonds, pearls, semi-precious gemstones, etc. As a result, one has access to modern designs that leave a strong impression on all. These are more relatable to modern designs and dressing styles, and you do not have to settle for chunky heirloom pieces anymore.
The modern silver pendants are chic, contemporary, and awesome. These are ideal for your everyday workwear and can even be used for formal events. Wear these statement pieces with bright shades to stand out from the crowd.
3. Dramatic chains and anklets
This year is all about getting noticed with bold trends and wearables. As chains continue to dominate the fashion jewellery trend, it is recommended to mix and match these metals and go for elaborate layering. To layer these jewellery pieces, choose the ones in varying sizes and shapes.
At the same time, the trend for statement rings, cocktail earrings, and silver anklets is huge. At the same time, the use of metals like rose gold, yellow gold, and silver can help you nail the statement appeal.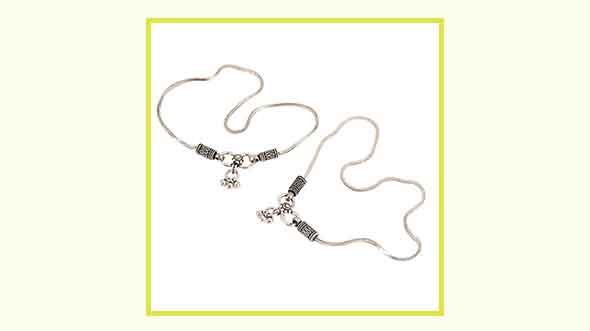 The return of quirky and charming jewellery is back. The idea is to mix the beaded bracelets to attain fun and quirky charm.
Choose jewel tones, purples, greens, and blues to emulate the runway style. Vibrant stones and enamel jewellery pieces offer a fashionable style. These also help to upgrade your classic wardrobe with a new lease of life.
If you are not a fan of heavy jewellery pieces, you can opt for such minimalist pieces to go with your style. The lightweight versions in these can help you to attain a style that makes for an evergreen trend.
These minimal jewellery pieces like small hoops, studs, etc., make for a timeless classic addition.
You Can Read Also:
- 7 Jewellery Trends to Wear in 2021
- Why do women love jewellery so much? | Indianshelf
- Jewellery Trends | 10 Beautiful Jewellery Trends To Try This Festive Season | Indianshelf
If you love to stand out from the crowd or leave a lasting impression on all, choose statement pieces. These add a bold and daring look to your attire. These also help you to upgrade your overall personality and accentuate your style. You can choose gemstones, chandelier earrings, etc., to get an evergreen look.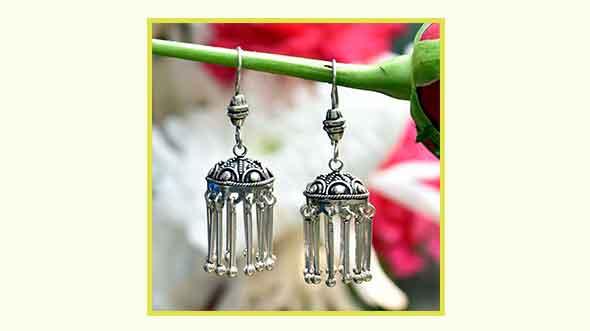 7. Multicoloured jewellery pieces
A multicoloured jewellery piece can complete or ruin your complete look. Thus, it is important to choose only the best pieces that blend well with your dress.
You can opt for the multi-hued versions that can help to brighten your otherwise dull outfit. These manage to add extra oomph to your look. Choose from beaded necklaces, earrings, or gemstones to complement your outfit. These also help you to express your mood and emotions.
Earcuffs have been around for quite some time now, yet these leave a unique impression on all. You can make a strong impression on all using silver ear cuffs and nose pins. Combine these with an oversized silver necklace to add a twist to your look.
You can also choose bold ear cuffs with shaded gemstones or designs to complete and customize your appeal.
Glitter prevails this year but in the form of rhinestones and shaded gemstones. Motifs engraved on sterling silver along with silver charms are trending this year.
You can choose from the jewellery designs that feature a variety of rhinestones and gemstones. Use these to create an eye-popping style. You can steal the show using elegant evening outfits or LBD for achieving a premium appeal.
Dual-tone jewellery is here to add extra glitter and charm to your outfits. Choose between silver and gold pieces to leave an ultimate glam statement.
Choose neutral dresses to nail the look. You can also combine these with sarees and Indian dresses to achieve the right festival dressing.
Fashion jewellery is all about being bold and daring. The leather jewellery adds to a distinctive fashion statement and has become a part of everyday fashion. It also helps to give a hippie and cool vibe to your dress. Choose bracelets with beads, stones, etc., to bring the 90s back in style.
Another most talked about casual jewellery trend are the evil eye necklaces and bracelets. These have come a long way from their original use as traditional jewellery items. Today the same is available as charming earrings, chunky rings, bold necklaces, etc. These manage to capture the attention of all and are contemporary and stylish.