The statement earrings have always been a prime object of fascination for females. These have also been an ever favourite of wedding trousseau and bridesmaids. Experts state that the trend is here to stay, and the top influencers echo the same.
Statement silver earrings are one of the easiest types of jewellery to flaunt. These blend perfectly with both Indian and Western wear. A single pair of these beauties can help you glam up any outfit and steal the show with your look.
Why buy statement silver earrings?
A pair of statement earrings remain a classic collection in any Indian wardrobe. It makes it a must-have item for Navratri and Sangeets. These earrings help to accessorize and maximize the beauty of a simple outfit. Fashion experts recommend these earrings for promoting personality and bestowing colour. These also help add a generous dose of glamour and can even help you neutralize any bold outfit.
The addition of geometric lines and sculptural silhouettes by these classics helps you to forget about colour-popping gemstones. It helps to leave a lasting impression on everyone that you meet.
Here are a few types of earrings that you can add to your trinket box and garner praise-
1. Silver drops or hoops
Wear a drop or hoop earring with elaborate detailing to add a confident and bold appeal. You can buy these in assorted shapes and sizes to go with your next outfit.
If you are reluctant to adopt this in its true form, you can choose earrings that are well crafted or refined to leave a strong impression. When combined right, this helps to add major style points to your kitty. You can also choose vintage silver alternatives to set an opulent yet edgy appeal to your outfit. It makes you appear bold and daring enough to land up on the front page of your favourite magazine.
You can also choose a piece of jewellery with contrasting stones, clean lines, etc., to achieve a highly versatile and modern appeal without being labelled outrageous or overbearing.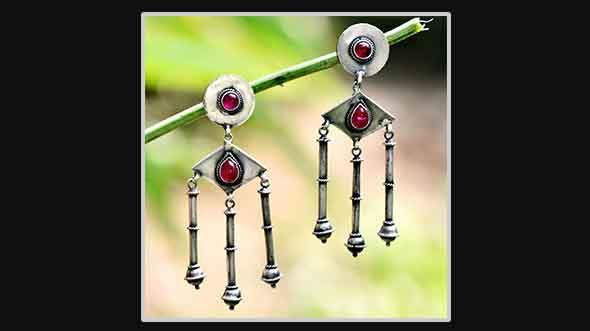 2. The classics
The classic and bold statement earrings from your mom's wardrobe have made a comeback. These feature exciting designs that the modern ones hardly match. You can easily upscale any bland outfit by wearing these pieces.
You can choose to combine it with a saree from your mom's wardrobe or with a stylish kurta for the next family wedding. We assure you that nobody will be able to keep their eyes away from you.
3. Dangling beauties with floral motifs
Floral and animal motifs have been in a rage for quite some time now. These statement pieces are worth their weight in gold. You can easily add a chic finish and statement to your next festival outing. Use this and subtle or solid colours to enhance your appeal and add sizzle to the old dresses.
These statement beauties remain a classic addition to your jewellery box and can be passed on to generations.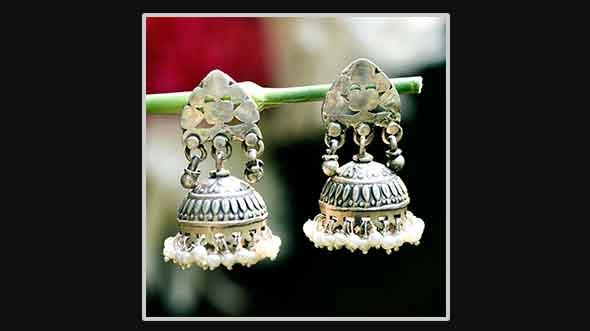 4. Geometric patterns
This type of silver jewellery helps you get a clean and ethnic appeal, especially when combined with traditional dresses. There is no dearth of such earrings available in the market, and you can use the one that resonates with your style. The best part about these is their versatile appeal that goes well with churidar, jeans, etc.
You can also combine these with chunky rings or those with stones. You can use a tribal silver ring to add a neutral appeal to the bold colour palette.
5. Oversized abstract studs
You will fall in love with these abstract studs. It helps to make a loud fashion statement. It is one of the most trending items this season, and you need to invest in these. Combine these with classic necklaces. You can also opt for coin earrings. Oxidized ones raise the glamour quotient and boost your style when used with an all-black outfit.
You can read also:
- 7 Jewelry Storage Ideas You'll Want to Use
- Why do women love jewellery so much? | Indianshelf
6. Kashmiri jhumkas
There is no denying the beauty of these statement pieces. These traditional art pieces come in various sizes, silhouettes, and embellishments. These work wonders with any modern dressing style.
Another advantage of adding these charming earrings to your festival dressing is that a single pair keeps you sorted! If you wish to create a strong impression, you must add a chunky ring or a set to bring a sophisticated look.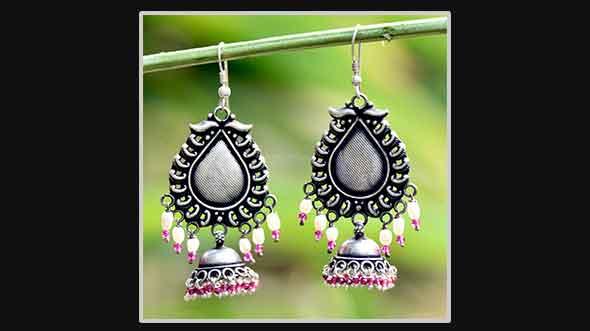 7. Moroccan vintage earrings
As an affordable material, silver is the perfect way to start your vintage collection. You can buy Moroccan vintage earrings and native American pieces to design your outfit.
For statement makes, the high-grade and dramatic silver trinkets are becoming popular. These help to add a charisma that is missing from modern jewels. If you wish to make a special runaway-worthy investment, use this product to push your boundaries.
8. Masculine designs that glam up
Several women are preceding dainty pieces and using male-inspired fashion. These are weighty and can be combined with gypsy rings.
Similarly, chunky silhouettes are in huge demand. These are effortlessly luxurious, and this makes them versatile. You can dress this up with a T-shirt and jeans.
Bonus tips for styling your Silver Jewellery
1. When you decide to wear bold silver earrings, try to neutralize these by adding lesser dramatic pieces. Adding chunky jewellery will dull the appeal of these earrings and create an overdramatic look. Wherever possible, avoid combining these silver statement pieces with necklaces. So, let your chunky earrings do the talking!
2. When wearing traditional Indian dresses, mix prints and textures. Mix prints and textures to help you to amplify the colour of your earrings or gemstone.
3. Complement your statement earrings with bold makeup. Choose bold eyes or lipstick to leave a strong impression.
4. It is a good idea to pull your hair back into a ponytail. If you are wearing a saree, make a low bun and let your earrings do the talking.
5. To get glamorous pictures, ensure that your dupatta matches with the statement earrings or gemstones. The resulting combination will leave your friends mesmerized.
6. Choose a bold contrast with your plain outfits. It will spice your bland outfit with a twist.
7. Opt for a neutral statement earring when the outfit has amazing appeal and bold prints. Wearing silver products with neutral versions helps you to keep things mellow.