Silver is a beautiful and shiny white metal that has a lustrous appeal. It is a precious metal that is ranked closely to gold in terms of popularity.
As per ancient Hindu texts, this is considered a precious and auspicious metal for gifting. It is also offered as a generous benefaction during rituals and ceremonies to attract wealth and prosperity.
Silver also finds itself beautifully used and crafted into high-quality jewels, tableware, prayer objects, etc.
The Indian romance with silver
In parts of rural India, silver jewellery is a symbol of richness and heritage. Each region of the nation has its liaison with the same and crafts the most distinctive patterns and detailing. It also finds use as handmade and elaborately designed tribal jewellery pieces. Ornaments are made using the oxidation effect by using bangles, kadas, armlets, rings, chunky jewellery pieces, chains, nose pins, toe rings, etc. The oxidizing process used by the tribal artists gives silver a unique charm and rugged appeal. Women from around the world can find hard these silver beauties quite hard to resist.
Investing in silver contributes to financial security and can be a great contingency plan. These are reasonably priced and remain a versatile addition to your jewellery box.
Top Silver Jewelry Trends You need to follow -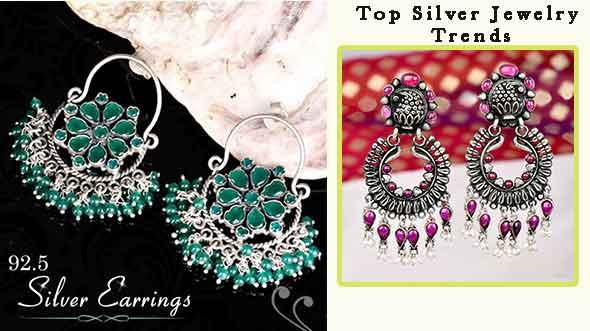 Since time immemorial, silver has been the most favourable jewellery item. It is quite affordable compared to gold and platinum and can be available in various designs. It is also easy on the skin and rarely causes allergies.
Another reason for the popularity of silver jewellery is that it mesmerises and wows the wearers and designers alike. Sterling silver is known for ageing gracefully, and this is why modern designers widely use it to make a lasting impression. Similarly, the patina coating is quite beautiful, and designers look for new ways to attain a perfectly great design. It entices the younger audience to forget about gold and platinum jewellery and invest in silver. It can be an ideal way to maintain a distinctive aesthetic appeal.
1. Silver Bracelets
The magnificent silver bracelets are available as graceful curves that appear light and stunning. It has an interplay of shades and clean lines that gives it a contemporary feel.
These are then carved into beautiful designs and remain famous as top accessories and gifts. Silver bangles stand out from all other forms of fashion accessories as these are classy and elegant.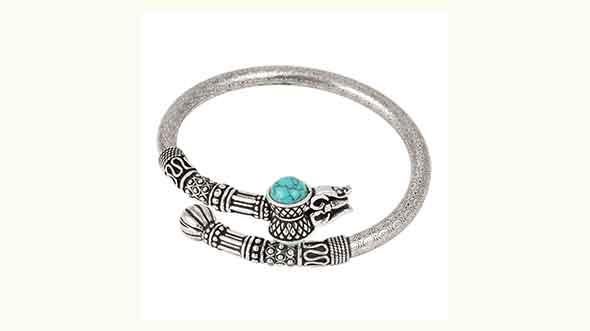 2. The silver charms
The bracelets with charms, gemstones, and other elements like vintage coins, seashells, etc., are hot this season. Add these to any Western or Indian outfit to earn praises on your Sunday brunch with friends.
Pandora has popularized the trend, and you can get a desi version of these products at an affordable price tag. These make for a thoughtful gift as well.
3. Silver chains
Silver toppled pure gold to become the top seller this year. As a result, the demand for silver chains is on the rise.
You can opt to add sleek designs, minimalist pieces, and layering to add volume to your outfit.
Top designer houses like Louis Vuitton, Hermes, Chloe, Paco Rabbane, etc., offer a variety of pure sterling variants that double up as bracelets or are part of the layering trend. It can be used to style athleisure, formal and everyday outfits.
4. Silver Earrings
You can opt for small or large-sized versions of these silver earrings. These enhance the overall look and beauty. These earrings also act as the perfect choice for both formal and informal occasions.
You can also buy statement pieces that add a touch of heritage detailing or offer high-end detailing to give you the perfect piece of jewellery.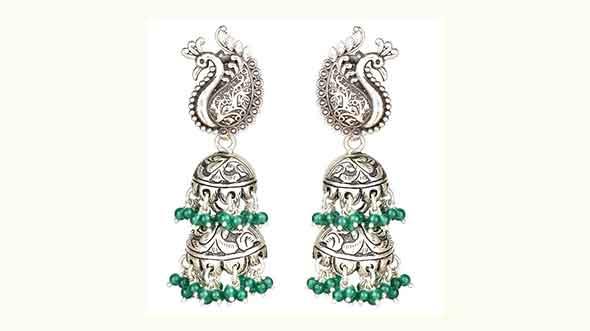 5. Timeless silver studs
The trend is riding high this year, and we can't get enough of this bold trend. You can use oversized or classic variants of these to craft a variety of designs.
It is a recurring trend from the 80s that is making a strong comeback, and top brands are offering handmade versions in various shapes and shades. If you are not up for the trend, invest in the cuter versions of silver studs inspired by Chanel.
You merely need a silver stud and charming bracelet to complete your day wear.
6. Silver Pendants
The silver pendants are an elegant and impressive way to impress a loved one. These can be the perfect gift and durable gift for any female. Silver is also strong, and it retains its original glory for numerous years.
The trend is also high for cute necklaces with silver charms. Although gemstone variants have been quite popular, pure sterling silver alternatives are making a comeback. These are an ideal conversation starter as well.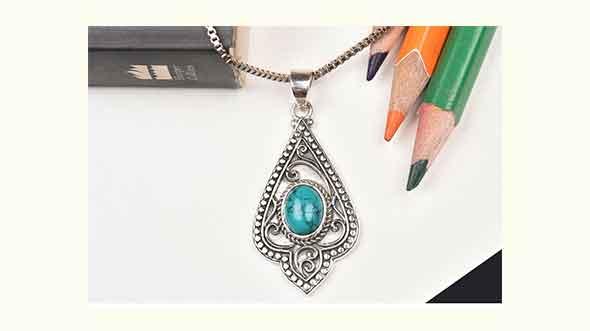 7. The silver hoops
Pure silver hoops are all the rage this year and are here to stay. You can get well-rounded hoops with an organic design and shape to add a unique appeal to your everyday wear.
You can try bolder versions or those in geometric shapes to ensure a bit of drama in your attire.
You Can Read Also: What Is In and What Is Out of Style: The Most Popular Jewelry Trends
8. The Polkis and Jhumkas
Apart from hoops and earrings, the Polkis and jhumkas remain a classic addition to any wardrobe. The single piece of jewellery keeps you sorted for all modern and traditional activities.
You can choose between tassels, elaborate detailing, gemstones, Kundan versions of these to add glam to your outfit. You can never go wrong with the trend.
9. Silver feet bracelets
You can buy high-end and designer silver anklets to adorn your feet. These are available as elaborate pieces of jewellery that take inspiration from tribal and artisans from Rajasthan.
10. Silver Anklets
These heavy anklets or Payal are great for festival styling needs and add a distinct charm to your wardrobe. The jewellery piece is also an essential part of the wedding trousseau as a paijeb.
Apart from this, these also offer various health benefits. The Payal stops the movement of fat to the lower limbs. It also helps to conserve the physical and electrical energy from the legs. As per Vastu, these also help to ward off negative energies. As per Ayurveda, these make the bones of the feet stronger by friction.
11. The ghungroos
The Chanel-inspired jewellery trend saw a desi touch with the addition of ghungroos to the same. The freshwater pearls are set into sterling silver to achieve a breathtaking piece of accessory.
The same is replicated to get high-end drop earrings, asymmetrical bracelets, pendants to motifs.