Yellow gold has been a trendsetter metal of choice for quite some time now. However, silver is quickly replacing the same as the jewellery of choice, especially if you consider the runaway trends for the year.
Dainty silver earrings, rings, stacks, layering necklaces, etc., are all fashionable ways to dip your toe into the fashion jewellery trend.
If you have cool-toned skin, choosing silver jewellery, platinum, and white gold can make the difference and enhance your skin tone.
Jewellery Trends to flaunt in 2021
The year 2021 is all about going bold and daring with your style. So, the runway trends are all about over-accessorizing. Although numerous jewellery trends of the last year rolled into this year, certain jewellery trends are making the waves. So, if you have been following Instagram and Pinterest for quite some time now, you can easily spot that the year 2021 is all about welcoming silver trends like high-end silver bracelets, etc., inside the wardrobe.
Along with silver, pearls are making a comeback. Freshwater styles and cool shapes are making ripples in the fashion world. So bid goodbye to your round pearls and strand necklaces and welcome the modern avatar of the jewellery.
Similarly, enamel jewellery and temple jewellery are going strong this year. However, the enamel trend is about flaunting classic shades like black instead of the riot of colours. Beaded necklaces in similar shades are also gaining popularity as a top fashion choice.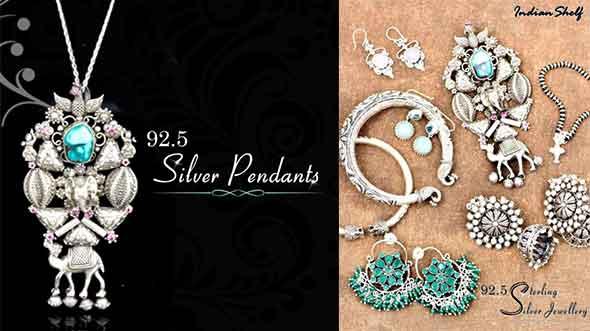 Here is our pick from the top runway trends to flaunt this year -
1. Silver trends
The year 2021 is all about experimenting with silver. You can choose between silver pendants, earrings, statement pieces, etc. If you are not a die-hard silver fan, then you can experiment by mixing stones and metals jewellery. In short, 2021 is about saying goodbye to gold jewellery.
Silver is quite popular in the nation due to its easy availability and affordable price tag. As per astrology, silver helps to maintain mental peace and in controlling emotions. As a result, one can experiment between earrings, rings, nose pins, necklaces, etc. With many designers joining the trend, the silver trinkets are flooding your favorite jewellery store this season.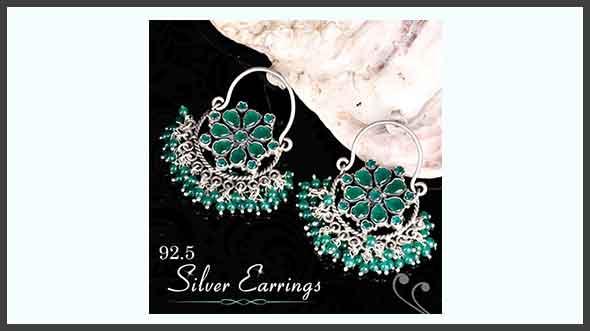 Silver is available as following jewellery trends this year -
Silver drop earrings have been the latest trend to flaunt this year. You will be mesmerized by the creativity and designs available in this case.
You can use this as an everyday jewellery trend or reserve it for a special date. Quirky versions of these are also making a comeback this year. Adopt the asymmetrical variants and enjoy admiration and praise from all quarters.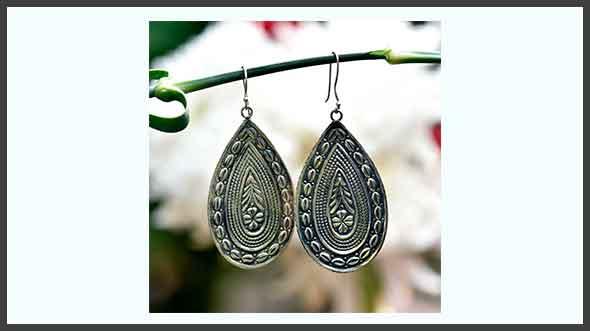 Forget gold chains and jewellery and bring in silver anklets as your choice of fashion accessory this festival season. These are available as charms, elaborate detailing, tribal designs, etc. So, you can give a twist to your fashion quotient this season.
The trend of flaunting these with jeans has bowled us over. You can experiment with these and don a pair to leave a lasting impression on all.
Charm bracelets have etched a timeless trend and are suitable for all ages. These bracelets are versatile and can be moulded to depict the wearer's personality by selecting the right bespoke design. So, if you love to flaunt the quirky and fun style this season, you must look for the perfect style that resonates with you.
Silver jewellery is in a new avatar - extra-long pendants to wear with western attires. You can also combine this with casual wear to make a bold statement on your next girl's night out.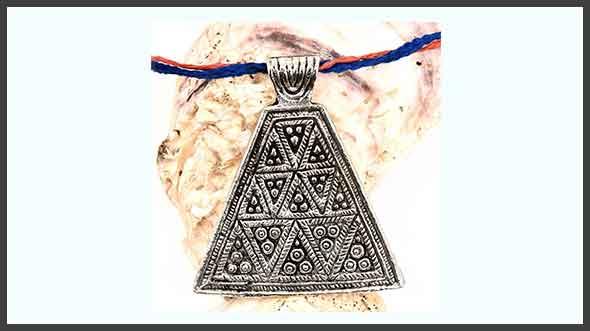 2. Tribal jewellery
Even with the advancement in technology, jewellery designs have become more intricate and complex. It has contributed to the massive rise in modern pieces that can go with everyday wear.
However, tribal jewellery is making a comeback. It is sustainable and handmade. Each piece is a great investment that hardly goes out of fashion.
If you are a party animal or kitty enthusiast, then choose tribal designs to contribute to the cause of social development.
Tribal jewellery is available as following jewellery trends this year, and we can't stop going gaga over these sustainable jewels -
These bamboo hoops are a sustainable and holistic approach to fashion. These are handcrafted by artisans of the country that help to add a natural appeal to your look.
Nothing can beat the beauty of wearing a classic tribal necklace. The coin necklaces are back in trend and turn your Western attire into a runway-worthy look.
You Can Read Also:
- 8 Everyday Jewellery Trends we'll be seeing everywhere in 2021
- Why do women love jewellery so much? | Indianshelf
3. Enamel and beaded jewellery
This year is all about colour neutral trends. So, add a fresh hue to boring boardroom dresses by using enamel jewellery.
If you are opting for festival jewellery trends, choose subdued hues to leave a lasting impression. So go for white and black shades. You can also choose bracelets or rings made from this to add a unique style statement.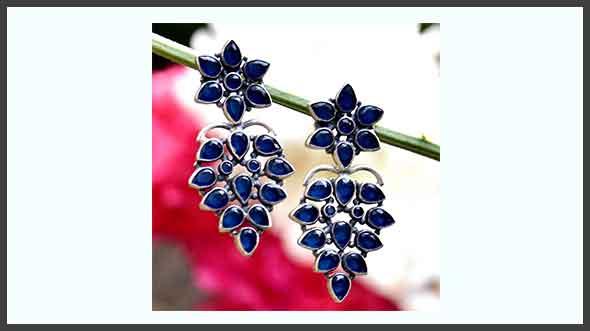 Enamel necklaces and bracelets are the biggest trends of the year. We recommend buying these immediately and flaunting them on your next outing.
These jewellery items are a classic addition to your wardrobe and add numerous style points to your attire.
The beaded necklaces and jewellery has turned into a bulbous fashion trend. You can choose between an extremely large beaded necklace or opt for a beachy bracelet to steal the show.
The idea is to opt for a summer camp-style jewellery trend to add a youthful vibe. You can also choose a two-tone alternative for an elevated look.
Forget gold and pearl chokers and bring home beaded versions of the same. The trend has been popularized by Hailey Bieber and Fraser sterling.
The sovereign necklaces from top designer brands are intended to make you forget about pearl jewels. The addition of beads and silver leaves a strong impression on all.
You can choose beads with the perfect and rounded shape of pearls but are just a modern take on the pearl jewels. Choose drop earrings or necklaces that make people sit back and appreciate your style.