Diamonds may be a girl's best friend, yet these can never replace the heirloom and modern jewellery alternatives. Although you may be tempted to pick up random jewellery from roadside stalls and hawkers, these are all meant to jump on and off the trends instead of collecting heirlooms.
We all wish to load our jewellery boxes to turn green with envy, yet owning the essentials is also important. Designers assert that accessories add the right charm to the look even though you may be flaunting an attire by the nation's top designers. An outfit without the right jewellery pieces is incomplete.
Thus, having the right jewellery essentials like silver pendants that can be mixed with the right attire are critical for your jewellery box. So, you may need to buy a versatile piece that goes with both your work environment and evening wear without sticking out like a sore thumb.
Jewellery Pieces that Every Woman Needs in her jewellery box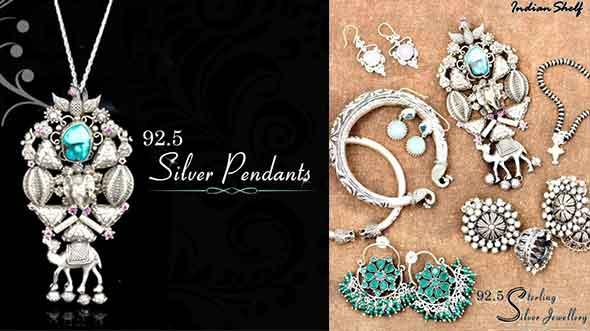 Whether it is a statement piece, pearl earring, or choker necklace, jewellery trends are all about being unconventional this year. The right pieces can help you to add a zing to your outfit and leave an indelible mark.
Don't be afraid to try bolder versions this year, like a fun ring, pendant, or erratically shaped jewellery. Adding new pieces to your trinket box can help you to stay on top of the style trends.
If you are ready to shop for incredible and versatile jewellery pieces, be sure to try some classic pieces and the modern variants available through the online stores.
Here are some of the best accessories selected by our experts that must be an essential part of your wardrobe this year -
1. The wardrobe basics
If you haven't inherited a long necklace from your mum or grandmother, it is time to invest in one. These appear to be perfect accessories and work well with almost anything in your wardrobe.
A woman can make a difference with her incredible accessory collection. You can opt to don a pair of small and classy studs to mesmerize all.
An elegant and eternal charm is easily accessible through donning a pair of diamond studs. These are incredibly hot and spicy additions to your wardrobe. These remain the best choice for women who love to flaunt minimalistic style. If you are aversive to the idea, choose silver jewellery with multiple hues to leave a classic appeal.
2. Pearls
Pearls are one of the most underrated forms of jewellery. These can be used as layered necklaces, delicate detailing, flowy pieces, etc.
These beautiful pieces can work perfectly with any skin tone and dressing style. If you do not have a single pair in your collection, you need to buy one to exude class and elegance.
If you have a lot of pearls as heirloom pieces, you can choose to experiment with these. Add a sassy chain to go with the single pearl chain to complete the layering trend. You can also choose chokers and long strings to accessorize your favourite outfit. Opt to use pearls as bracelets and leave a stylish impression on all.
3. Stylish bangles
If watches are not your thing, it is best to choose accessories like silver bracelets that help leave a delicate impression on all. You can also opt to go plain Jane or spice things up with gold bangles and accessories. You can also choose a fashion bracelet bejewelled with semi-precious stones. Invest in a basic diamond or a tennis bracelet that never goes out of style to attain a classic appeal.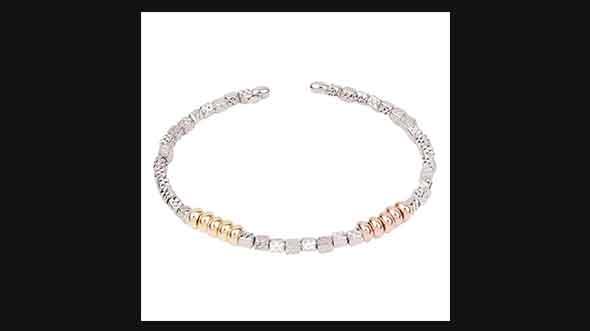 Choosing the right bracelet can help you to amplify your look. Bangles are back in trend this year, and top fashionistas cannot get enough of the same.
Unlike the traditional versions with chunky clasp, these can be stacked on and off easily off your wrists.
If you opt for a cuff-style version of these, you merely need a single bracelet to leave a lasting impression. If you have a sophisticated and chic bangle bracelet, you can stack these on for a multilayered appeal.
If you prefer a coordinated look, then choose to layer a set of matching bangles to complete the look. However, if you like drama, you need to wear several pieces made from different styles and colours.
4. Fun styles
This year is about silver earrings in fun styles. You can choose these jewels instead of simple and abstract motifs.
For example - a charm bracelet accented with an array of fun charms can give endless possibilities to upgrade your look.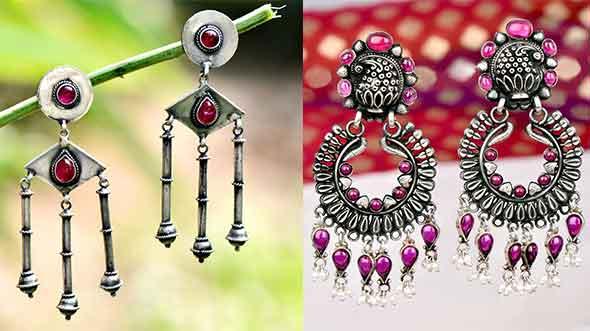 Instead of a single pendant with a simple shape or stone, try something having a cute design or your favourite theme. A shimmering seahorse pendant can be a fantastic gift, or a teardrop earring can be the perfect addition to your jewellery collection.
You Can Read Also: Antique Jhumka Designs You Will Wear For Years
Rings in new and amazing styles can be a fantastic way to add some personality to your outfits this year. Choose bold themes ranging from celestial bodies, animals, and natural motifs.
The key is to choose jewellery pieces that speak a lot about you.
5. Colour reigns the season
While gold and silver pieces can reign supreme, nothing can add oomph to your outfit, unlike the colourful earrings and pendants. You can also choose to add pendants designed from Baltic Amber, amethyst, jade, etc.
Replace some of your metal chains and necklaces with beaded necklaces. You can also select jewellery pieces designed from shells, abalone, etc. These help to add a stunning appeal to your style.
Another hot trend this year is enamel jewellery pieces. These help to add a ton of shades and colours to your outfit. Opt for enamel rings, pendants, bracelets, and necklaces to add a fab style.
The enamel helps to add the right pop of colour that gives a visual drama to your boring outfit.
6. The classics
The 80s are back in trend
Jhumkas, haath phool, and stylish neckpieces are back in trend this year to add a dramatic appeal to your dressing. It is also a good idea to style antique heirloom pieces and then fuse them with modern dresses. These are wondrous ornaments in your mum's jewellery collection that can today be paired and flaunted with every outfit.
Raid grandmother's jewels
You can also choose to wear your grandmother's choker necklace as an arm accessory to enhance the beauty. Ideally, pair it with a strapless gown to leave an indelible impression on all. The brooch can be used as a maang tikka, or silver anklets can be combined with western attires as a bold accessory to strike the perfect balance between classic and modern apparel. It enhances your elegance and remains a must-have accessory for your collection.