Springing fountains, the babbles of water, sweet cement aroma of wet ground and a relaxing ambience of coolness; a home is not a home without a fountain anyhow
Springing fountains, the babbles of water, sweet cement aroma of wet ground and a relaxing ambience of coolness; a home is not a home without a fountain anyhow. Just like you pay a whole lot of attention in upgrading your home décor setting, this summers, accessorize your home with this modern holistic element that is, water fountains. Here are ten amazing hacks to get you started.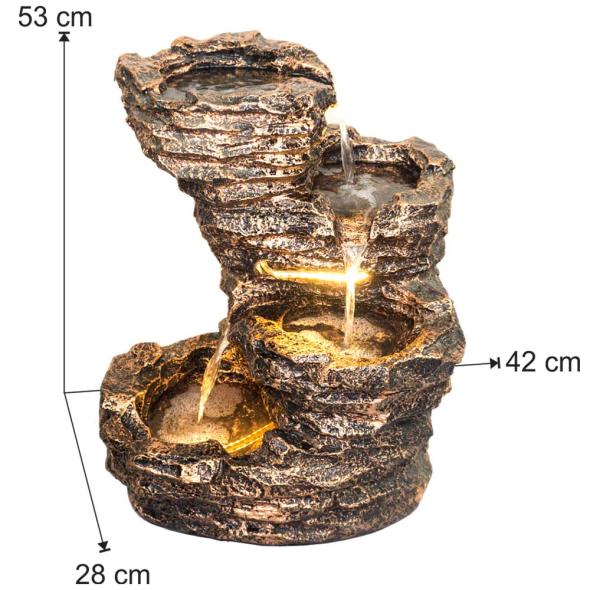 1. Stones Fountain
Simple yet engaging, the fountain can be used at any corner of your garden or balcony, big or small. The idea is to collect some rocks or meditation stones, stick them with silicon adhesive and add a pump. The water instead can act as the nourishment for the grass or the plants nearby.
2. Aquarium Fountain
Not the regular aquarium, try this hack with a large sized canister or transparent bucket tub. Fill the container with rocky stones, grass or any other decorative material you want to. Now, attach or install it alongside a fountain to let in the water supply. Also, create a drainage system to let the water out. Add some plastic fishes or corals. Or, if the bucket is large enough, you can even keep some goldfishes to breathe even more life to your garden space.
3. Tiered Fountain
You can create the layers with clay pots, terra cotta pots or even aluminium cans which are no longer in use for you. Stack them one atop the other and adding water fixtures. This kind of fountain doesn't just go well in exteriors but look ideal pretty much in any kind of space whether it is your home's living room or your office lobby. Of course, the design and intricacies would vary.
4. Meditation Bowl Style Fountain
If meditation inspires your lifestyle, this hack might be perfect for you. If you already have singing bowls with you, well and good however, you don't necessarily need to have highly expensive world class bowls for this. Even three to four normal clay bowls will do. The trick is to create a cascading system of bowls so that they act as spillers for the bowl down below. Stacked tops or bamboo pillars can serve the purpose.
You can read also:
- How to Bring the Wow Factor into the Home?
- Elegant handicraft items are available online for your home
5. Indoor Wall Fountain
An indoor wall fountain brings romance and delicacy into your home. From a decorative pump mounted in the wall to a full fledged indoor water fountain wall, there is a wide range from which you can explore. To create a water wall, you'd require a LED wall with bottom and top collars to fit a silent, sophisticated pump as well as the drainage system.
6. Pots & Cans Fountain
Got some spare saucepans, canisters, water jugs or containers? Got to bring them out now. Connect one pot after the other in a zig zag manner with topmost pot attached to a tap or pipe and bottom most pot acting as a plant bucket or spiller for the garden grass.
7. Corner Shelf Fountain
Not every centrepiece needs to be in the center. Just choose a lonely corner of your balcony or deck. Simply shove in some tiered shelves made of bamboo or some natural material. Fill the shelves with stones, rocks, pebbles or decorations of your choice. Add a pump and let the soothing waterfall create a mesmerising ambience for you.
8. Mosaic Fountain
Add a dash of Mediterranean style to your home with a mosaic tile wall, a stone bed and a wonderful fountain to begin with.
9. Wandering Leaves Copper Fountain
This is a famous style of fountain which involves little copper or bronze bowls usually in the shape of leaves. These leaves are arranged via pipes or trellis, leading down the water into a stony bed sprinkled with pebbles and rocks.
10. The Water Curtain
Create a wall frame and fix it in the middle of your garden. Add a quiet pump fixture and screw holes for the water to flow like a rain string. At the bottom, you can add anything from plants to flowers to plan ground to LED, creating the illusion of a water curtain partitioning your garden space.