When you look around, there are many home décor items like recycled door handles or doorknockers that come with the 'green' and 'eco-friendly' labels. It is good to know that many companies use sustainable raw materials and manufacture earth-friendly final products to reduce their carbon footprints. With global events like Earth Day and Earth Hour, consumers today are more conscious about the decisions they make. From handcrafted artisan-curated ethical décor items to eco-minded products manufactured in bulk, customers today have incredible choices to make a difference to the planet, and of course, the community.
We present here ten amazing sustainable home décor ideas, making your home and the Earth a bit greener and cleaner than before.
1. Go Vintage
Recycle, reuse and reduce – that's the universal sustainable motto. One of the effective ways to put this motto to use is, to begin with, your home décor. Recycling vintage items, for example, heavyweight bronze or brass doorknobs, can be a good start. The encouraging thing is that there are a handful of reliable online sites where one can easily shop for salvaged antique door hardware like door handles.
Conscious manufactures, these days, use solid bronze to make door hardware containing a good percentage of recycled raw materials. Not just vintage knobs for doors, you can look out for wall hooks and doorknockers, sliding door components, hinges, kick plates, etc. These are classical beauties making your home look sophisticated and chic, green, and environment friendly. And, if you research well, you can find robustly-created antique décor pieces that are extremely affordably priced.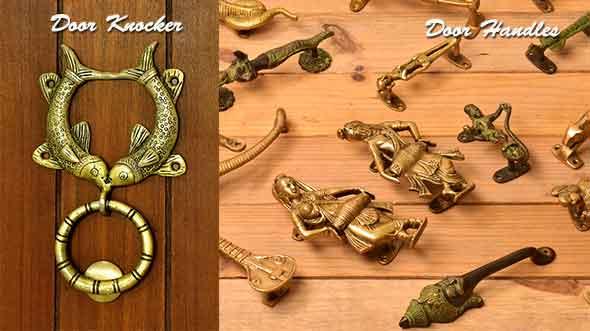 2. Salvaged Wooden furniture
Made of wood is always a better option than made of plastic or other materials that lead to the emission of carbon dioxide and other harmful gases in the air. Today, many brands sell handcrafted décor items made from reclaimed wood. You can pick from a range of wooden tables, coffee and side tables, beds, benches, wooden-framed mirrors, wooden block chandeliers, cake stands, key holders, and more.
3. Fill your home with natural and artificial green plants
No sustainable home décor idea is complete with plants. Indoor plants can do wonders in turning your place into a healthy, clean place. There is enough research available now that mentions air-purifying plants helping improve indoor air quality. Then, decorative and ornamental plants, both natural and artificial, can lend an element of eco-friendliness to the whole house.
Some great green ideas are bordering the indoor window sills with artificial grass, blocking spacious corners with floor plants, accentuating tables and shelves with small plants, hanging herb garden in the gallery or the kitchen, etc.
Pro-tip
For small rooms, add lavender plants to keep stress levels down.
4. Handwoven baskets
There are two aspects of purchasing handwoven baskets: you are helping support a local artisan community that manually makes these baskets, and two, made from bamboo, jute, and other sustainable materials, you help the planet too. There are some amazing items available online – you need to spend some time browsing through these stunners before placing your order.
5. Ethically-made cushions, pillows, and blankets
Rather than buying machine-made factory-prepared bed and bath accessories, make a conscious decision to invest in handcrafted pillows, bed sheets, blankets, cushions, towels, and more. There is a community of craftsmen and women engaged in making such products from locally sourced materials. Today, thanks to the digital medium, these communities can sell their items online. By buying such ethically created items, you have saved the ecology from carbon emissions and supported a local artisan community.
6. Sustainable floral rugs
The trend of using floral rugs on the floor and wallpapers are in! These rugs and wall coverings are becoming a rage as they are curated with water-based pigment inks. All the raw materials used for creating these rugs and floor mats are sourced locally and sustainably. The entire process of creating these décor items follows stringent eco-conscious techniques ensuring minimal impact on the planet.
7. Eco-friendly candles
Made from coconut wax and natural soy, these candles have wicks made from pure cotton and leave no black soot residue and hence are good for the environment. The soot-less candles are good for your health too. When buying these organic candles, buyers get a range of choices of fragrance and colors as natural essential oils are mixed to create healthy candles from your homes and offices.
Pro-tip
When going in for ethically-made items, ensure that the brand/company follows best practices, pays fair wages, and offers a safe working condition to the artisans.
8. Thermal curtains
A way of going green is to replace your existing curtains with the thermal variation. While you may be the Earth at the core of your home décor, thermal curtains help considerably save energy bills. It helps save money and results in the lesser usage of electricity, helping save the planet.
9. Go in for energy-efficient LED lights
You could start to replace the existing lighting appliances in your home and office with LED bulbs that help save at least fifty percent of your energy bills. In turn, this can help save energy/electricity minimizing carbon emission. Another way to go green is to equip appliances, curtains, lights, heating systems, etc., with motion sensors that are activated only when they sense movement, converting your home into an energy-efficient haven.
10. Choose glass items over plastic
Going sustainable is all about making the planet breathe and stay healthy. Plastic, as is common knowledge, suffocates animate and inanimate objects on the Earth's surface. Make a conscious choice to go in for glass containers and décor items vis-à-vis plastic. Tins and glass containers are good for the kitchen and the bathroom.
Pro-tip
When repainting your home, ensure that you use good-quality chemical-free paints that are good for all family members and the planet. Conventional paints contain volatile organic compounds that cause chronic diseases.
Conclusion
Living a sustainable life is not an expensive affair. Most of the items listed here are available at competitive prices. One important aspect to remember is to go minimal and make smarter decisions. Each of us can make a difference to the health of the planet. And, small beginnings can go a long way in generating impressive results.