2020 was a year filled with zoom meetings and conference calls. Thankfully 2021 is much better, and we are looking forward to new aspirations and positivity.
Silver, antique, and temple jewellery is back in fashion this year. You can also gain compliments for statement earrings this year. You can also opt for chic pieces of jewellery that work well with your attire and mask.
Of course, everyday wear will be dominated by bold trends, silver earrings, bronze, oxidized pieces of jewellery, and fusion trends that rock your traditional and modern attire. What's more, the trend of such beauties is here to stay.
Everyday Jewellery Trends that are hot this year
1. Play with colours
2021 is all about being unconventional and bold. It is time to rise and shine with jewellery pieces and spread optimism and charm.
As a result, you can expect to see playful jewellery and stunning fashion accessories making to the forefront. These mood-boosting jewels are gaining traction.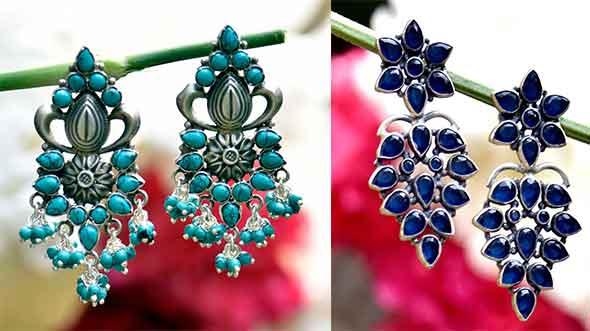 Bold acts
The 2021 trend in jewellery is much more than simplistic pieces; it uses elevated style and stimulating trends using inspiring motifs.
Be ready to invest in dramatic designs, unconventional shapes, and patterns this year.
Vibrant gemstones
You can also see unusual combinations and vibrant gemstones flooding the stores. Bring these onto your jewel box, and you can beat the post-lockdown blues.
It is time to embrace extremely bold and daring jewels and create wearable art.
Ring that thing
Despite the bold avatars, the jewellery designers are attempting to capitulate on the bold trends this year. As a result, big-sized cocktail rings are coming into casual wear due to their ease and stylish appeal.
What's more, designers are experimenting with ways to bring these rings as mainstream engagement rings.
We recommend choosing jewellery items that are oversized and crafty. You can experiment with the style and use it for personal and professional settings.
2. Silver jewellery is in
In India, silver jewellery represents richness and diversity. Women from tribal regions of the world flaunt heavy jewels studded with semi-precious gemstones. Ornaments made from silver and oxidative processes are making a bold comeback this year.
Get ready to experience big bangles, chunky necklaces, rings, bold earrings, and oxidative necklaces to dominate the daily fashion trends. Silver is a precious metal, and by buying more silver jewels, you are making a major investment.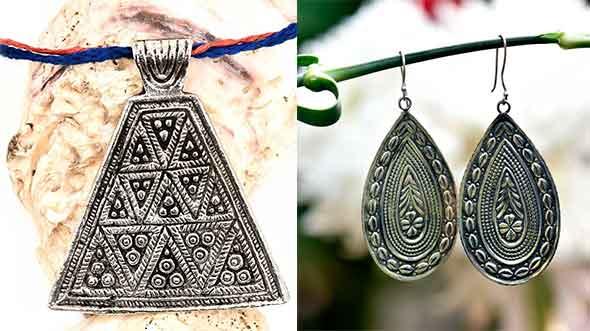 Silver necklaces
Silver necklaces are here with a bang. Instead of bold and heavy silver ones, you can enjoy the ones that are lightweight and easy to carry. Pair these with any traditional dress, and you are sorted!
You can also opt for a statement piece that carries a large semi-precious gemstone in the middle to garner attention.
Pearls and silver
An unexpected match this year is made on the fashion runway - silver weds pearls! The results are stunning and drool-worthy. These give you an elegant and glimmering appeal that goes well with almost every style.
You can also reuse these for your next vacation or car trip.
Silver bracelets
A simple silver bracelet goes a long way to add to your style statement and appeal.
You can try from exquisite pieces to bold ones to leave a lasting impression. These can double up as the perfect gifts for your female friend.
3. Floral motifs
Everyday jewellery is incomplete without the addition of floral motifs and statement pieces. These floral beauties can be used as the perfect office and evening wear accessory this year. This year, the trend is huge, and we recommend stocking up on these beautiful pieces at the earliest.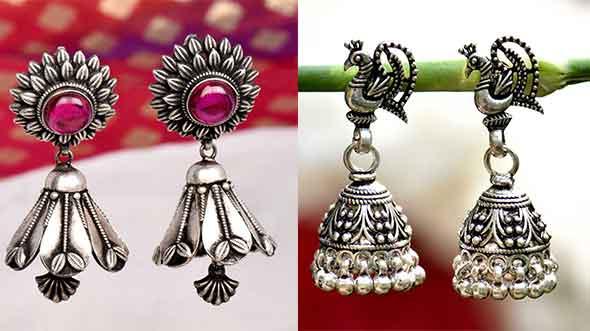 Beautiful silver motifs
Motif jewellery is here to stay. However, the same is now popular in metals like rhodium and silver instead of gold or rose gold variants.
You can get an amazing pair by searching for the one that has beautiful designs and detailing. You can wear a neutral dress and pair it with these statement pieces to look trendy. We recommend flaunting floral motifs in rings, necklaces, and bracelets, etc.
Minimal neckpieces
2021 also has something for women who wish to flaunt fusion accessories and motifs. It is why minimal chokers are trending this year. These are chic and retro, which makes them statement pieces. Use these with black attire to create statement accessories and inspire the fashion world.
It helps the right dose of glamour and vintage style to the traditional style without going overboard.
Floral chain jewellery
Chain link jewellery is in fashion and will rule the roost this year. Today, chain link necklaces come in floral motifs that make these an effortless way to stay classy and elegant.
You can wear the floral chain bracelets with almost any outfit and create a fancy appeal. These can also help you to upgrade an old outfit into a glamorous avatar on a budget.
You Can Read Also:
- 7 Jewelry Storage Ideas You'll Want to Use
- Silver Jewellery (Unique & 2020 Trendz): Online History Of Silver Jewellery | Indianshelf.in
4. Other 2021 trendsetters
Statement pieces, office jewellery, and accessories are all in the news these days for their Midas touch to apparel and fashion. Zoom meetings in the past year have pushed the trend for eliminating gold accessories. As a result, the statement pieces have turned into mainstream fashion for 2021. These help to complete the look and bring additional attention to your outfits.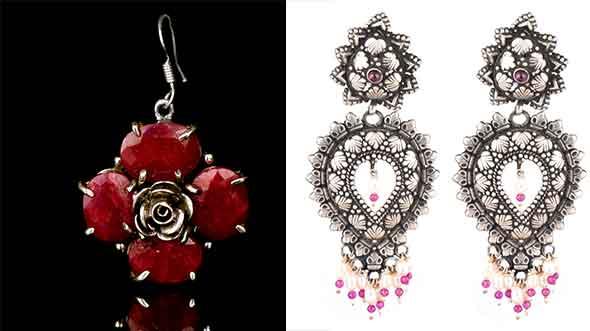 Colour rich beads
Beads are making flutter this year, and necklaces designed from bold beads, charms, and baroque style pearls are riding the trend waves. It is making everyday fashion easy and fun for all. Moreover, these statement beauties ensure that you do not have to tone down your outfit to flaunt these.
You can run errands with these accessories and still appear runway-ready.
Enamel and Stone jewellery
This year stones, enamelled design's and statement colours are riding high. Adopt these into your jewellery style this year.
You can invest in beautiful colours, stones, etc., in the form of rings, bracelets, and necklaces. Choosing the style statements that are a conversation starter and colourful can help you leave a strong and favourable impression on all.
You can pair these with almost any outfit and flaunt your unique style.