This chic accessory is the most reliable for turning out your ethnic look in your ethnic theatrical tone. It has been the accessory trend for quite a long time. Even your mom or grandma wraps her favorite earrings in her precious little box to say a lot about this classic accessory.
Primarily, antique earrings go well with silk saris, lehengas, salwar, and Kurtis. Any contemporary dress made on silk can look perfectly high when styled with bold antique earrings. If you want to go deeper and find out the exact antique earring designs that captured most women's novelty. Without wasting time, let's go ahead and check out what they are. Women's love for jewelry, especially antique silver jewelry, will never stop.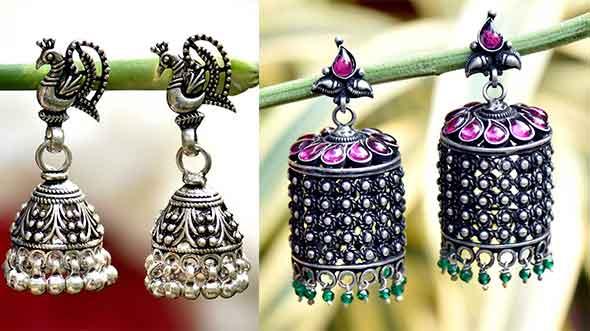 Regardless of age, this one-piece jewelry should be an accessory at any time. Apart from being gorgeous, the jhumkas go well with any Indian outfit. From saris to salwar, from lehengas to anarkalis, you can trust a pair of earrings and nail your ethnic look so easily. Of course, like anything else, Jhumkas has evolved over the years. And today, the fashion radar is filled with modern versions of classic pearl earrings, silver earrings, antique earrings, CZ Stone earrings, and everlasting diamond earrings. Another jewelry accessory you should have is a silver anklet.
However, despite other styles invading the jhumkas space, the current trend relies more on bold antique styles either embossed with idols of God or embellished with camp ruby and emerald stones. These older versions are by no means new to the game. But somehow, the craze for these classic style earrings has suddenly increased, and we can see them everywhere alongside antique silver earrings or silver jhumkas, silver bracelets, silver pendants.
Finally, seeing its fame, we have to conclude that these ancient earrings will not retire soon and will fascinate women in the years to come. It means it's time to get your own bold statement antique earrings. Thus, we wanted to show you the earrings styles that will help you choose the most trending designs without wasting time.
1. Antique Stone Jhumka
Is there a silk or designer silk sari in deep shade? Then good bold stone earrings should be your pick. Dark green, red, purple, purple silk sari, and lehenga can look spectacular with a bold stone earring.
Although the stone can be of any color, wrap a bright white CZ stone in your arsenal as it is the brightest earring on the market. However, if you want to nail your look with more specific details, choosing colored stones would be a wise idea.
2. Antique Diamond Jhumka
If budget is not a problem, invest in attractive diamond earrings. You can either choose plain diamond earrings or go for ruby or emerald designs to highlight diamonds. If you are a soon going to be a bride and have all the money and time to invest in the best earrings that you can show over the years, without a doubt, invest in an antique diamond earrings model.
3. Antique Ruby Jhumka
If one model is selling crazy this decade, it's the antique ruby earrings. You can choose either camp ruby or ordinary CZ stone ruby. Whatever the case, these ruby earrings will be the perfect match for all your red saris and other ethnic attire. If budget is a problem, don't worry, you can get a gold plated or one gram gold earring available at a much lower price and can fit your bill perfectly.
4. Antique Kemp Jhumka
The classic earring model that reigned during the time of our mothers and grandmothers is still refusing to let go of the touches it has on women. Yes, Antique Camp Jhumkas is still trending during this time, and anyone can donate it regardless of age. If you ask us to choose one of the Jhumkas models, this is it. When we say camp stone, in most cases, the color red predominates in this model. However, don't limit your choices to red colour, these earrings are available in all other colors (pink, green, blue, to name a few).
5. Antique Temple Jhumka
Temple earrings are another popular model of this period. Look at any bridal ceremony; you will see that this beauty is adorning our women everywhere. The matt finish God image is the most popular design. It is an embossed antique earring with a ruby and pearl cluster underneath. It is available in all sizes, but our recommendation would be a bold pick to make a statement. You do not have to splurge a lot to get it.
6. Plain Antique Jhumka
If you want a hassle-free basic earring model that you want to wear with a simple saree, get a nice, chic, plain earring. If you want to maintain the trend, it is highly preferred by many over a matt finish.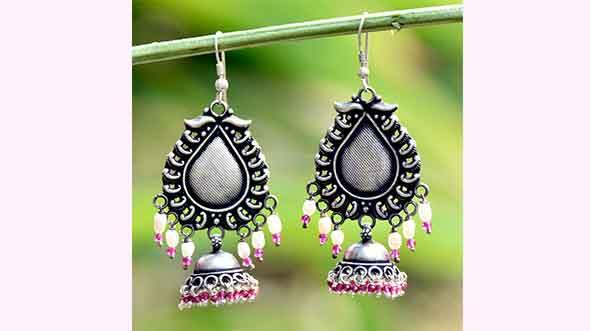 7. Layered Jhumka
If long earrings are your thing, then the bold earrings wrapped around the ears may not be your cup of tea. But please don't worry. Depending on your taste, there are many-layered earrings that are even available to touch your shoulders. You can choose either plain or stone-wrapped sparkling.
You Can Read Also: Latest Silver Jewelry Trends to Elevate your Look
8. Pearl Jhumka
A white sari, off-white lehenga, or ivory salwar suit is followed by a dark pearl earring. The good thing about pearl earrings is that they can be flounced with literally any outfit without any color restrictions. They magically fit well with all color choices, so having a good pearl earring is the best investment you can make. If you want to play safely, skip this one and the rest. You will not regret it.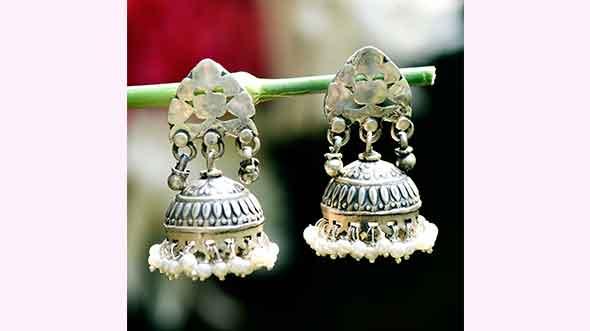 9. Antique Kundan Jhumka
Kundan stone is becoming a thing now. These stones flare better in designer clothing than traditional thematic drapes. If you have a fancy lehenga or sari, it is best to choose earrings wrapped with Kundan and highlighted with pearls.
10. Hoop Jhumka
You should get a hoop model to fulfill your desire to buy a stylish model. These hoop earrings can be styled with traditional themed attire and your fusion and western suits.
11. Ruby Emerald Jhumka
The classic and evergreen combo of emerald and ruby makes a great spectacle in any jewelry except earrings. If you like earrings model for your green and red dress, then believe in this model.
Check out these awe-inspiring antique jumka designs and add to your personality.