Wedding cards are the best way to express heart-felt emotions. When words fall short, these cards and lovely wedding wishes do the needful and convey what you feel for the person.
If you are looking for some impressive wishes that can best express your sentiments for the couple, here, we bring you some amazing way to wish the couple and make their day.
1. Formal Wedding Wishes
If the couple for whom you are looking for a suitable way to express your marriage wishes is an acquaintance and you do not know them very closely, it is better to stick with a formal way of congratulating them.
Even when the wishes are quite formal in tone, remember, it must seem to come straight from your heart. Avoid using stuffy words that make it look like an impersonal note. Write a romantic and timeless message that is cherished for a long time.
Few examples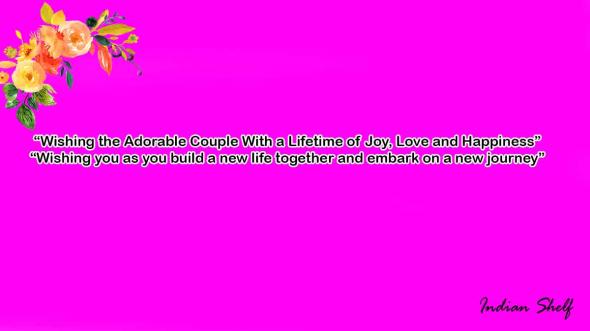 2. Casual Marriage Wishes
If the couple getting married is very close to you and you know them well, refrain from wishing them formally. Take this opportunity to write a more casual happy married life quotes that will touch their heart and they will always remember your lovely wishes. Keep marriage greetings simple, short, and sweet but say something that stays in their memory forever.
Few Examples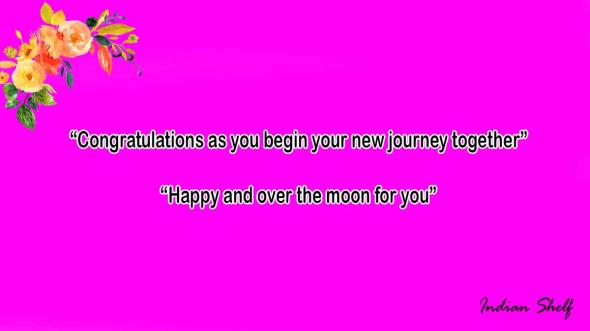 3. Funny Wedding Wishes on Hand Made Stationery
If this is your friend getting married, you will not be able to resist saying something funny and bone tickling that is sure to make the couple laugh. Such messages and wishes stands out among many other wedding wishes beautifully written on hand made stationary coming their way because of its fun quotient. While being funny, avoid divorce, better-half, snarky, and sarcastic jokes.
Few Examples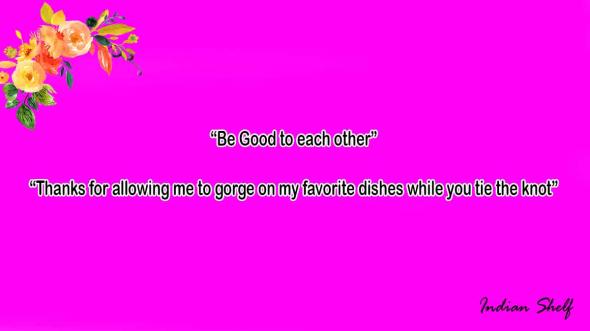 4. Religious Wishes For Marriage
If you regard marriage as an institution and hold its sanctity in highest regards, go for religious wishes for marriage. You can mention God and how he is bestowing his best blessings on the couple. While writing such messages, always keep the practices and beliefs of the couple in mind. While invoking Lord Almighty to shower the couple with his blessings, do not go overboard with your choice of words. It must be gentle and subtle message.
Few Examples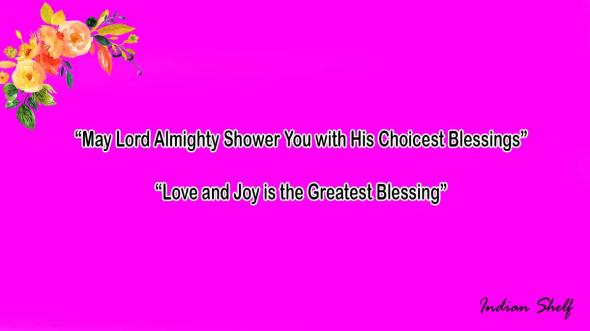 5. Happy married life wishes for a family member
If one of your close family members is getting married, you can choose to go personal or general with happy married life wishes for the couple. You have a lot of things common which can help you come up with just the right wedding day wishes for the couple.
Few Examples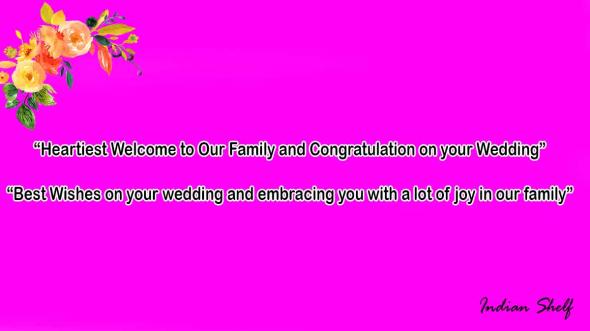 6. Wedding Card Quotes for Brother-in-law, Sister-in-law, Brother, or Sister
When looking for suitable best wishes for marriage for your brother or sister-in-law or brother or sister, look for a message that speaks volumes about sibling relationship.
Your brother or sister is the person with whom you grew up with and you know them the best. So, you can take the liberty to crack inside jokes or recall some funny moments together while making every effort to make the new family member feel included in the message.
Few Examples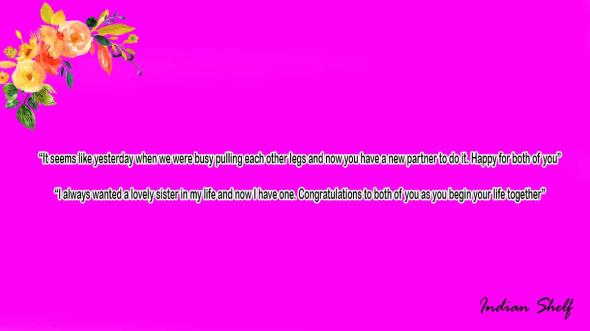 7. Wedding Wishes for you Daughter-in-law, Son-in-law, Daughter, or Son
When your own son or daughter is getting married, the feelings of the parents are incredibly special and difficult to be expressed in words.
You Can Read Also:
- Living Room Decoration
- Wedding Decoration Ideas
- Wedding Stage Decoration Ideas
If you wish to pen these flurries of emotions, you need to write a message that has some personal touches. It must be quite different from the married life wishes shared by other guests.
It can entail meaning of marriage and its significance. You can also add a few nuggets of wisdom or marriage advice when wishing the couple.
Few Examples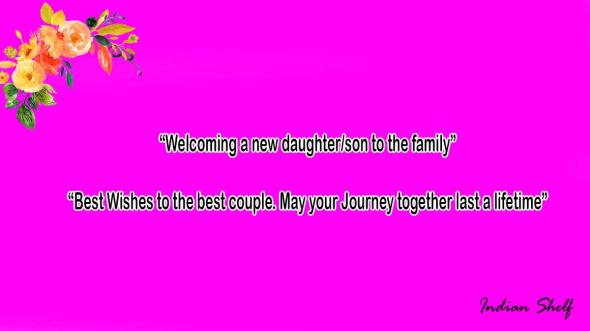 8. Wedding Wishes for a Friend
When wishing your childhood friend wedding wishes, you need to pen your emotions and sentiments carefully. It must add a personal touch and reflect the kind of relationship you share with him or her. Take a cue from your friendship and start penning your happy married life wishes.
Few Examples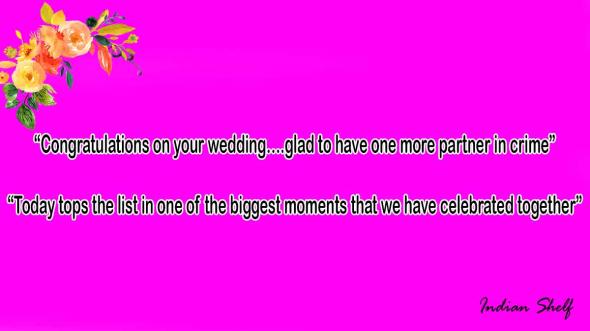 9. Wedding card quotes for your co-worker
When looking for appropriate words to express your joy and happiness when your co-worker is getting married, go with general wording.
You can use any of the casual or formal wedding wishes examples or pen a different one that best represent your relationship with the couple. It can work-inspired, suitable wedding quotes.
Few Examples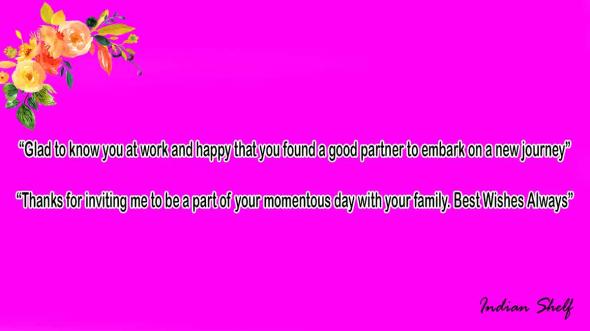 10. Wedding Wishes Quotes for parent and stepparent
If your parent is taking another leap of faith by getting married again, look for suitable wedding wishes quotes that best reflects your sentiments.
Remember to be always happy and joyous for this step taken by your parent. There is no need to gush about the union, but you can always wish the couple well for their new journey together.
Few Examples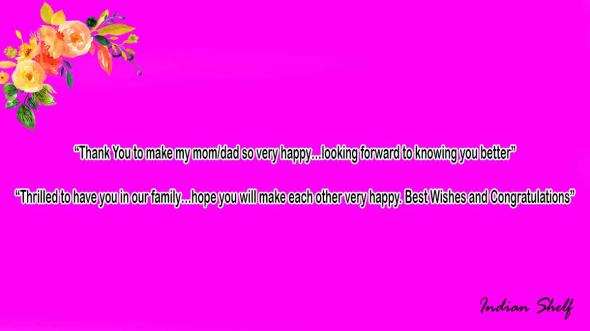 11. Why are wedding cards a special gift?
A wedding card is the most precious gift for a couple as the messages included within it are full of emotions and crafted from the heart's core. Keep reading on to know about the top 10 impressive wishes to write on a wedding card.
To get started, come up with a congratulatory sentence. Next, add a personalized wedding wish for the couple. To make the task easy, you must consider your relationship with the bride and groom. Ask yourself: will the bride and groom be happy after reading its posts on their wedding day? Now, you can thank the duo for inviting you to the special day of their lives. Sign off with your name, but before don't forget to leave the duo with a warm wish!
12. What are the top 10 impressive wishes to write on a wedding card?
• Congratulations to the loveliest couple I have ever known!
• The celebration calls for a glass of champagne and congratulations.
• Throughout these years, may the bond and friendship you share & grow stronger, and I hope that you'll share every portion of happiness.
• Wishing you a marriage filled with all the necessary elements: a dash of love, a touch of laughter, a heap of romance, and a dollop of understanding.
• Hope your love grows stronger with each passing day!
• Even amidst the storms of your life, may your affection for each other be strong and steadfast; congratulations!
• On the commencement of your great adventure, here's a spoonful of love. Congratulations on finding your other half!
• Congratulations on your special day! Hope your wedded life is filled with memories that can be treasured forever!
• I'm happy that you guys have tied the knot! Lots of love!
• You guys look great together. Your bond is a thing to be cherished for a lifetime! Heartfelt congratulations.
You can choose a vibrant and beautiful wedding card and couple it with your wedding gifts like flower bouquets, clothes, photo frames, and many more.