Go local for this National handloom day and boost the economy using your contribution local artisans
There is no other nation of the world that has an indigenous fashion choice like India. The nation still has local artisans who workday and night to keep the traditional artwork and art forms alive. These processes are recognized by world and are gaining extreme popularity due to their natural and organic ingredients that boost the environment health and even help you to get your home in the best shape.
1. Delving into the importance of National handloom day
The recent pandemic has made the nation look for new ways to become self-sufficient. As per the recent call by the prime minister of the nation -
It is truly the right time to explore the local markets and opportunities. This is a modern twist to the traditional swadeshi movement with a focus to revive traditional crafts, looms, handicrafts and artisans of the nation.
Therefore, August 7 is chosen to be as the National handloom day to mark the official commencement of the Swadeshi movement in 1905.
2. Things to buy this National handloom day and boost your local community
The National handloom day is a proud movement to boost your nation's economy and artisans. You need to invest in these products and flaunt these products like a badge of honor.
If you have a wedding around the corner, then these artworks can spell a unique charm for your needs or these can be the perfect gift for a loved one.
You can go for traditional upholstery to adorn your home and bring a smile to the rural artisans and keep the national crafts alive with your small investment.
3. Giving the fabrics a breath of fresh air
Bid goodbye to the perfect piece of fabric and give your old clothes a new lease of life using the wooden printing blocks. These are easily created using DIY tricks or can be bought from local artisans.
4. Opting for wooden printing blocks
Using the wooden printing blocks is one of the easiest ways to create the custom fabrics and beautiful home decor projects.
If you are going for DIY decor ideas, it is best to go for cotton, linen, hemp, polyester fabric, etc. to get the best results. Use black and unprinted fabric to start with the process.
This is because these absorb ink evenly. If you wish for lighter fabrics, go for the translucent variant to get the best results. Avoid fabrics made from fur or silk if you are a newbie to using wooden printing blocks.
5. Puppets for wall hooks
You can use old clothes, children's toys, etc. to create an impressive decor idea for wall hooks. You can also opt to buy these famous forms of puppets called as catapult from local haats.
These are controlled using single strings and are designed from wood or plastic, metal wires and old clothes. Bring in a bit of beautiful Rajasthan culture and tradition into your home.
6. Decorating your home using traditional crafts
There are numerous ways by which you can use handmade doorknobs or similar ideas to create a perfect yet authentic home decor. Some of the major ideas include the following -
Warli Art
The warli art is a unique technique to add charm and animation to any wall. Often triangles, squares and circles are used to create authentic art forms.
When used on the indoor walls or near the door handles, these lend a specific effect to the room. These can be used to represent moon, stars, mountains, etc.
The Bamboo decor and door handles
Another great way to add personality to your home is by using eco-friendly Bamboo decor ideas. These are one of the oldest forms of craft that are also eco-friendly in nature.
The rural artisans can create for you an authentic swing to hang on wall hooks or the perfect furniture items. These are also used as dolls, baskets, mats, jewellery boxes, crossbows, wall hangings, toys, etc. You can opt to source these from states like Assam, West Bengal and eastern states.
Many states of India bring unique and perfect metal decor ideas like handmade doorknobs, etc. to amp your home decor needs. Each state has its own unique charm for representing the local flora and fauna in their craft.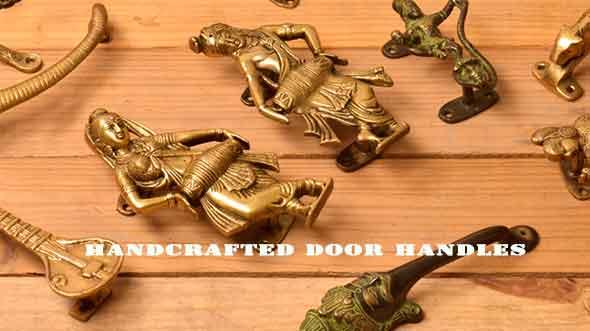 Bidriware
Bidar is the center of the manufacturing for unique craft and handicrafts called as bidriware. It is unique and famous due to its striking art and metal work. The metal is given a unique color using the alloy of copper and zinc along with that of pure silver.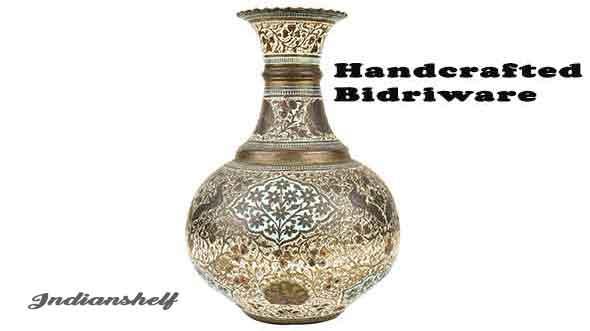 You can buy metals like - pitchers, bangles, boxes, statues, buttons, door handles, etc. The design has unique inlay leaves, flowers, figurines, geometric patterns and motifs
Beautiful brass work
Brass is a beautiful metal that has a lot of durability and can be used for making stylish statement pieces. These are used to create brass crafts known as kansaris. You can easily find different items like Lord Ganesha, tabletops, ornament pieces, wine glasses, perforated lamps, etc.
Rajasthan is the major center of these crafts and you can buy iron jaalis, jharokha, tables, etc., with a fine blend of copper and brass.
Wrought iron decor
In the case of metal arts and crafts, using special designs created from copper and tin can make a huge impact on your home decor needs.
The choices include the spiritual statues, reliefs of Goddesses, idols, gift items, tribal art and jewellery, crafts, home decor and improvement.
The artisans create a unique craft using the recycled scraps along with stylish designs of flora and fauna as well to create a rich appeal.
Similarly, raw iron is often found in crafting of the mirror frames, window, tabletops, candle stands, etc. with the use of the bell metal.
Frequently asked questions
Question 1 - What kind of crafts can I get online?
Answer - You can opt to buy the traditional crafts like that of dhokra, wrought iron and bell metal craft items. These can easily double up as the perfect gifting choice. If you cannot visit the local haat or craft market for such authentic yet handcrafted products, then you can easily buy these at the indianshelf online store. The same has a good choice of local arts and craft items to promote rural crafts, markets and economy.
Question 2 - How do you clean up the wooden blocks?
Answer - You need to follow the following steps Every time you use these blocks -
Take a bucket full of water and dip the dirty block in it
Scrub the same and immediately dip in another one with clean water
Wipe using a clean cloth.
Put these under shade for drying