There is more to home than having stylish accessories, like pots & planters. It is the dream of every homeowner to accentuate the beauty of their home using stylish accessories and decor elements. It is important to select the best decor ideas and handicrafts to get the best value for money.
Apart from selecting the best shades and stylish door handles to leave a lasting impression on all. The selected decor theme must extend your style and lend a relaxing appeal to the room.
Products like meditation bowls add a unique style to your home and enhances the looks of your home. Similarly, handicrafts like Puppet, etc., can help you to revamp your space on a budget. One of the most exciting features of using handicrafts for home decor is that each piece brings something special to your home and its essence. It also helps to bring vibrancy and charm to the area.
Why add Elegant handicraft items for home decor?
Indian crafts are popular worldwide due to the intricate detailing and patterns that showcase the creativity and imagination of our artisans. These are creative and innovative pieces of art that stand testimony to rural craftsmanship. As a result, the handcrafted items like wall brackets, etc., find a place in the home or as gift items. Moreover, all these items are reasonably priced, and this helps you to get the best results.
Handicrafts like cloisonne are known for their amazing style and beauty. These items can instantly transform your home into a timeless and sophisticated abode.
In the modern era, we hardly have sufficient time to follow the traditional arts and culture. Therefore, by buying handcrafted items like Urli, decor items, bastar art, etc., you can contribute to the cause of rural development. It also helps to ensure that our coming generations are aware of their rich heritage.
How can handicraft items weave their magic?
It is important to invest in high-end yet authentic decor ideas like venetian mirrors for designing your new home. These items are tried and tested options that help to add a strong Indian appeal. Here, we bring you some ways in which you can incorporate the handicrafts into your new home -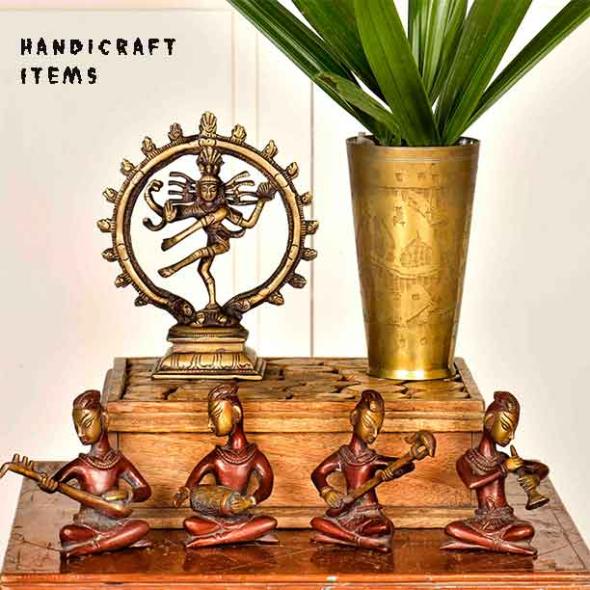 1. Ethnic wall hangings
One of the best ideas to enhance your home decor is to invest in items like stylish brass wall hooks. Apart from this, you can buy Tribal Bastar statues, hangings, wrought iron decor items, etc. These items are unique and affordable.
You can opt to introduce ceiling lamps and similar wall decorations to style your home in a new way. However, it is imperative to ensure that you clearly understand the color combination or decor aspects that you wish to incorporate.
The items like Indian calendar are authentic and eye-catching. These decor items can be incorporated into any home decor ideas or limited spaces.
2. Add a splash of colour
It is important to add a dash of colour and shades to your home decor, and choosing bright brass metal door knockers can be another great way to decorate your home. These items tug the heartstrings of all and leave an indelible impression on your guests.
Using handcrafted home furnishings in shades of yellow, orange, red, blue, etc., is a good idea. These bring a warm and welcoming appeal to your home. The vibe is youthful without going overboard. However, it is important to exercise caution as these items can negate your existing decor plan with their unique charm.
3. Add accessories
Adding door accessories like door stopper, knobs, etc., can help you elevate your room decor on a budget. Adding these beautiful pieces can help to add a touch of colour to your dull furniture. Adding accessories like doorknobs can help to give a new lease of life to wooden furniture. It also helps you to customize your home in the best possible way.
Similarly, hangings, showpieces, Metal Door knockers, etc., help to bring a stylish theme to your limited spaces. Bring embroidered cushions, animal statues, Worli paintings, etc., can be a good investment in your home decor. Tribal showpieces can help to bring a rustic appeal to your balcony or terrace.
4. Terracotta masterpieces
Terracotta and handcrafted items like Puppets can bring textile and rural craftsmanship to your home. These items are made with meticulous detail by the rural artisans. These items are always in trend and bring a classic appeal to your home decor theme.
The small investment into crafts like wall hooks can bring a flawless finish to the home. It also helps to make a difference in the lives of such craftsmen who work diligently to keep traditional art forms alive.
To add terracotta into your home, shun the modern ceiling lamps and give space to Indian floor lights, vases, and pendulum lights. You can instantly notice the authentic spark that brightens up your home.
5. Traditional Indian masterpieces
Indian paintings and masterpieces like brass Pots & Planters have been well-loved by the international community. These are now getting a larger share in Indian households as well.
You will be surprised by the complicated and colorful works of art like Cloisonne that mirrors the lavish culture and legacy of the nation. You can opt for Rajasthani iron hangings, dhokra figurines, God-themed decor ideas, etc. It also helps to gives a seamless look while at the same time breaking the monotony in a large room and eliminates negative spaces.
You can read also:
- 7 Different Ways of Using Singing Bowls in Your House
- Farmhouse Wall Decor Ideas (Best & Unique )12 Rustic Farmhouse Wall Decor Ideas | IndianShelf
6. These are great for the environment
Handcrafted products are great for the environment as these are crafted using readily available materials and traditional techniques. These do not add pollution to the ecosystem and are safe even for children. All this makes these items unique and special.
When you buy a handmade product as brass door handles, you support the local communities and artists. The lion's share of this reaches to their pocket.
It raises their morale and helps them craft figurines and other beautiful crafts for Indian households. They can easily develop their skills and competencies in crafting beautiful products.
8. These products are unique
Unlike mass-produced products that shriek perfection, traditional items like door stopper, etc., carry minor imperfections. It helps to add a unique appeal to the products instead of impacting their beauty. As a result, you feel special about investing in these products.
Due to this reason, no two items are alike, which helps you to ensure that your home decor ideas are unique and special. It adds a welcoming touch.
9. These are classics
Compared to modern decor items, traditional crafts like Urli can help keep your home looking beautiful and fun. These rural decor ideas can be repurposed. For instance - urlis can be used as planters or as a welcome decor when filled with water and petals.
These items are made using the best quality materials that help to withstand the test of time.
10. Each item carries a story
Each item carries its own unique story. It means that each product carries a deep and personal touch starting from the time and effort to the inputs of the artisans. It gives a valuable look and an aesthetic touch to the decor pieces. If you wish to gift the best products at a housewarming party, invest in these decor ideas and attain the optimal benefits.
11. Handmade items are fun and trendy
Rural craftsmen spend a large amount of time and money crafting each item. It means that all products like wall brackets, etc., from their stable, are authentic and eye-catching. These stay in trend for a long time and stay true to their essence. As a result, these can be repurposed to suit your needs.
You can easily experiment with these ideas and gain the interest of your guests.
12. It shows that you are true to your roots
The investment into traditional decor ideas and trends like meditation bowls helps to leave a lasting impression on your guests. Thus, it helps you show that you are true to your roots and care for social growth.
By investing in personalized and handmade items for gifts, you show your recipient that you have done your research and gifted them a classic. It shows care and attention to detail.
13. Real people make handicrafts
When you buy a handmade product, you push for his welfare and development. You can also ensure that the artisan takes care and attention to craft another classic to adorn your home.
All these items stand testimony to time and are crafted with a lot of care and attention. It makes them a smart investment. Your generations can cherish the item chosen by you.