Hand block printing is a traditional practice in India traced back to various centuries. This beautiful hand block printing technique is quite popular in India, China, and other East and Southeast Asian countries. Besides being an ancient textile art form, it is a sustainable and eco-friendly form of art, at par of which no print from machines can ever stand. People from all over the world visit their major centers like India and make some of the hand blocks printed pieces of clothing as theirs.
In India, Rajasthan, Gujarat, and Andhra Pradesh are well known for block printing practiced extensively until today. They have emerged as some of the world's major prominent centers for producing beautiful block print designs, which are incredibly unique and desirable of all those other types of prints available around the globe.
Hand Block Printing
Also popularly known as Woodblock printing, this technique requires a high sense of hand-eye coordination and execution of steady movements. This process of printing patterns on textiles such as cotton, linen, etc., by using wooden blocks is more than just an ancient practice, but a tradition kept alive by generations of skilled artisans. In this age-old textile printing technique, wooden printing blocks are prepared by meticulously carving out the designs on the wooden block by hands and then stamping them on the fabric after dipping into the ink or dye made naturally.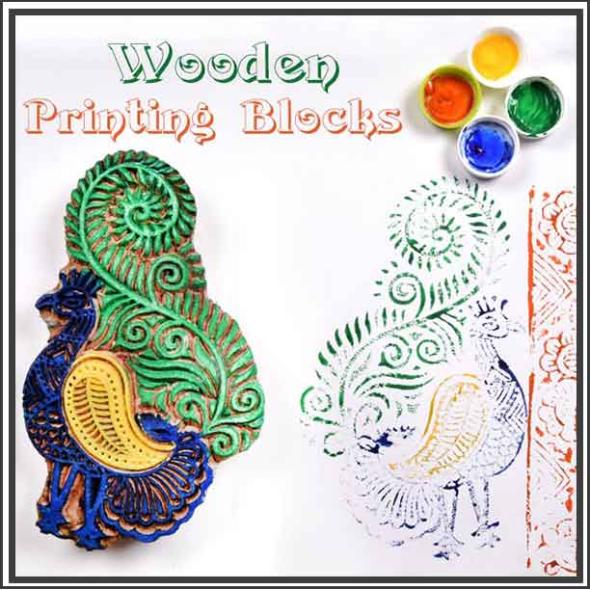 Preparation of Wooden Blocks
The woodblocks used for this traditional printing style are generally made of Sheesham, teak, or Sheesham wood. They are then carved with beautiful intricate designs by skillful artisans using chisels, drills, and small hammers. Fine details tend to be quite futile and are prone to breakage while printing. Following the carving, the blocks are then oiled, which promotes the color to stay onto the wood effectively. The block size may vary but is maintained at a thickness of 2 or 3 inches. For every color, a separate wooden block is used. Thus it requires careful manhandling of blocks so that the required design is in use before application.
The preparation of cloth
Like most ancient practices, hand block printing is quite time-consuming and labor-intensive and can take up to 2 weeks. Traditionally, cotton is torn manually and scoured with soda ash before washing and repetitive thrashing to remove any oils and starch. It is then mixed with castor oil and cow dung mixture to bleach it. Then, the myrobalan nut bath introduces colored components called tannins, which give the cloth a pale-yellow shade. This traditional method is still in use in India among Rajasthani, Gujarati, and Andhra Pradesh communities.
You can read also:
- Go local for this National handloom day and boost the economy using your contribution local artisans
- Pichwai Paintings | How Pichwai Paintings are a cool addition to your home? | Indianshelf
- 5 Tips on How to Hang Wall Art Like an Interior Design Pro
The World of Designs
Like any other traditional art form, nature is the inspiration for the advent of various designs. Nature's epitome of creativity has led to the birth of all the designs that we see on the hand block print fabric. With floral patterns and animal motifs, be some of the common sights, the artists give the whole of it a blissful and glorious vibe with their aesthetic sense. With nature-inspired peacocks or leaves designed to ranging from simple geometric patterns to complex motifs, the designers leave no stone unturned in exploring each style of printing design.
As India is home to the hand block printing industry, numerous hand block prints are based on its diverse demography and culture.
Techniques of Hand Block Printing
a) Discharge Printing: The cloth is dyed and then treated via a chemical on the areas on which layouts are made.
b) Immediate block print: The fabric is first bleached and then dyed with desirable color, followed by block printing on boundaries, then the rest inside.
c) Resist block print: It is produced by first, the area, not supposed to be dyed is coated with resin or clay followed by the cloth's dyeing with a wide range of vibrant colors.
Variations of Block Printing in India
In India, there is more than just one type of block print form, which symbolizes the country's vast heritage and richness of culture. Also, India is one of the biggest manufacturers and exporters of hand-block printed fabric. Some of these print forms are:
1. Ajarak: These textiles trace their source in the village of Dhamadka, Gujarat. It is a form of reversible prints and features geometric and floral patterns. The name Ajarak itself is derived from the Arabic word "azrak" for blue and indigo blue is also one of the highly used colors in this printing form. One of the key features of an Ajarak cloth is, it is printed on both sides.
2. Bagh: This unique block printing style is named after its origin, I.e., Bagh village, Madhya Pradesh. It is practiced on handloom fabrics. It is usually performed on a white background.
3. Dabi: This hand block print technique is used to create light-colored designs on a dark background. It originated in Rajasthan and has plants, flowers as its important core components.
4. Batik: This block print style is identified by series of little dots; it is one of the favorites of the artisans owing to the wider artistic scope it provides to them while designing. It is a famous wax-resist dyeing technique.
5. Kalamkari: This traditional style traces its origin in Andhra Pradesh and involves the coupling of hand paintings with block printing, printed on cotton fabric with a tamarind pen and ink extracted from plants and fruits. The Kalamkari print includes divine epics of Hindu Mythology like Mahabharata and Ramayana and motifs like peacock, flower, and paisley with the use of earthy colors.
6. Sanganer: This famous block print of Jaipur is famous for its pure white background. Its designs include intricate details like mangoes, petals, buds, and sometimes jhumkas, making this print a treat. The geometric motifs are also included, with the outlines printed delicately first, and then the colors are filled in.
7. Bagru: It is one of the most famous block print styles from the state of the royals, Rajasthan. Its printing is long and tedious with the "Chhipa," or the person performing the job of printing is super perfect in the skill and has required patience. The designs range from floral to intertwined lines or 'jaal' while colors range from alizarine red to bright yellow produced on coarse creamy or yellow base fabric.
What makes the hand block prints stand out?
In these times, when fast is the new trend, this technique of hand block prints has not just managed to retain its space but has reached onto far miles, crossing the barriers of geographical borders. Despite the advent of machines, the star factor which makes block prints stand out is their simplicity and interconnectedness with nature. Besides, those little imperfections make them stand out as unique and exotic.
Hand block printing has been adorned and cherished as the symbol of royalty since the Mughals era, and it continues to remain close to the hearts of people. Today, these precious, highly intricately crafted wooden printing blocks continue to print one-of-a-kind masterpieces every day, which not just are alluring to the people of the nation but even to the global fashion industry as apart from the traditional ways of dressings, designers are full-on experimenting with block print designs on casual wear like jeans, dresses, etc., to give them a more glorifying look.