Making your home look amazing is every person's dream. But the budget is always a constraint for your home makeover. But now you need not worry as in this blog we will discuss some amazing ideas, tips and DIY options where you can change your small house without spending a fortune!
All the over-hyped images which you see on televisions and magazine wash our minds, and you find the online market as the only option to spend money buying new things.
But this is not the case as now you can do a house makeover under your budget by thinking beyond odds. You should work on how your old stuff can be reused and make it look like new.
Rather than searching the market to buy the items you require, try making them at home. Although these homemade items might not be finished yet, they include all the love and care while you made them.
Let's get into detail on how you can use some amazing ideas to decorate your house and make it look fresh and new:
1. Rearrange old furniture
You must have never thought this way that a small change can change the look of your house dramatically. One such example is that once you enter in your dining room and first the back of your couch, then a major is required.
Relocate the furniture so that once you enter the room, you do not see the end of the sofa. We often have the habit of storing objects rather than chucking them off. Rather than take a look in your other rooms and you will find some furniture that you have never been used.
Now you require some rearranging by swapping one piece to another from different rooms. You can create beautiful spaces in your house just by rearranging your existing furniture.
2. Mirrors
Mirrors can be a great ally when it comes to budget makeover ideas. They are not only trendy but also budget-friendly. All you need is buy some beautiful framed mirrors which are mostly available at cheap rates and hang them in your living area.
Mirrors make your room appear larger because of the reflection of light.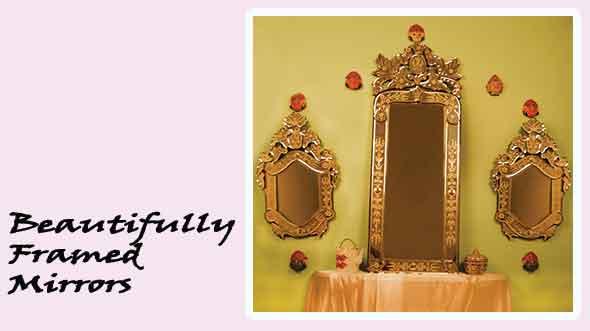 3. Choose for a side table
When I come to decorating your small house in the budget, avoid large shelves or space-occupying racks. Instead, switch to side tables as they occupy less space and comes in great variety.
You can go to tables which have four to five dividers and surfaces. You can then keep your favourite stuff on the surface and decorate it with some LED lightings.
4. Self-painted wallpaper
Well, this is a nice idea to gather all your ideas and bring the artist out in you. You need to just have some leftover paint at your house and a sponge brush. You are good to go now!
Chose any one side of your wall and painted some small geometric designs which are short and crisps. You are done with creating an artist's handmade wallpaper for your house!
You can choose different ideas to create unique wallpaper designs:
Sponges

- paint your favourite wall with a bold solid colour. Go for a dazzling lighter shade for the sponge. Just neatly dab the solid painted wall and voila you have created a masterpiece!

Stripes

- stripes pattern is quite easy and gives a very classic yet elegant look. Go for a white wall and tape the sections either horizontally or vertically. Paint the stripes in alternate colour and carefully remove the tapes once everything is dry.
5. DIY canvas art
You do not need to spend extravagantly on buying a painting of famous artist to decorate your living area. You can now do this simply by creating a DIY art on your canvas sheet.
Try not to go for tough illustrations until and unless you are a great artist. Chose simple canvas art designs that match the colour and theme of your living area. This DIY art will not only make your house give a nice makeover but will also help you save a lot of money.
6. Second-hand products are bae
When you are planning to go for a budget makeover of your house then why not to go for buying second-hand furniture or other important items. In today's time, we have a flourished market where second-hand goods are available at low prices and in great quality. You can search for such thrift markets and buy whatever you wish to. This idea for decorating your small house will prevent spending a fortune.
You Can Read Also: How To Decorate a Small House With A Low Budget | Home Decoration Ideas
7. Plates are a perfect room décor
There must have been unused crockery bone china plates which were gifted to you in your wedding or in any family functions. Well, now you can take those old fashioned brand new plates and make the most of it.
To your surprise, you can use those plates as a beautiful wall hanging in your house! It can turn out to be a chic wall décor item with different sizes, hues and designs. This is quite a trendy art form these days and always fits the purpose of reusing and recycling.
8. Repaint the walls
One of the best idea to decorate your small house within budget is to repaint your walls. Sometimes a clingy monotonous colour of the walls of your house makes it look dull and dusky.
You can go for a light and trendy colour paint which complements the colour of your curtains, mattress and cushions.
To make it budget-friendly, buy high-quality velvet paint and a flat brush. Gather your family together and make painting your walls a fun-filled activity.
9. Paper wallpaper
Paper wallpaper for decorating your small house is a great idea because it is time-saving and easy to clean. But using paper wallpaper for all the walls will be expensive when you are planning a budget makeover. In this case, you can select a small portion of your living area or any one side of the wall for the paper wallpaper.
10. Design your own curtains
You do not need to worry if you have a full home makeover on a budget as by now you must be well versed with how can save a lot. One more idea for decorating your small house is not to spend extra on buying curtains for your house.
You can use your old bedsheets which were otherwise lying at the corners of your Almira to design your own curtains. Bring your inner creativity out and create some great designs.
11. Door handles and Wall hooks
When looking for a budget makeover of your small house, one op[tion where you cansave money is by going for brass and copper made door handles and wall hooks. They are quite much in trends and look fab when fixing them on your main doors and bathroom walls.