The Navratri festival or the festival of nine nights is celebrated to honour Goddess Durga and her nine Swaroop's. Each day has a unique significance and is considered auspicious to celebrate the festival.
Before beginning with any of the Navratri decoration ideas, it is essential to keep your home clean and ready for the festival season. Similarly, a little planning and DIY solutions can further help to enhance the appeal of the festival.
1. Unique Navratri decoration ideas
Navratri is celebrated with fasting on all the nine days and celebrating the Mother goddess in her various forms. Since Navratri decoration takes time, you need to plan for the same and ensure that everything is ready for the welcome of the Goddess. Use shlokas and bhajans to add a spiritual fervour to the same.
You can opt to add colour to the home using paintings, wall decor, etc. Similarly, give a breath of fresh air by changing the cushion covers, etc. These minor changes can have a significant difference in your home decor.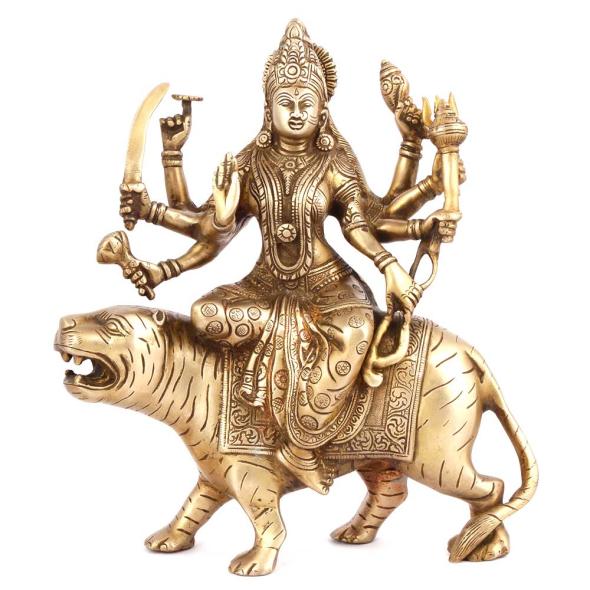 Rangoli or Alpana
You can use rangoli made from flowers, leaves, rangoli colours, Holi colours, diyas and even mirrors to create the perfect look. These are considered auspicious and are central to all the Navratri Decoration.
You can also go for a ready to stick rangoli that is called as the Kundan rangoli for the best results.
You Can Read Also:- Terrace Garden Decoration Ideas
The hanging balloon and torans
If you have the budget, go for helium-filled balloons in varied shades. Instead of strings, place ribbons, marigold flowers or bells. This will raise your home decor with massive points. Be prepared to charm all your guests with your unique ideas.
Potpourri bowl and jars
You can opt to fill the glass tray or decorative jars or even mason jars using potpourri. Use dried petals, spices, etc. to bring an earthy charm to the home decor. Place string lights or use glittered decor items to get the best results.
Decorative figurines and antique items
If you are a real decor enthusiast, then opt for brass antiques, figurines, etc. You can also go for room dividers, bells, torans, elephant hangings, etc.
You can also buy cheap plastic toys and give them a makeover using spray paint or metallic shades to get a self-designed torans. Similarly, use affordable crystals and flower garlands to create impressive decor ideas on a budget.
You Can Read Also:- Backyard Ideas
2. Affordable yet authentic Navratri decoration ideas
The festival is celebrated by bringing Durga statue, playing Garba and enjoying the fervour. You can opt to buy or create Dandiya and use them as a perfect decor idea for your home.
Similarly, you do not need to spend a fortune on Decoration ideas or bringing expensive decor items when small and affordable changes can bring a massive difference to the same.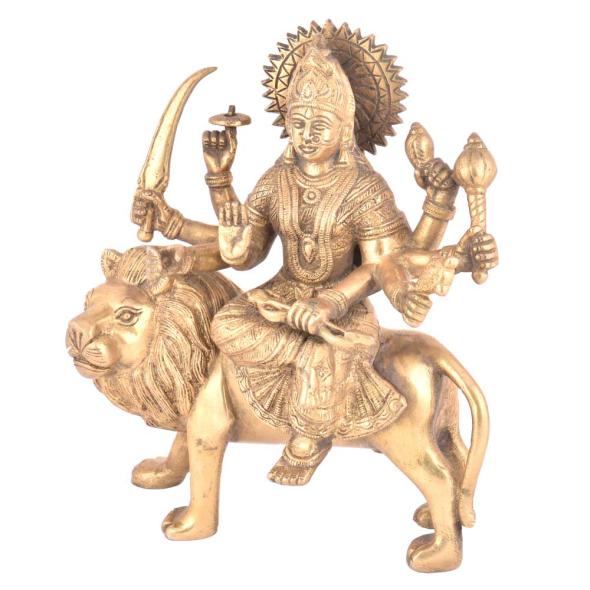 Bring in flowers, garlands, etc.
Welcome your Navratri festival with beautiful wreaths made from marigold, roses and jasmine. Not only are these beautiful but also lend a charming fragrance to your room.
You can place these at the entrance of your home. These look incredibly sophisticated and elegant. To add further charm to the festivities, decorate these with fairy lights and watch these cast a spell on your guests.
You Can Read Also:- Ganpati Decoration Ideas
The earthen pots
Nothing can beat the idea of charming Navratri decoration apart from the Gujarati Garbo. Although, you can buy any clay pot and decorate these with mirrors, velvet, acrylic paint, lace, flowers, etc. Place a clay Diya inside to bring a beautiful decor item for your home, especially to light up your evening prayers.
One for the interiors
Make sure that you are ready for the festival using our charming Navratri decoration ideas. You need to use sarees and dupattas in ethnic shades of green, yellow, orange and red to create beautiful drapes.
Go for makeover for walls only if your budget allows. You can also go for wall stickers as these are affordable and reliable.
3. Navratri decoration ideas for mandir
When Decorating your home for the festival, you need to buy brass Durga statues online along with various other accessories to make the most of the festival and seek divine blessings of the Goddess.
So, you need to have a clear idea about your pooja room and temple Decoration ideas. For this you can use expensive wood panels, marble Kalash, gold and silver spray paint, etc. - to decorate your home depending on your budget.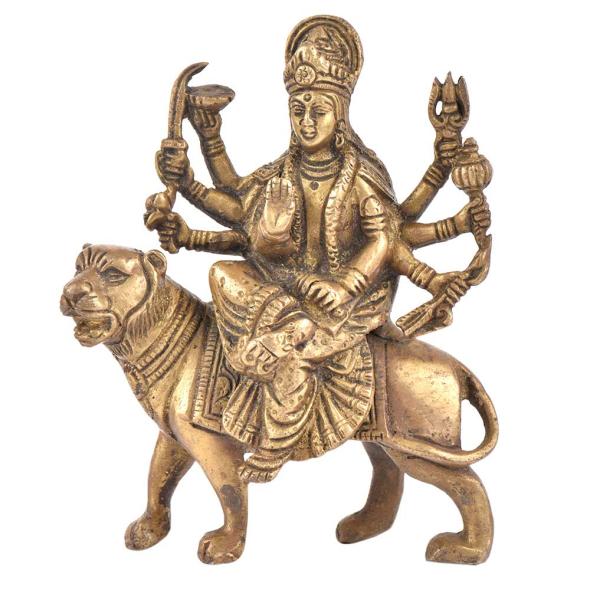 Traditional yet modern designs
While taking up Navratri decoration, you can decorate your mandir using the traditional crafts but add a unique appeal using modern ideas. For instance, you can go for textured walls and glass panels to bring a positive impact on the room. Add beautiful ceiling lights for the best results.
Similarly, you can add beads to the Kuber Diyas and make your mandir appear beautiful and welcoming.
You Can Read Also:- Balloon Decoration Ideas
The wooden panels
For this Navratri, you should buy brass Durga statues online and then use wooden panels along with strategic lighting to create a unique appeal to the room. You can also add a beautiful wallpaper with om design to make the room appear more peaceful.
Use pretty orange and yellow lights as these are considered auspicious for your home. When you use these lights using craft paper lanterns, mosaics and stencils, these add a unique appeal to your home.
Marble Kalash
Since Navratri festival is dedicated to bringing prosperity hence a Durga statue along with Kalash can make the room a perfect place for the deity and her Asana.
You can use Kalash or Garba as the main attraction for your home and make the same appear charming. Use semi-stones that add charm and beauty to the Kalash.
You Can Read Also:- Living Room Ideas
Decorate a brass thali for worshipping Durga statue
A brass pooja thali compliments the Durga statue. This adds a royal charm to the celebrations.
You can also use wooden thalis. Use velvet, crystals and pearls to decorate the thali. For a more affordable option, go for lots of flowers to decorate the same.
Similarly, you need to have temple bells or decorative hangings like lions, peacocks, birds and mirrors to create a charming effect. Use different sized clay bells and use gold and silver spray paint for the best results.
For the best results for your home and to ring in positive vibes, use the following ideas -
• Decorate the pooja thali with the pooja essentials
• Use large Kalash and place coconut and mango leaves
• Use small Kalash with spout for the pooja water
• Use rice, Haldi, sindoor and supari and place these in small bowls.
• Bells for the best results
• Special bowls for storing prasad and garlands
• Bring marigold to highlight the room
• Use special lights to create an impressive decor idea
• Lamp diyas and agarbatti Stand
• Clean and decorative accents to highlight the idols and their asana
Here are some of the additional ways in which you can decorate your home this festival season -
• Use an authentic Gujarati pot that is decorated using sharp Colors and mirror work
• Use Garba music around the house and bring Gujarati umbrellas. You can buy these beauties from the online store.
• Use red and yellow shades to highlight your pooja room
• Use big crystals, gems and pearls to give a sparkling shine to the home decor needs
• For best results, use a brass pooja thali along with zari or gota highlights
• Drape your sarees for that colourful yet eye-catching display
• Bring fresh flowers or marigold garlands to decorate your home for the festival.
Keep the Kalash filled with water near the deity and then add mango leaves inside along with a coconut for the best results. The same should be wrapped using red cloth and sacred thread. Once the festival is over, sprinkle the water in all rooms of the house and feed rice to the birds. Use coconut as a sweet dish for your family.
Navratri means nine nights preceding the Dussehra festival. Therefore, each night has its own unique celebration to welcome in the nine forms of Goddess Durga into the home. Therefore, to make the most of your Navratri, use the following tips -
• If you are observing fast - wake up early and then take a bath and then use fresh clean clothes before starting with the prayers
• You need to perform puja in the morning and evening. Therefore, decorate your mandir to the best. Call in your friends and family to enjoy the day. If you have placed Sanjhi Mata on your walls, then worship her each day till Dussehra
• Avoid wearing black colour during the festival and similarly avoid cutting hairs, nails, etc. during the festival
• Eat organic preparation made from Sabudana or order in a special Navratri thali.