Plants are an authentic way to decorate your home and windows. These are easy to use and need a little bit of care. Some of these houseplants grow well under the low light and may need positioning of the windows, especially that facing the direction of the light. For outdoor activities, you need to have flowers that work best for your needs and expectations. So, if you are looking for pot decoration ideas, especially for your window, you need to opt for something that matches your home, its Decoration and overall usability. Similarly, copper or brass pots work best for an industrial style home decor and work correctly with ethnic styles as well.
1. Use upcycling ideas for planters
While opting for pot decoration, you need to focus on the type of plant that can grow inside the same. For instance - Jade plant works wonders for your home and windows. It germinates slower and needs a heavy one to keep it from toppling over. Going for succulents like cactus and aloe vera can work wonders for your home.
You can also use small baskets to create flower pots that look attractive on a balcony display. Use any old wired or plastic storage basket at your home. You can opt to add some pom-pom, mirror and similar decor items around the same to create a perfect handicraft look.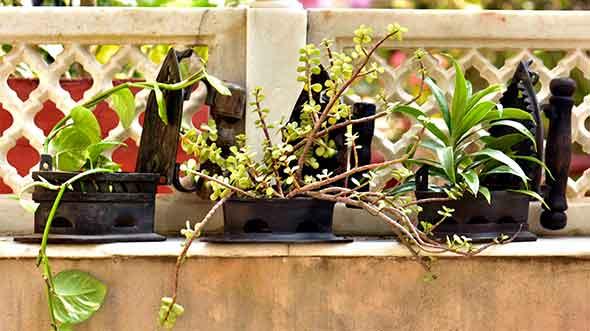 Stylish pot decoration using old baskets
For such pot decoration ideas, can also be used to hang small plants, keep bonsai, bamboo, etc. as these need little upkeep.
Use a black finished wrought iron chain to support the above pot decoration. Using both jute and twine baskets can help you get similar results on a budget.
Old flowerpots to rescue
One of the best and most classy pot decoration ideas include upcycling old clay planters or terracotta pots. This method uses the help of a buttermilk and moss solution to aid in pot restoration. This is an affordable idea that doubles as an excellent gift choice for a friend who is a gardening enthusiast. You can also opt to personalize these using washi tapes or paint to get the desired results.
Upcycle a wooden drawer
To get the most appropriate pot decoration ideas, use a pretty wooden box and give it a coat of clear varnish. Once it dries up, line its insides with smaller pots. This idea helps to create an excellent masterpiece for your living room window. Hang these on wire or place these outside your window.
It is essential to ensure that the drawer remains more significant than the flowerpots. These make an excellent arrangement, and you can use moss cover or garden decorations to get the best results for your home on a budget.
2. Create your own home decor planters
Use vintage jam jars, plastic ones or mason jars to create excellent flowerpots for home. Now cut the rose stems to fit inside each and then size then accordingly. This is a good idea to have your home decor needs to be addressed in a simple way. For the best results, go for Decoration using pebbles, pearls, crystals, etc.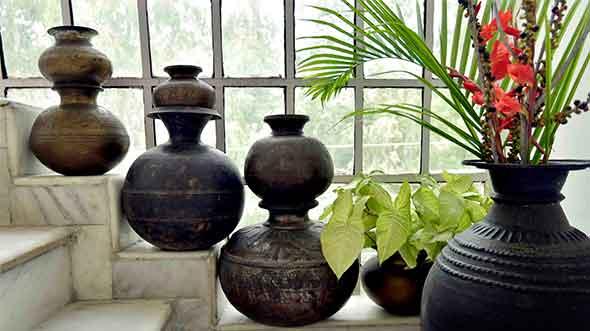 3. Wire grid to arrange pots
This is another vital idea to create charming pot decoration ideas. Create a unique wire grid pattern at the top of the wall. This needs professional assistance but helps you to arrange the planters and the pots in a better way and ensure that the same appears extremely beautiful, especially if you wish to create a focal wall.
The outcome of using the idea to decorate flowerpots is exceptionally professional and prevents the plants from sticking or grouping together.
4. Paint and pot decoration ideas
If you are going to craft your flowerpots for the first time, then you are missing on something important. This is a perfect way to enjoy your green thumb and make the most out of the summer months.
Some of the best pot decoration ideas include - colour blocking, stencil, mod podge, black or white, marble look and even plaster of Paris, etc.
5. Go for black and white decor
An authentic pot decoration uses bright shades or a simple combination of black and white for the pots. This is possible using mod podge and using simple painting techniques.
You can begin by using tapes and a few coats of paint. Peel away the tape once done to get the most in pots and planters. You can also use the idea to create polka dots, strokes, etc. to get stylish pot decoration.
6. DIY marble planters
To create these stylish DIY marble planters, use a plastic container and fill it with warm water. Once done, use a stick to steer the colour of the nail paints.
Dip these flowerpots inside the shade and enjoy a kaleidoscope of colours for your home decor needs. Allow the same to dry on a cardboard box and watch the final version of the pot. To make the same sturdier, use a clear coat of varnish.
7. Faux cement to the rescue
If you have small flowerpots around your garden, you may use DIY Decoration ideas to create an incredible task on an affordable price range and win praises and admiration from all.
So, in case you are interested in using your creativity, then use these ideas that allow you to stay ahead of the most authentic home decor race.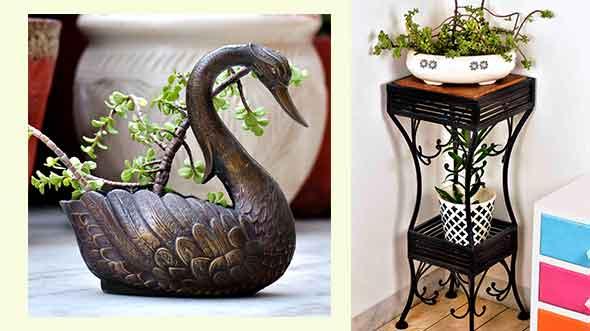 8. Faux cement flowerpots
Using the help of the above idea, you can create authentic flowerpots and turn these into a beautiful home decor item. It would help if you mixed grey and black paint and glitters to create the illusion of real cement decor. You can add a bit of white for the best results and finish the same using brush strokes.
9. Boho chic decor
You can use the boho chic decor ideas to create a vibrant pot for your home decor. This is an excellent inspiration for your friends and family. Be prepared to amaze all your guests using this stylish idea. You may also opt to create bumblebees, daisy, fabric paints, stencil, etc. to get the best results.
If you are making plans for outdoor gardening, you may pick a planter or pot that allows you to wipe the pots with the usage of a moist fabric to restore them to their original glory. Here are a few alternatives of planter pots that you may pick from: • For indoor planters, you may move for Lucky bamboos and pick metallic planter or pots of suitable length that are appropriate for the plant and space • Terracotta's, homemade planter pots are perfect for all homes. You can opt for recycling the products to create the best results for your needs • For grills and balconies, you may purchase the balcony railing planters which are available in several shapes and colours. Lightweight and colourful metallic hangings are ideal for climbers and flowering plants.
You can pick an appealing mixture of pots in various length, shades and textures. As these planter pots may be used for indoor or outdoor gardening, you need to make certain that the pot suits to your available space. For a spacious balcony having grills, you could pick stylish railing planters - therefore creating a colorful blend of flora along with an incredible view. Matching these planters and pots with the actual type of the plant and its growth requirements is especially important.
You need to prepare your pots before moving them for hanging. Before using these terracotta pots, soak these up overnight in a sink or a bathtub. If you are in a rush to prepare pots using nail paints, then you can soak these pots up for a few hours and then go for drying these up using a hairdryer. You need to opt for the use of lightweight plastic pots and smaller size terracotta or clay pots. The reason for going for the clay variant is that the same is extremely porous and helps to boost the plant grows naturally and you can easily buy these products at the online store at an affordable price.
You can opt for numerous ideas to decorate your terracotta or clay planters or similar variants. These pots are often fired up at kilns during the production process and work well for many plants and DIY solutions. Decorating the terracotta pots on a budget is extremely easy and you can go with - acrylic, fabric and spray paints along with stencils for the best results. Use the lighter colours or rainbow themes to create an awesome accent wall decor piece.