Candlelight is symbolic of different things. Candles are a symbol of peace and serenity. It also helps with relaxation and adds romance. Candles enhance home décor instantly and it's easy to decorate your house with candles. It gives an elegant look to your home. The flame of the candles is the primitive attraction. People across all ages love decoration done by candles. Candle decoration is, therefore, a housewarming gift.
Candles never get old, but the trend of their arrangements keeps on changing. Here we present you with 13 of the top candle decoration ideas.
1. Decorate your desk with Candle Terrariums
These Terrariums not only add visual interest by assembling candles and play with texture and height but also reduce any kind of worry you may have about setting your house on fire. Terrariums have black rocks in the bottom which provide a good foundation and also enhancing the impact of the candle arrangement.
2. Decorate your rooms with Lanterns
Lanterns gave magical effects. There are a lot of stories and myths associated with the lantern, so by adding lanterns to your home decor, you can bring a bit of that magic with you. These lanterns also provide a bit of safety for lit candles and assist and direct the light into a powerful, warm glow. Use lanterns of various heights and shapes as per your preference for more design drama.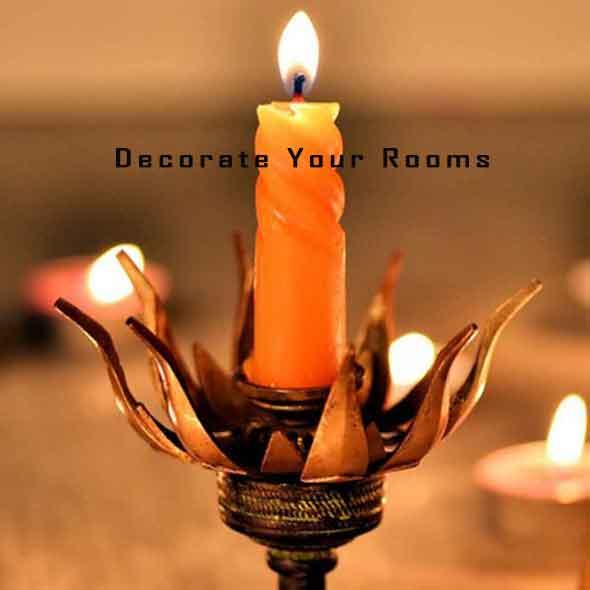 3. Candle decoration with colors, stones, and textures
Give life to your old coffee table by using different candles of various textures and heights on a bed of smooth and polished rock. In the evening when you are reading a book or enjoying a cup of tea, the candles give the warm glow of a fireplace even without its presence. You can purchase candles online having ribbon or textured bands which make the place more relaxing and welcoming.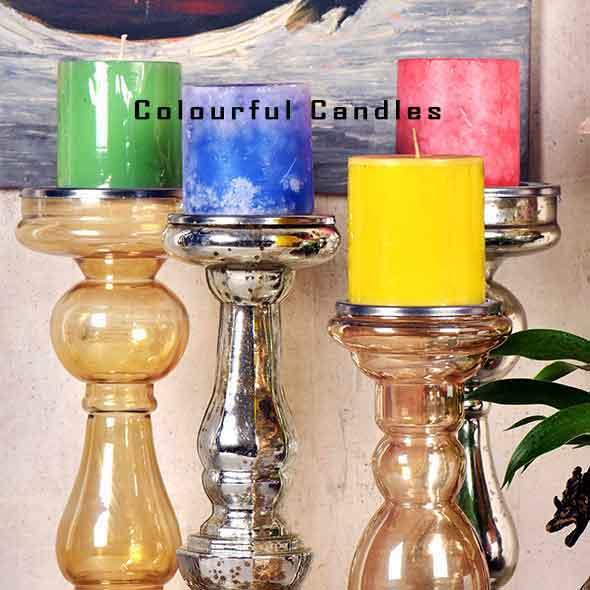 4. White Candles with green ferns
White candles and green ferns look perfect together. You can purchase white candles online. This amazing arrangement utilizes natural moss bedding with white candles and tray. This combination looks luxe yet minimal centerpiece that brings some mother nature inside the house which creates a relaxing atmosphere. The substitute realistic fake moss is also available in the local craft store which can replace live moss.
5. DIY Fireplace with Candles
Make your fireplace. Place pillar candles of different heights underneath your mantle and give a fun twist to your fireplace. The different heights of candles mimic the original shape of fire. In the evenings, when you light the candles, the candle will behave as a fireplace without giving excess heat. This is one of the best candle decoration ideas.
6. Decorate the candle with glittery goblets
Place the delicate candles in glittery goblets. Glittery goblets are the perfect candle holders.
The light coming out from the candle reflects through the glass and gives a magical touch to your dinner table decor. We can also decorate these arrangements with flowers and make the guests' eyes twinkle with the magnificent glow at the dining table.
7. Utilize old mirror frames to make a Candle Tray
Give a makeover to an old frame mirror and make it a candle tray. The mirror will help in giving a delicate glow of the candles, dramatically enhancing their light and also adding an unusual reflective element to this arrangement. You can also add candle holders available in a similar style and color for an interesting twist.
8. Candle Decoration with Sweater Votive holder
It's time to give a winter makeover to your candles. Keep your candles in sweater votive holders. These are the perfect foil to the icy silver candle holders and convert the high style to down-home comfort. To make it more comfortable, you can even match your pillow covers to the sweater votives for preparing a warm space. This space will be so comfortable that you'll never want to leave it.
9. Zen gardens are among the best candle decoration ideas
Zen gardens comprise of water, simple stones, and also well-placed flower along with candle arrangements to bring a sense of peace to the tabletop. The large magnificent glass jar holds everything nicely and helps you to choose the tallest candles for a longer burn. The best flowers use for Zen Gardens are dramatic singles like peonies or gardenias.
10. Decorate Candle in Gorgeous trifle jar
Gorgeous trifle jar has the exact width and depth which is important for wintery candle arrangements. The white rocks in this arrangement mimic snow and the dusted pinecones gives a fell of the rustic forest. A single white candle is enough in the middle of such an arrangement to give it a perfect touch.
11. Decorate the candles in a birdcage
For a trio of whimsical candles, the glittery birdcage is the perfect space. It is important to choose different colors as well as textures for an exotic design. You should not choose plain white candles. It's important to fill the entire capacity of birdcage but ensure to leave a bit of space room for the flame. You can place this birdcage on the centre table or in an area that you want to highlight. You can also use scented candles and let the aroma spread in the entire house.
12. Use fresh apples and scented candles for home décor
You can use fresh apples for decorating candle holders that smell good and looks amazing. If you want to make it look more presentable, use white paint to make little cross stitch designs and give it an additional impact. This decoration is best when you're low on candle holders as well as party decorations, but still, you wish to have the classic decorations of anyone around.
13. DIY your candles with Vintage Gravy Boat
A vintage gravy boat is popularly used to decorate a candle. It is one of the best nature-inspired candle arrangements. You can use florist moss, little bird eggs, and a single white pillar candle in the middle to fill up the boat. Pine cones are also kept on the other side and a beautifully handwritten note gives it a personal touch. You can keep this boat in its serving tray and also a small silver piece to ensure everything is together.
FAQs
1. How can candles add to my home décor?
Candles serve dual purposes of illuminating an area and also adding a decorative touch to space where it is placed. When lighted, it bathes the entire area in lovely glowing light that creates a perfect ambiance adding to your home décor.
2. Where can I get candles for décor purposes?
You can get candles for décor purposes at several online and offline stores. Many online stores like Indian Shelf deal in a veritable range of candles that can be used for decorating your rooms and other living spaces.
3. Can scented candles help in soothing frayed nerves?
Yes, scented candles are available in different fragrances. Choose the fragrance of your choice and light up your living space. The combined effect of light and amazing fragrance wafting from the candles will help you relax and feel soothes. After a hard day's work in the office, it is the best way to unwind. Invest in good quality candles so that you can add to the amazing appeal of your home while feeling relaxed in your humble abode.