Silver Jewellery: Since long precious items like gold and silver have been reigning the jewellery scene in the nation. However, the trend of Silver jewellery is fast catching momentum. The same is extremely affordable and can be worn both formally and informally.
It is for this reason ornaments made from Silver jewellery like rings, bracelets, necklaces, nose pins, earrings, kadas, armlets, toe rings are an integral part of modern Indian dressing trends. The rural and tribal jewellery trends are now spotted by many urban Indian females for their informal clothing needs.
Going importance of Silver jewellery
Silver is a beautiful and classic metal that looks extremely stunning on cool skin tones. Thus, silver jewellery items are in high demand. For people with warmer skin tones, a mixture of golden and silver tone can make a huge difference.
Therefore, gifting these jewellery items is becoming extremely popular. One can easily buy silver jewellery online depending on the wearers needs.
Types of silver jewellery online India
Many variants of silver jewellery online India are making it extremely hard for deciding on which gift is best for your loved one.
Pure silver jewellery online
This is also called as the fine silver or lotus silver jewellery. This is one of the finest forms of jewellery that is bright and shiny in appearance.
However, one of the biggest disadvantages of buying pure silver jewellery online is that it can react quickly with air and can tarnish.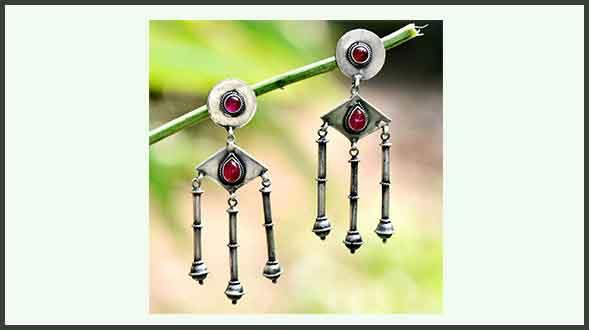 The polki perfect
Various forms of lotus silver jewellery are available along with excellent work like meenakari or polki designs. The craftsman uses metal oxides along with finely powdered glass to give a unique colour to the jewellery before making the final set.
These jewellery pieces are expensive yet are perfect for all occasion. So, gift these to a loved one in the form of a beautiful maangtika.
Vanki silver jewellery India
This is one of the finest examples of silver jewellery India. Here a Vanki or an armlet is inlaid with rose cuts and rubies. An effect of coiled snakes is available in case of this and can be placed with gold on either side. Similarly, birds can also be used along with a traditional lotus design for the best results.
Sterling silver jewellery
While you buy silver jewellery online you will come across sterling silver items. These contain 92.5 percent of pure silver and rest is an alloy of other metals.
The reason that people prefer to buy sterling silver jewellery is that it is more durable and does not tarnish quickly. You can easily choose from a variety of such jewellery items to add to your style statement.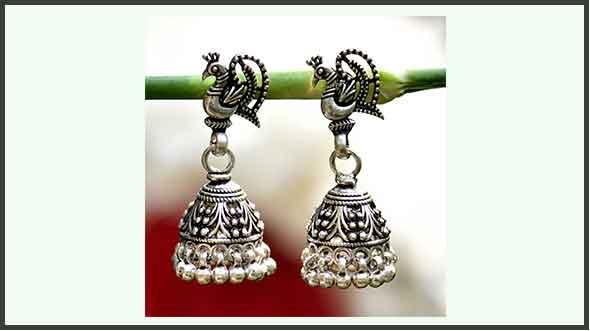 Biker Silver jewellery
This type of Silver jewellery is well liked by biking enthusiasts. This looks extremely beautiful and elegant. There are various types of choices in these types of silver jewellery online - Harley Davidson emblems, skull jewellery, wings and heart rings, cross rings, animal theme and Celtic cross. These can be customized in any way imaginable and give a unique look.
Sarpech Silver jewellery online
A sarpech is a head ornament made from sterling silver jewellery and set with emerald or similar precious stones. Here a paisley crest and elaborate enamel work covers the base of the ornament. This can be a perfect gift for your just married friend.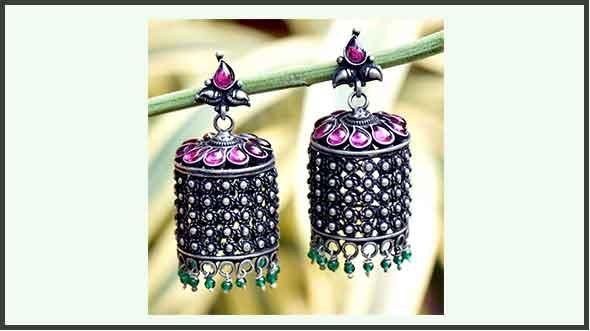 German silver
This is another favourite metal for silver jewellery India. It is an alloy of nickel and copper and zinc. You can get hair accessories, home decor and similar items to boost your style. Since these items contain nickel, it is common to get skin allergies after wearing these for long hours.
Therefore, often antique silver jewellery is designed from this metal and then given a coating of silver to make it extremely affordable and beautiful. This is because the actual antique jewellery is extremely expensive and rare to be worn on an everyday basis, people make a shift to these items.
Nose pin or elaborate nath
The exquisite nath made from antique silver jewellery is a Maharashtra special. Here floral motifs can be adorned with pearls and ruby beads. It can be the perfect gift for Mother's Day or Rakhi.
Silver oddiyanam
An extremely interesting jewelry piece especially if you wish to buy silver jewellery online is an oddiyanam or waist ornament. These are available in both gold and silver and carry elaborate designs like peacocks, flowers, leaves, etc.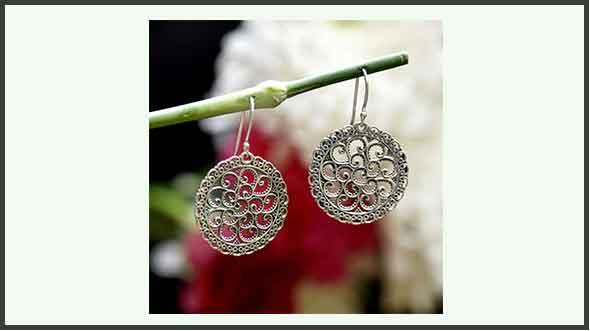 Oxidized silver jewellery
Another form of popular silver jewellery online shopping is oxidised jewellery. This is darker than other types of silver and has little luster.
The oxidation process is used to create the perfect jewellery items where the pure silver items are known to tarnish easily. Therefore, if you buy these you do not need to worry about how to clean silver jewellery at home. Even if the metal tarnishes, it creates a more traditional look.
Jhumkas
An eternal oxidised jewellery favorite that is easy to buy through online silver jewellery stores is a Jhumka. The Rajasthani Karanphool Jhumkas are extremely beautiful and rare. This can be a perfect gift for your wife or girlfriend.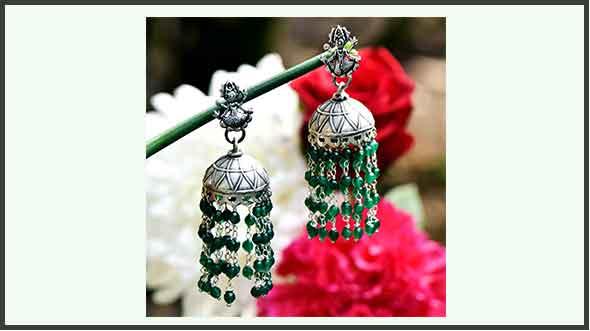 Bracelets or Kadas
An antique looking oxidised favorite ornament for buying silver jewellery India is a Kada or bracelet. These can be hollow or solid. Smaller Kadas available in elephant motifs can be the perfect gift for a child on his or her birthday whereas the stone studded ones can be used for adults. These can be further customised with special messages or Names.
Gold plated silver jewellery
It is common for people to look for gold plated silver jewellery since the same is affordable and looks beautiful. Here silver forms the base metal while authentic gold is used on the surface.
Such items have a huge demand and carry the natural beauty of gold. However, the same is more durable and affordable than actual jewellery items.
Kundan style gold plated silver jewellery
These are a perfect way to get gold plated silver jewellery anklets for a bride. These are decorated using various gems and even has small ghungaroo that makes a beautiful sound on walking. Such items often have charming designs but are affordable.
Striking necklaces
Another great type of silver jewellery online shopping is buying ethic silver pendants that are interwoven with pearls. These are then given a makeover using gold plating to achieve beautiful textures. Such designs are limited and form an exclusive gift for a loved one.
FAQ
What other special and traditional silver jewellery items can be bought online?



One can opt to buy hathphool (hand ornaments) and painzeb (anklets) online. These are crafted using finest quality silver and make a perfect (yet expensive) gift for a loved one. These are available in special designs and styles. Depending on your budget, the silver jewellery items can be had in elaborate floral or animal motifs or simple vine like designs. If you are low on budget, you can go for pendants and bracelets for gifting to a near or dear one.



What kind of silver jewellery items are extremely popular in India?




Silver Jewellery items made at Kolhapur (Maharashtra), Salem (Tamil Nadu) and Rajkot (Gujarat) are extremely popular. These are known for their unique style and are extremely light in weight. You can also get these silver ornaments from Indianshelf brand's online store for the best results. You can also opt for tribal jewellery items as these are extremely beautiful and chunky. These look beautiful when worn on everyday clothes and are perfect for the office as well as a coffee date. Similarly, filigree designs use ornamental designs that are formed into delicate tracery. These are easily available for purchase as necklaces or bracelets.



How to clean silver jewellery at home?




If you do not have much time to maintain your silver jewellery, you can opt for oxidised designs that look better as they tarnish. However, how to clean silver jewellery at home is possible through the following points -


• Give the silver jewellery a boiling water bath and add baking soda and salt. This will clear away dust and grime


• Use half tablespoon white vinegar and 2 tablespoons of baking soda to give a natural polish to the silver ornaments