Within a low budget, you can create your small house that looks stunning. Some decorating tips and interior design ideas will definitely add an extra flair of style to your small house. Let's discuss some of the decorative ideas.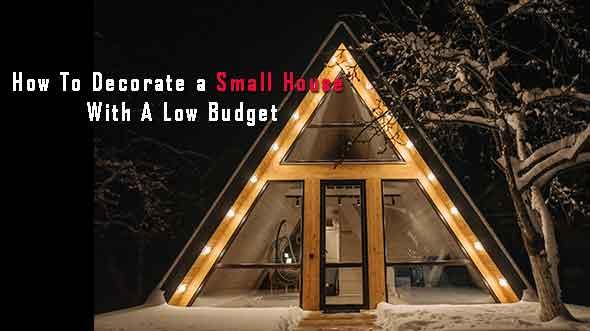 Hang your Artwork
Another easy and affordable home decor idea for your living room and bedroom is to hang unique art pieces on the walls. You need to gather and hang out all your artwork on the wall.
Hanging your artwork will keep your empty walls busy and give your room a brand new look. You can even hang your family photos on the wall. If you feel like hanging out some creative artwork on your empty walls, there is a great way to gather it all at a very low budget by just creating your own artwork.
Just visit your local craft store and you will find everything you need to create a beautiful canvas painting or a framed artwork.
Rearrange the Furniture
You can often change the look of your room just by rearranging your furniture. You can try to move your sofa more often to the opposite wall and create a new focal point for you and your guests inviting them to stay on. Moreover rearranging the furniture by yourself costs absolutely nothing.
Try to create beautiful spaces with the furniture you already have instead of buying a lot of new ones. For the elegant look of your furniture with the warmth feeling of its coziness, you can try moving your existing furniture.
A Partition Shelf
When you are looking for some storage ideas on a budget, you can buy furniture that is both functional as well as stylish, wall shelf along with some partitions that act both as a shelf and room divider. In addition to this, it provides enough space to display your decor accessories or items.
Paper Lampshades
If you are looking for cute cheap ways to decorate your room, the perfect idea is to buy a few paper lampshades and hang them over your existing lights. It works with each and every type of decor style, whether it is modern style or rustic style.
You can choose white for a minimalist home. For rustic or country-style homes, you can choose brighter colours.
Opt for a Minimalist Look
One major budget saver is opting for a minimalist look that doesn't require a lot of stuff. A minimalist look which eliminates clutter and allows you to splurge on a few but nicer small house decor pieces as those pieces will be definitely a central focal point.
Just have a look at your walls and notice if they are looking a little bit more crowded, you might think about removing some of the items.
Upgrade Old Fixtures
You can try installing new door and drawer pulls which can add a new life to your cabinet or drawer. Visit your local hardware store, where you can choose from a wide variety, if you are looking for different types and styles of door knobs and door handles.
A quick and easy way to decorate your small house is to update all the old fixtures, especially in your kitchen and living room. Door knobs, handles, drawer pulls and light switch plates are very small and less expensive that can give your small house an elegant look.
Decorating with Photos
You need to choose some of your memorable and fun photos from your mobile phones or laptops or from your photo album. You have to print some family photos and clip them onto a string.
You can hang the picture string on your bedroom wall or living room wall for a nice and elegant decorative touch. This is definitely a fun and unique way to display your family photos and it won't cost you much.
Repurpose Old Items
Before throwing out certain unused items, you just need to think about repurposing them for further decorative purposes. You can use some of the old light bulbs as candles with some simple modifications.
If you have an old picture frame you don't want anymore, then you can use it as a serving tray, when your guests come to your house. There are so many interesting ways that can turn your unused old items into beautiful and useful items around your home.
Use Your Pillows
The best way to enhance the look or beauty of your small house without spending any money is to collect some pillows around your home and arrange them on your couch.
This can give your living room a beautiful and new look without spending a single penny. Your home will feel a little bit warmer and more inviting.
Accent with Accessories
Books and magazines are a great source of home decorating ideas and an inspiration for how to accessorize a small room. However while decorating the small house, the home-owners generally expect to shop around within their budget while seeing some designs in a magazine.
Give the illusion of Higher Ceilings
One can never raise your roof but one can consider raising your window treatments. You can try raising the window panels which creates an illusion of height and give it a larger space/area feel for your small house interior design ideas.
You can simply add some fabrics to your existing panel in an inexpensive way to achieve these types of typical and unusual ideas. Once you find the perfect complimentary fabric, you can simply take it to your local tailor to let him/her add the fabric at the top, middle or end of the fabric.
Add visual space with Mirrors
You can try to trick your visitor's eyes into thinking about the room space being larger than it actually is via some sneaky mirror placement.
Oversized mirrors will reflect the room back, making it appear more spacious, even twice its actual size. You can even use this decorative idea to make any small room appear bigger and larger.
Hang It
Wall Hooks are generally more affordable and cheaper than wall shelves. As the wall hooks are very small in size, they have the ability to hold your larger elements that can even become an important part of your small house decoration.
You can hang your clothes and various accessories in a proper decorative way, which adds a great look to your small house decor and it saves some of the storage area.
Go Green
One of the best options for cheap decorating ideas for an apartment and a small house is going green. To bring a refreshing feel to your room space, you can add some potted plants in the corner of your bathroom.
Shop from thrift stores
You can shop a lot of second hand items or furnitures from the thrift stores. Infact, it is a budget-friendly way to decorate a small house.
You can find almost everything in the thrift stores and even some really good stuff or furniture or accessories during the yard sales. Bedside tables, coffee tables, chairs, vintage ornaments, etc. are things that you can easily find out there.
For instance, you can buy a lamp with a burnt cord and just get the cord fixed or you can buy a wooden coffee table and get it polished. One thing you need to keep in mind while shopping from a thrift store is to always perform a cost analysis before buying anything while having a look on your budget.
Repaint the Cabinets
Another brilliant idea which you can also include in decorating your small house within a low budget is to repaint the room cabinets or wardrobes in a stunning shade which definitely introduces freshness to your kitchen or even in your bedrooms. You need to choose a colour that contrasts the walls and the floor or matches the floor tiles.
Display shelves in the bath
For small bathrooms, free space is definitely a challenge. You need to fix some floating shelves on which you can organize your toiletries and cosmetics instead of adding furniture that will crowd the floor space within the bathroom. It looks like an expensive display but it costs within our budget.
Candles and flowers
You can decorate your small bathroom by just placing some flower arrangements and aroma candles on the counter.
It will definitely bring you to a spa-like atmosphere which can also elevate the style in your bathroom. You can consider a small potted plant with a fragrant herb or flowers instead of flowers, which you need to change very often.
Sophistication in the Tv area
Do not invest in buying expensive television furniture that makes your living room look more organized. Instead, just get a wall mounted shelf with some drawers for storing CDs and remotes.
A stylish and inexpensive proposition for framing the wall-mounted TV can be a light panel board with some backlighting. This panel will not take up too much space. Even it does not interfere with the small living room furniture arrangement.