Top 25 Diwali Decoration Ideas
Your home is the heartland of all your festive fancies. Surely, it deserves a splendid tapestry of decorations for the beautiful day of Diwali as well. Below mentioned are 25 common-uncommon Diwali decoration ideas. They will certainly help you plan your Diwali decorations in a way that is complete and inviting at the same time.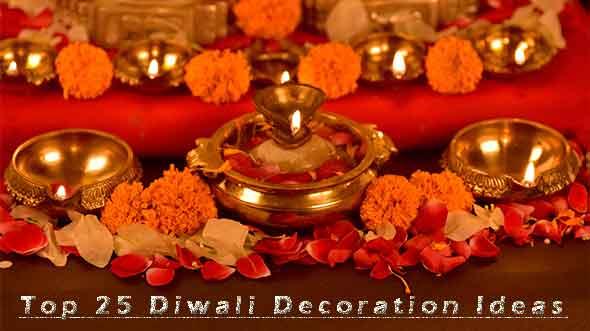 LIGHTING DIWALI DECORATION IDEAS
Diwali is the festival of lights after all!
1. Dazzling Diyas
Diyas are common yet evergreen.
From metal to clay, from plastic to fruit, from floating to gel, diyas come in dozens of styles. Of these, the little clay matka style diyas are perfect for aarti ghar.
2. Candid Candles Craze
Candles can be used to decorate pretty much any space - nooks, staircases, table settings and narrow railings.
These days, oodles of candles are available throughout the year. Handmade wax candles and the scented ones are great for interiors. For front entrance, porch or drawing room, some ideal options are fruit candles, floating candles and tall decorated candles.
3. Pipes, Chains & Strings
Whether it is a full-fledged pipe light on your balcony's railing or a string of rice lights, these age old lighting methods almost always work.
You Can Read Also: Silver Jewellery Online
If your house contains an outdoor garden space, you can decorate this space with chains of decorative bulbs.
4. Bangle Lampshades
You can now use your old bangles for Diwali decorations too. Simply stack and glue the bangles to form a container, or paste them over some old glass candles. Fill each container with wax or ghee, and use them as gorgeous Diwali candle decorations!
5. Hanging Lanterns
Give your home the shimmering glow vintage style. Purchase some plain lanterns or create your own. Fix a candle, diya or bulb in each of the lanterns and tuck them to a string inside or outside of your house.
COLOURS DIWALI DECORATION IDEAS
Without colours, what is left of decorations?
6. Showers of Flowers
From loose flowers to flower vases, there are umpteen options to begin with. Another good idea is to put some rose petals in a bowl of fresh water along with other decorative Diwali ornaments. These bulbous blossoms never fail to bring a cheer to anyone who comes across.
Read Also: Return Gifts For Birthday
7. Paint & Polish
If you're not planning for whitewashing this Diwali, make a list of selected spaces in your house to revamp instead.
It might be your kitchen cupboards. Or, it might be as small as a coffee table. Perhaps, one of the walls in your living room. Brighten it up with pastels, metallic colours or printed wallpapers.
8. Rainbows & Rangolis
To make a rangoli, you can use anything from shredded flowers, chalk, colour powders or pastels. Many people also like to use paper cuttings and decorated cardboards.
Some of the popular rangoli designs include motifs like peacocks, daisies and paisleys. You can also make colourful geometric patterns and mandalas.
FLOW & FLAIR (BEST DIWALI DECORATION IDEAS)
Let the pieces flow together in one tune.
9. Delightful Draperies
Furnishings make a home look fabulous. For Diwali, select something which matches the shade of your walls and also, which is made of some sheen-giving fabric.
You can also use old festive clothes as the draperies, such as using dupattas as curtains. Using old golden thread silk saris as curtains always does the trick!
10. Garlands & Leaves
Floral garlands, of course, look marvellous on staircases, railings and walls. Apart from these, an exciting idea is to string a pompom garland handcrafted with colourful wool threads to decorate your interiors.
Accentuate further with things like faux green leaves, large-sized beads or glitter marbles.
11. Torans
Torans are a kind of wall hanging made in different kinds of materials namely, mirrors, rhinestones and embroidered cloths. You will find beautiful torans available in any street market coming in various designs. Use these to decorate your walls, ceilings or doors during Diwali.
Read Also: Home Decor Ideas
12. Bells
Get creative and embellish your Diwali decorations with strings of clinking bells.
You will find many readymade Diwali decorations consisting of bells alongside motif-style ornaments like elephants, horses, diamonds, leaves and flowers.
13. Lavish Lace
Lace doilies are fabulous, for certain. In addition to these, you can use lace to wrap around the glass jars, wine bottles or even the trays used for serving nuts.
14. Cosy Cushion Covers
To make your sofa cushions highlight on Diwali, purchase a pack of new ones which are made in satin-line shiny fabric.
You can also use your old saris to get these new cushion covers stitched by a tailor.
ART & CRAFT DIWALI DECORATION IDEAS FOR HOME
Instil emotion in your Diwali decorations with some artwork.
15. Crafty Coasters
Decorative coasters are well suited for tea, coffee, dining, even for the bowls of floating diyas. Use beaded coasters with glittering seed beads or bugle beads, rhinestones or sequins. Even the plain ones with colourful designs look as good as well.
16. Paper Potpourris
Paper craft is one of those interesting Diwali decoration ideas. You can use coloured papers to make wall hangings, garlands, cut-out lanterns and torans. The best part, they are quite cost-effective and also, they can be easily created at home.
17. Woo the Walls
Use a wallpaper, metal danglers and bell hangings. Use woven baskets or hats. Use strings of rice lights or chandelier lanterns. Use labels of 'Happy Diwali' along with other Diwali greetings wall art. Ethnic wall art is another great idea. And of course, you can adorn your walls with some beautiful paintings of your choice. When it comes to wall decorations, your imagination is the only limit.
TOUCH OF TRADITION
Add blurbs of tradition to your home.
18. Motif Accessories
A home on Diwali is incomplete without a Shubh Laabh, Lakshmi Paduka and Swastika. Make them a part of your decorations too. From glass to wood and clay accessories, you will find many cheap to expensive accessories comprising of these traditional motifs.
The best place to use these motifs is at the front door, near the entrance or in the pooja ghar.
19. Urli Bowl
Originated in the Southern region of India, urli is basically a bowl used for keeping flowers in the water as a part of decoration. It comes in different materials, the most common being brass. Apart from carrying simplicity and tradition, it makes up for a great Diwali decoration when teamed up with other decorative ornaments.
20. Little Idols
From small-sized brass Ganesha to a pair of clay-made Ganesha-Lakshmi, these little idols are not just decorative parts of a Diwali decoration but essential too.
21. Colourful Kandeels
A kandeel is a cut-out accessory usually resembling a lantern. Kandeels have been a part of Diwali decorations since ages. These days, you might find more expensive kind of kandeels perhaps made in metal, or clay.
22. Magic of Marigolds
Marigold is the traditional flower you'll find often in the homes during Diwali. Wall hangings and pooja garlands are the most common forms of marigold decorations. You can do something as using a decorative bowl filled with water and loose marigolds for entrance or lobby.
LUXURY DIWALI DECORATION
Invite prosperity with prosperity.
23. Classic Glassware
Take out all those glassware sets you've been storing in your bed trunks for years and bring them into display as statement pieces. Turn to your centre table, wall rack or side table, and use these glass items as a part of your Diwali decoration.
24. Fragrance Fervours
Fragrance always walks side by side with the festive decorations. Instil some fragrance in your home with flowers, room scents, scented candles or sprays.
Metals carry subtle hints of light which is synonymous with Diwali. Add some metallic glee in your home by using antique metal accessories, metal pots, or bejewelled items.