There are several ways to decorate your small space. Following are the best small gathering ideas which will surely make your party a rocking one.
Keep it Simple-
A minimalist approach of decoration goes off entirely for a small room gathering. Flowers, wall decorations, and table settings will stop the room space from being cluttered. Try to avoid using a considerable amount of serving trays and utensils so that your dining table won't feel too cluttered.
Set up Multiple Snack Stations-
To avoid crowds around a single food table, you need to scatter the appetizers or snack bowls around your home. You can place some napkins and bites on a side table or a bookshelf. This arrangement will make it easier for your guests to encourage themselves by moving around your home freely.
Decorate for Freeing Up Space-
You need to primarily consider decorations that mainly use vertical space or wall space, thereby leaving the tables and countertops free for keeping food and drinks
Balloons and buntings which float overhead look stunning. You can hang a craft paper menu on the wall so that it's straightforward to have a look at your Menu to your guests.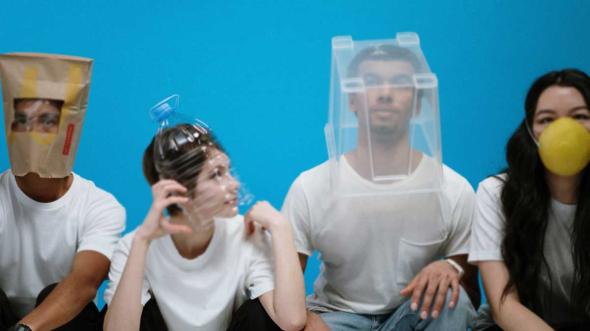 Choose Open Floor Plans-
You need to make your guests feel crowd-free in your home and allow them the freedom to move around your home. An open floor plan generally adds a sense of airiness to your room space.
Curtain or fabric dividers break the line of sight of your guests, dividing your small room space into smaller and tiny segments, so be sure to avoid them at all costs. You can also take help from a room decorator if you want to create an event floor plan well-designed.
Mix and Match your Seating Area-
Try to decorate every seating option like chairs, benches, stools, armchairs, etc. in all your rooms. Nowadays, mix and match are trendy, so you need to mix and match the colours or clothes of all your seatings accordingly. It would help if you made sure that all your accommodations are comfortable for your guests.
Separate Food and Drinks-
Separate your drink and food station around your home so that it does not feel cluttered. For instance, consider a drinking area near your bedroom space and a food area in your dining room space. In this way, your guests will not meet up at one spot.
Make Use of Table Lamps-
Lighting is the essential key for adding character to a place with what you have already. You need to turn off the overhead canister lights and turn on dim chandeliers and table lamps. This will create a warm and inviting glow, thereby enhancing conversation and relaxing all your guests too.
Light a Few Candles-
Place plenty of candles around your room so that the candles embrace the background of low lighting. The soft light which comes from the candlelight adds a touch of elegance to your room space, thereby creating dimension. You can also place some candle centrepieces around your home for a beautiful look.
Electric lights are not the only way to add character to a small space, but candles also help lighten up everyone's mood, and when placed around the home, it creates a cosy atmosphere.
Decorate with Flowers-
If you are trying to save some space, flowers may look like a worthless addition to your room decor, but flowers can add significant charm to the atmosphere of all your small gathering parties. Try to choose a little spot to decor all your foods and drinks, even if you have limited space.
Create a Quiet Zone-
Music plays a significant role, whether it's for small gathering parties or large gathering parties. The music can easily combine with everyone's gossip, which will quickly turn up the volume in a small space.
Create a quiet zone for your guests who want to chit-chat or gossip with each other. Some people want some quiet space for better conversations, and some people want to listen to soft music along with their discussions.
Set Some Mood with Lighting-
Firstly, you need to replace your standard light bulbs with extra-bright bulbs for a different look. Place some string lights available in a variety of colours and hang them across the walls, ceilings, railings, staircases, garden area and windows.
You can also hang some colourful paper lanterns, which are readily available in the local market in varied shapes that will surely fit your party's theme. For an elegant look, you need to opt for white string lights instead of coloured ones. As discussed above, you can also place candles for warmth and cosy look.
Place or Hang Mirrors Strategically-
Mirrors which are well-placed visually double the size of your room space. Hang them in any of your intimate areas such as entryways or cramped hallways. They can also be placed at the centre tables to create an illusion of height.
Decorate the Ceiling with Streamers and Balloons-
Don't overlook the ceiling when it comes to decorating your home for small gathering parties. Use streamers and balloons to decorate the room at your end. It would help if you hung the streamers and balloons, which automatically ends up by sticking up at the ceiling.
You can also hang some balloons at the ceiling's corners for a beautiful look. If you already have placed the streamers across the limit, you can then try hanging some of them straight down from the ceiling that looks like a curtain, where guests can enjoy passing through.
In addition to latex balloons, you can add some foil balloons. Foil balloons come in a wide variety of themes and shapes, thereby fitting your needs and preferences.
The food just next to spoons, forks, knives, napkins and plates will create an unnecessary and sudden crowd at your serving station, the way more than you expected.
Plan your Menu accordingly, and then you can cut down the extra space used up. You can also save space by serving skewered and finger foods that don't require big plates to serve on.