Every year, while counting the candles on your cake, you don't just count a number called age. Rather, you travel through an entire passage of time once again. As the clock of calendar strikes this date called birthday, motleys of treats are planned as well as the bouquets of party supplies.
Even though the market of cost-effective party options allows you to host a big birthday bash on a shoestring, but, if you're planning to celebrate it in your own little sanctuary or a room of your house, this is the list for you.
The list mentioned below showcases 9 awe-inspiring birthday decoration ideas for party interiors like that of a room. Take a read to find out something which matches your style and age group.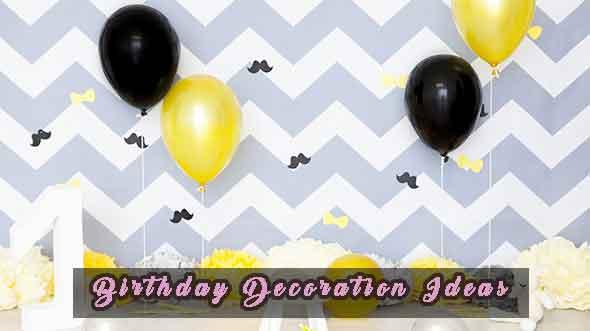 1. DIY BIRTHDAY DECORATION IDEAS
DIY Photo Booth
Why Photo Booth?
A photo booth is a great way to capture some wild, candid and random moments from your birthday party. The aunts doing gossip or that cousin feasting on yet another plate of snacks, kids dancing atop the tables, the face of the birthday boy or birthday girl smudged with the cake cream, and so on.
While there are many photography companies that offer photo booth installation, you can also create one by yourself right at home.
Photo Booth Requirements
All you will require is a room space where, in one corner you can settle a camera, perhaps a tripod too. Place a sheet of paper or board alongside, outlining the booth instructions for guests. Some witty photo backdrops and party props are great to spice things up. Add an on-the-spot printer if you want.
You Can Read Also: Birthday Return Gifts Ideas
Buffet Re-Beautified
It is said that a party without food is just a meeting. Certainly, food is the highlight of any or every party. So, instead on spending your money on expensive decorations, why not re-decorate the food's buffet instead. Good food when served in a beautiful way tastes even great, after all.
Pedestal Style Bowls
For instance, choose pedestal bowls and containers in place of the regular ones.
Scented Candles
Add scented candles to the buffet table.
Glitter Glassware
Glam up the regular glassware with colourful glitters. The guests are going to love the food even more.
You Can Read Also: 15 Birthday Room Decoration Ideas
2. WASHI TAPE WING-DINGS
Washi tape is absolutely inexpensive yet it can be used to create some marvellous party decorations. From polka dots to patterns and drawings, washi tapes come in assorted designs.
Washi Tape for Cakes & Cupcakes
You can use washi tapes to create colourful cake bunting, cupcake wrappings and cake toppers.
Washi Tapes for Vessels & Cutlery
Think of cutlery wrappings or glass straw umbrellas. You can also decorate serving trays, bowls or box lids using a washi tape.
Washi Tape for Statement Decorations
Consider old statement pieces or a cluster of tea-light candles. Drape the tape around the pieces covering the desired surface in a new look.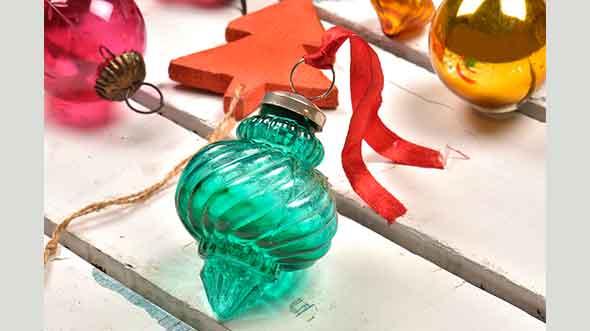 3. THEME-STYLE BIRTHDAY DECORATION IDEAS
Chalkboard Theme Party
Chalkboard is a café-style theme which is uncommon yet beautiful for parties. Be it a fun-time treat for your college gang or a kids party at your home, this is a wonderful theme to select.
Chalkboard Decorative Accessories
From a chalkboard bunting to signs and labels, there are plenty of things you can do.
Chalkboard Menu or Welcome
If you're new to using chalk and board, a chalkboard menu or a welcome board are great ideas to begin with. Good for barbeque style parties!
Chalkboard Wallpaper
If the party coincides with your home-furbishing search, consider decorating an entire wall of the room with chalkboard.
4. DINOSAUR JUNGLE THEME PARTY
Parents love kids. And kids love animals. Especially dinosaurs. So, while organizing a kids' birthday party, dinosaur jungle is a cutesy theme to go with.
Decorate the room beginning from dinosaur themed party invitation cards to a medley ground of dinosaur toys, from dinosaur stickers to dinosaur shaped cake and so on.
You Can Read Also: Balloons Decoration Ideas
Iridescent Theme Party
Iridescent appearances give the vibe of purity, wilderness and bliss. Having an iridescent-themed party is equally good for aged and adults as it is for a children's party. It's like having the taste of shimmer without blinding the eyes to its sparkle.
Iridescent Tassels & Tidbits
Include iridescent tassel garlands, shimmery paper gemstones, pearls, mermaids, iridescent birthday banners and unicorn ornaments.
Iridescent Table Decorations
Iridescent pastel napkins, iridescent glasses and candle lights are some of the gorgeous options.
6. CERAMIC THEMED PARTY
Ceramic decorations are cute and utilitarian at the same time. While hosting a birthday party, indulge your guests in some artsy ceramic style.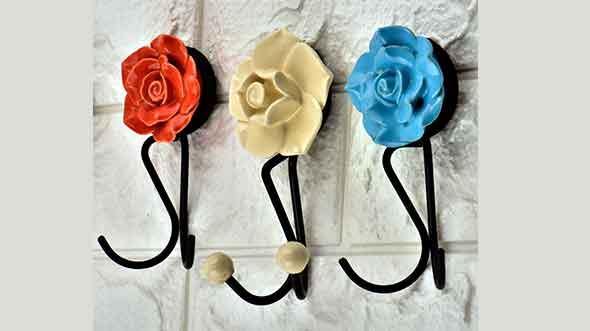 Ceramic Kitchen Sets
While serving smaller meals such as snacks and desserts in the party, consider different ceramic kitchen sets instead of regular cups, saucers and plates.
Ceramic Wall Decorations
From butterflies to flowers and glamorous balls, you will find many artistic and innovative ceramic wall pieces both online and offline.
Ceramic Knobs as Lids & Corks
Take out some old drawer or dresser knobs from your storage and use them for decorating bottle openings, small-sized vases or even as wall art.
From kids to parents, everyone is going to want these little decorations for themselves too.
You Can Read Also: Innovative Ganpati Decoration Ideas For Home
7. NEON THEMED PARTY
Glow parties are organized mostly for kids, especially sweet sixteens. They are marked by plenty of neon colours, pop rock music and flashing lights.
Neon Decoration Accessories
Think everything glow. From utensils to bowls and cake toppers, purchase neon styled materials for your upcoming party and host a party night filled with multicoloured glow.
8. GLOW PARTY FOOD
You will easily find glow party food favours from bakeries. Cakes, donots, popcorns, sausages, gems, and lollipops are some of the examples.
You Can Read Also: Diwali Decoration Ideas for Home
9. COUNTRY THEMED PARTY
Adorn your cake with a cowboy cake topper. Or create some doozy little vases with cowboy boots. Use raw materials such as straw or hay. Create a faux fireplace with candles. Play karaoke. Engage the room in rustic decorations.
The best place to throw this kind of party is your backyard or rooftop.
Ending Note
Decorating a room for a birthday party isn't that brobdingnagian a task. Truly. All you need is a little clarity of the theme, colours, guest list and good food. And of course - Sunshine, smiles, laughter and love, a little cake and lots of fun!