The wedding is one of the most critical milestones in the life of every couple. In India, mainly weddings are celebrated with great pomp and show. It is nothing short of an extravaganza. If you have a wedding in your family, here, we bring you a few exciting and exciting wedding décor ideas that are sure to get the stage set for this joyous event. These wedding decoration ideas will also ensure amazing pictures captured on the camera. The memories of this day are sure to be cherished for a long time.
Fairytale Wedding Décor Idea
If you always dreamed about getting married in a fairytale style, this wedding decoration idea is sure to appeal to your senses. Use a perfect blend of pink, golden, white and a little sparkle to make the stage come alive. It is going to look like a page out of a fairytale book.
Gold and Red Décor Idea
Red is the quintessential sacred colour. So, why not pair this lovely, vibrant colour with a little bling like gold and create a cute theme. You can go for red flowers tied with golden bows or golden detailing in other ways to make this theme look strikingly beautiful. This colour combination looks classy, traditional, and festive, particularly in Indian themed weddings.
Flower Wedding Theme
Why not bring the beauty of nature's marvels to your wedding premises? Go with seasonal or exotic floral ensembles and decorate every corner of your wedding arena with lovely flowers. The cornucopia of vibrant colours combined with its intoxicating fragrance is sure to create a perfect ambience for two souls coming together in holy matrimony.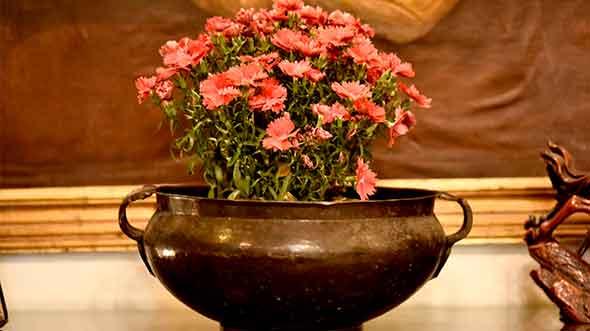 Pink and Silver Wedding Décor Theme
If you wish to go for subtle colours with just a dash of sparkle, the combination of pink with silver is sure going to look very attractive and graceful. Right from the couple's wedding attire to the guests' dressing, everything needs to be in these two colours. Use pink flowers and silver cutlery to give an edge to this theme. Chair sash in pink and stage decoration in pink and silver will add to its grace.
Purity of White
In many Indian weddings, especially Christian weddings, white is one of the predominant colours. Go all out with this pure colour and use décor ideas like flowers, candles, furniture and furnishings, chandeliers, hanging lanterns and more in white and add grace to the whole decoration. White florals in the backdrop when the couple says, "I Do" will surely add a charming touch to this décor.
Arabian Nights and Its Beauty
If you carry dreams of getting married under a star-lit sky, it is certainly possible with this Arabian Nights theme décor idea. Go with an artificial ceiling in deepest hues of blue with sparkling silver stars giving a feel of the star-lit night. The couple can wear colours as per Arabian Nights dream and add to the authenticity of this theme.
You can use the services of a professional wedding decorator and get Van Gogh's Starry Night stage recreated for your wedding.
Royal Theme for the Royal Couple
If stories of erstwhile royalties have always intrigued you, now is the time to live the life of royalty on your wedding day. Extravagant, larger than life sets with massive golden arches and pillars, huge chandeliers, silk or satin vibrantly coloured curtains, low sitting areas with gavtakiyas and maenads can add to this theme. The couple can don royal attire and play the part of a royal couple to the hilt.
Wedding Decoration Idea for a Mandap
The couple can try something unique for their mandap wedding décor. They can create an island with water all around. The mandap is formed on the island and sea can have floating, well-lit diyas and petals of fresh flowers. The mandap can be decorated with colourful flowers and floral canopies. Place royal chowkis for the couple and parents and priest to sit. Flowerpots with hanging plants can also add to its beauty.
Candle-Lit Wedding Décor Idea
Light is one of the most integral elements of wedding decoration ideas. You can place candles and tea lights here and there in the wedding area. When lighted, the soft, warm glow of candlelight can create a perfect ambience for a wedding. Bathed in this warm glow, every décor object looks beautiful and add more style and class to space.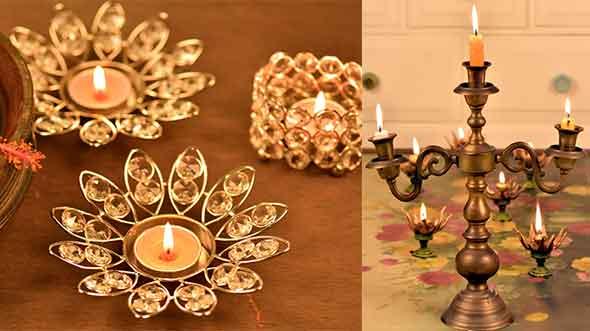 Paisley Patterns Everywhere
If you love the typical UK inspired paisley and chintz prints, you can decorate your wedding premises in these designs. Go for pastel colours and subdued patterns to add grace and chic to the overall wedding décor style.
Colourful Paper Hangings and Lanterns
Go for colourful paper lanterns, origami hangings, and lanterns. Choose vibrantly, coloured papers to make interesting patterns. When hung from ceilings or tree branches, these look very lovely and beautiful. You can also use tea lights to hang from above amidst colourful lanterns. Create colourful canopies of paper made patterns or hangings that will bring a riot of colour to the celebrations.
Verdant Wedding Decoration Theme
Go green at your wedding. If you are getting married in an outdoor setting, it will be easier for you to add rustic touches here and there. A lot of climbers, shrubs, trees, and ensembles can be created around rustic mandap design. Wood stubs for seating add more to your wedding decoration theme. Place a lot of planters here and there to this green theme.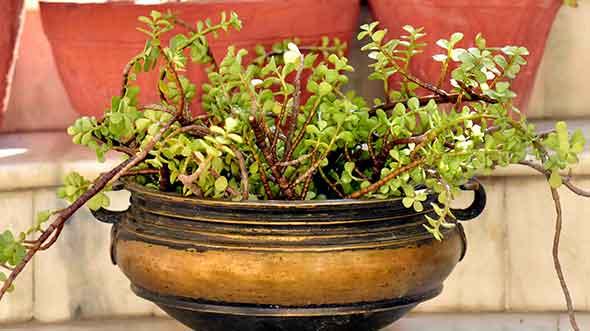 Go Minimalist at Your Wedding
If you wish to keep your wedding celebration low key, go for a minimalist wedding décor theme. Choose wedding decoration that is essential to solemnize a wedding and do away with any extravagance. This is the wedding where only blessings of well-wishers and near and dear ones/ matter.
Ethnic Wedding Décor Touch
You can go for an ethnic wedding décor touch at the wedding by using brass statues, brass hangings, diyas and more as décor objects. Other wedding décor elements must also be chosen as per this theme. Lit bronze oil lamps everywhere. It will leave a soft, warm glow all around the premises creating a perfect ambience. It will give you a feel of getting married in two centuries ago period.
Bollywood Theme
Another prevalent theme that works well in Indian weddings is a Bollywood theme. Ask guests to come decked in popular Bollywood celebrity style. Put up a lot of famous movie posters with Bollywood music in the background.
All these lovely wedding decoration ideas are sure to make your wedding celebrations spectacular and memorable for a long time.
FAQs
Is choosing a theme for wedding decoration a good idea?
Yes, choosing a theme for wedding decorations is a great idea. It gives a perfect outline around which various wedding décor elements are used. This way, there is a seamless and perfect look of the wedding premises. Look for a theme that is practical and suits your taste and style.
Adding décor objects can bring a difference to the wedding mandap?
Yes, choosing décor objects like bronze statues, bronze oil lamps, diyas, hanging diyas and more can add an ethnic touch to your wedding décor. It looks very lovely and attractive.