Plant-based decorations are neither too simple nor too overwhelming. From a decoration like giant florals amalgamating on the wall panels, to something like exquisite shrubbery flowing over the walls, the idea of a green wedding is more than just perfect. It is heavenly, to say the least. Plus, it is eco-friendly too, which is also the best part.
If this nature-inspired green theme matches with your fantasy of a dream wedding, here are some of the best plant-based wedding stage decoration ideas rounded up in a list of ten for you. Read on!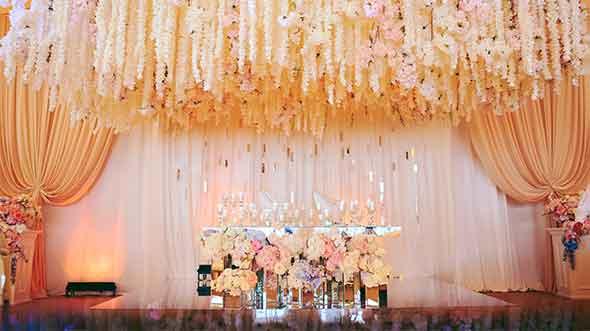 Fairy Garden Backdrop Setup Wedding Stage Decoration Ideas
Make your wedding ceremony a dream come true by creating a fairytale kind of setup on your stage or mandap. As an example, you can create a fairy garden backdrop on the stage.
Include bouquets of fresh flowers, plain white sculptured vases, ethereal draperies and strings of fairy lights. For a dreamy display, highlight the flower bouquets by installing top-spot lighting outlining the ceiling ledges of the stage.
If you also want to add some glitzy shimmer to this natural theme, crystal decorations will be well suited for the purpose. Ornaments like crystal made lattice backdrops, acrylic crystal garlands and hanging crystal bead chandeliers will give a fabulous look.
All-green Wall With Golden Script Lettered Initials
Decorate your wedding stage in a bold and elegant style by creating an all-green wall topped up only with giant sized initials of the bride and groom.
Depending on your theme, your designer might suggest you various kinds of lettering designs and colours but as far as you have a choice, consider golden letters.
Big golden letters will stand out atop the lawn greened stage backdrop. Add projector lighting for a picturesque treat.
Apart from golden hued initials, even the white ones will look charming when complemented with white flowers and white lighting.
If your stage doesn't feature a green backdrop and has an all-white or some pastel theme instead, try initials in bright, flashy colours. Dark blue, bright purple, cherry red, emerald green and magenta are some good examples.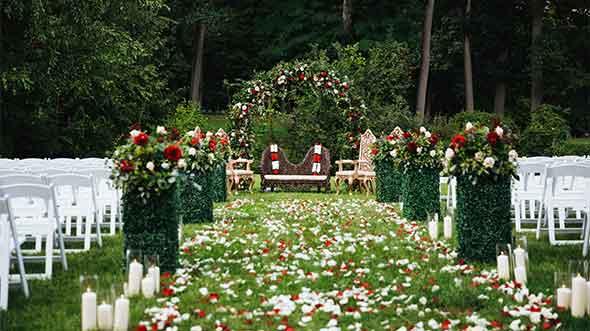 You Can Read Also: 15 Top Wall Hanging Ideas
Lots of Floral Hoops on White Draperies
Above everything else, a wedding is about the celebration of togetherness in which the bride and groom participate along with their families. No matter how heavily decorated the venue is, the space is likely to get most brimmed with the doilies of joy, swarms of laughter and whimsy decorations like these.
If you can relate to this picture for your wedding or if your guest list is not too big, you might want to prefer minimal decorations. And when it comes to a minimal style wedding, white drapes can't be missed.
So, doll up your wedding stage's wall with white drapes and dot it with lots of mini floral hoops. If you can't or don't want to use floral hoops, try wreaths instead. One grand wreath or many small-sized wreaths are ideal.
You Can Read Also: Best 15 Wedding Decoration Ideas
Barrel Drum Shaped Flower Pots Wedding Stage Decoration Ideas
Well, barrel drums might not appear to be a thing appropriate for a festive occasion of the wedding. But they might surprise you more than you can think. Shove off some barrel drum shaped flower pots and make them line on your aisle walkway or the stage.
Fill these pots with peonies, shrubbery and some stems of gorgeous greenery. Apart from the stage, these pots will also look great when placed at the entrance of the wedding venue.
Also, if you're using some wooden decorations in your wedding, or a rustic style theme for instance, the sight of barrel drums will offer you just the right accent to include. Instead of going for drums of the same size, you can also make selection of drums in varied sizes.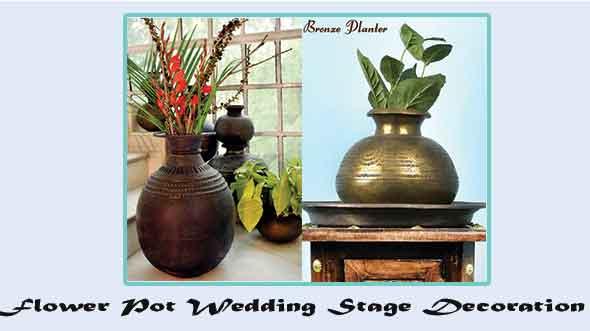 Pistachio-toned Drapes With Hanging Glass Planters & Florals
This light green shade of pistachio is an uncommon yet absolutely beautiful option for a wedding decoration theme. Add some flairy pistachio drapes tucked in jewelled clips at the centres, on the background of couple's sofa sitting on the stage.
To add to the soothing ambience that it creates, make use of hanging glass planters and tall glass flower pots oozing with lush clusters of fresh flowers.
Adding to the pistachio drapes, you can also use curtain drapes in two or three tone colours. Ideally, this minty shade will pair best with shades like mustard yellow, golden brown, purple etc.
You Can Read Also: Top 10 Wedding Stage Decoration Ideas
Lots of Hanging Butterflies with Cascading Ferns
Butterflies, is another wonderful choice for a space where you're going to tie the knot with your partner. Make this space look striking without going too flashy by hanging butterfly sculptures on the stage's ceiling. Complement with cascading ferns and floral tassels.
Even in the outdoor weddings, this butterfly theme will suit perfectly. You might use butterfly shaped lights or crystal butterflies dangling on the outdoor columns or pillars. Also a good choice for mandap-cum-stage style arrangements!
Bordering Trellis of Rustic Planters Wedding Decoration Ideas
Lanterns hanging from the ceiling and stage studded with a wooden trellis background will give a whimsical feel to your wedding decorations. Place rustic style planters in the trellis wall, and it becomes a perfect photo booth backdrop too.
Geometric decorations like these combined with the delicate greenery and florals also gives the appeal of a modern version of the vintage style wedding decorations, which is a bonus thing!
Gobs of Lush Green Foliage Wedding Decoration Ideas
Display vibes of cheerfulness fully and beautifully with the help of luxuriant gobs of lush green foliage. If your venue has a high or open air ceiling, you can create a pretty cool ambience by making the ceiling look grander with lots and lots of these gobs.
Add springing blooms to make a swoon-worthy and photographic stage for your wedding album. Wondering about too much greenery, well, the decoration won't compromise with the lighting, thanks to hanging chandeliers. Even glass dipped votives will be good ideas for installing lights in this green decoration.
You Can Read Also: 13 Charming Balloon Decoration Ideas
A Blend of Greens And Temple Style Decorations
Weddings decorated in temple style usually feature plain, simple decorations with accents of yellows, greens and goldens. You will find this kind of wedding setting in many of the South Indian & Tamil weddings. Uniformity, delicate intricacy and festive style elegance are some elements which mark these temple style decorations.
Think about smooth lawn-cut green walls, golden-toned lamps or lighting fixtures and hints of floral blooms. For the choice of flowers, there are many great options including the traditional marigolds, frangipanis and jasmines. For the stage backdrop, you can also have add-ons of brass diyas and candle light holders.
A Mix of Pretty Pastel Roses And White Votives Wedding Decoration Ideas
Besides your wedding stage, you can use this decoration idea in your mandap space as well. Decorate your stage's background wall filling it with pastel coloured roses and green leaves. Hang white votives in decorative glass pendants to complete the look.
In addition to the stage's wall, you can decorate the entire stage or one of the areas from its floor, columns and pillars. Even though they will look best when used in an outdoor wedding, the duo theme is not a bad idea for interiors too.
You Can Read Also: 15 Best Wedding Mandap Decoration Ideas
In a Crux…
A fusion of plants and flowers is as refreshing a decoration as it is appealing. While these days, there are n number of designs, accessories and themes available for hosting a wedding, a green wedding is unmatchable. So, how would you like to throw a green wedding ceremony with bounties of greenery and bouquets of florals? Tell us, too!