The marrying couple standing on the stage is the highlight of a wedding day. Many glam-sham decoration themes are used to create just the perfect stage depending on the taste of the couple as well as the available customization options.
Delving through these decorations, we sieved out a list of some of the most beautiful wedding stage decoration ideas primarily using planters and pots, which is as unique as special. So, read on!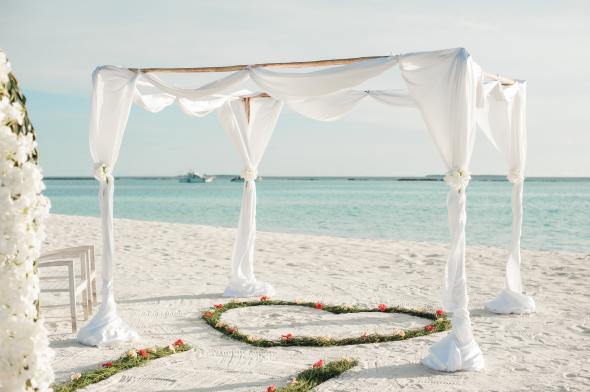 SLEEK & MODERN FLOWER POTS AS STAGE DECORATIONS IDEAS
Roman Style Flower Pots With Finial Posts
Instead of the regular vases or flower pots, decorate your stage with some Roman style pots which are most likely to be designed like finial posts. Pots in white colour will suit nearly any decoration theme but yes, you can always go for any other colour depending on your choice.
Your wedding venue will exuberate with vibes of lush luxury and modernized fashion with these stylish pots. Add bouquets of big sized colourful flowers in the pots.
Pedestal Flower Pots With Bouquets of Flowers & Crystal Chandeliers
In addition to having an incredible decorative appearance, pedestal pots are pretty artistic for using in a festive setting. Whether it is your sangeet ceremony or the D-day of the wedding, it's a great as well as cost-effective idea to use pedestal pots for decoration.
Ideally, the white marble pots are used in most weddings but even ones with a metallic finish will look amazing. Consider a mix of gold and silver. Team up these pots with pastel flowers and glossy ornaments. Place them beneath a large crystal chandelier for a strikingly fabulous display.
Apart from stage, these pedestal pots will also look good at the entrance or in the guest welcoming area. Also, a great decoration for the stage in an outdoor wedding!
You Can Read Also: Wedding Stage Decoration Ideas With Plants & Flowers
Peacock Shaped Flower Pots
Place two peacock shaped flower pots each on the sides of the couple's sofa on the stage. For adding flowers or greenery, you can use either the filling style or the spilling style.
When using the flower spilling style, consider peacock themed purple-pink flowers extending from the peacock's feathers towards the stage floor.
These peacock shaped floral decorations will also look wonderful when applied on an outdoor wedding stage. Herein, they will also grant the motif-style ethnicity to the overall decoration.
Short Cube Vases With Flower Blooms Stage Decoration Ideas
Short cube shaped vases look cute as well as easy-going when used in the form of wedding centrepieces. Mostly, the glass cube vases are most well suited. Add pastel roses of varying sizes to the vase, and complement with several battery-operated white-toned candles.
These vases will also look pretty when lined on the bride's walkway or on the aisle leading to the stage.
For the purpose of stage decoration, you can also fill the bottom of the vases with crystal beads which will give a shimmering look alongside the lighted candles.
You Can Read Also: 15 Best Wedding Mandap Decoration Ideas
Clear Glass Trumpet Vases Stage Decoration Ideas
Trumpet vases and wedding décor go hand in hand. For a classic decoration, think of clear glass trumpet vases with crystal marbles filling, lined across the sidelines of the stage.
Decorate with a gob of roses or loose green vines spiralling down the mouth of the vase. Roses in yellow, peach, white, purple or pink colours will look perfect.
Apart from clear glass, you can also have metal foiled vases for an elegant appeal. Usually, tones like silver, gold, rose gold and copper look the best.
Especially if you're thinking about the kid guests in your wedding, this is a good alternative to glass vases.
Decorative Crystal Vases With Golden Flower Balls
Crystal vases stand proud and stylish whether it is an iridescent-themed wedding or an ethnic themed. You can add clusters of faux golden flower balls if you don't want to use natural flowers.
These days, there are also LED style crystal vases which give off shining light projected bottom up. Tall crystal columns lining the aisle walkway will also offer a terrific ambience to the bride walking towards the stage.
For blending a traditional look with modern style, consider Parisian style gold plated crystal vases in varying sizes.
They can be placed either on the corners of the stage or on a ledge suspended from the stage's backdrop. For infusing a romantic mood, fill them with small bouquets of red roses.
You Can Read Also: Top 10 Stage Decoration Ideas
HANGING STYLE STAGE DECORATIONS IDEAS
Hanging Geometric Planters
Geometric style decorations add sharpness and attraction to a decoration. Sprinkle hints of geometry in your wedding stage decorations. A great example is geometric style cut-out planters, preferably in some metallic shades like that of brass, gold or copper.
An assortment of geometric himmelis dangling down the stage's ceiling is also a magnificent idea to implement. Add succulents or fragrant shrubbery to the planters for a stupendous climate.
If you wish to have a rustic style arrangement instead, consider going for planters in black or white shades, and accentuated with colourful or iridescent florals.
You Can Read Also: Top 10 Wedding Stage Decoration Ideas
Hanging Fiber Flower Pots
Fiber flower pots come in wide number of shapes, textures and elegant designs. They are absolutely perfect if you and your partner prefer to have a light, husky or minimal earthy decoration for your wedding. You can also look for tiered pots hanging down the stage's ceiling.
For your wedding engagement ceremony, reception or a cocktail party, consider those carbon-grey shaded fiber pots in round or trapezoidal shapes. You can also line them across the stage or corridor.
Ornamental Birdcage Planters & Copper Pots
Finish off your stage decorations in a farmhouse style with several ornamental birdcage style planters and floral birdcages. Complement with mini-sized copper pots spilling greenery. Highlight the entire setting with glass lanterns or glass candle holders.
Lay emphasis on the decorations by highlighting the planters in Victorian style. Strings of pearls, beaded chandeliers and glass bead sculptures are some of the beautiful examples.
TRADITIONAL INDIAN WEDDING STAGE DECORATIONS
Marigold Spilling Golden Matkas
If you're the one who likes to have everything set according to a desi Indian style wedding, this is a must-have decoration for the stage.
One, is marigolds. You can't think of an Indian wedding without blooming yellow or orange marigolds. Second is matkas. Matkas offer a traditional Indian look from the first very glance.
Combine the two elements by placing large golden matkas tilted sideways to spill garlands of marigolds extending into a floral spread stage.
If you have a golden-based theme for the wedding, you can also think of adding some glittery baubles or carved little sculptures polished in bright yellow gold.
You Can Read Also: Best 15 Wedding Decoration Ideas
If you have seen a matki pillar before, you'd know how vibrant it appears. Originally derived from the sight of Rajasthani women carrying water pots stacked on top of their heads, these pillars will instil a cheery Rajasthani vibe to your wedding photographs.
From traditional matkis draped in red Rajasthani dupattas to the ones embossed in patterns and designs formed in clay. Consider the ones embellished in glitter ribbons, sequins or mirror work for a more dazzling look.
There's another beautiful idea you can execute using these matki pillars. That is, to make a fusion of Indian and exotic styles.
Alongside these pillars, add alternate elements of topiary planters painted in gold foil. Besides adding a touch of greenery to the colourful matki decorations, they will also create a one-of-a-kind statement in your wedding.
Bringing it all together
At first, pots and planters might not seem too pretty a decoration however when executed, they offer an absolutely romantic fusion of the natural and material elements.
When ingrained with additional accessories and decorative ornaments, they can be a wonderful decoration idea for a rustic, Indian, modern or vintage style wedding themes.