Are your walls looking old, dull and boring? Now is the time that you think of some amazing ideas to transform your monotonous walls into a lively sensation! Don't worry we are here to help you and give you with some worth trying ideas to use different types of wall hangers, hooks and paintings to decorate your walls.
Wall hangings in comparison to wall art do not require much of the money to be spent. You can use your used item and repurpose them to create a beautiful piece of art ready to be hanged on the wall. Wall hangings come in beautiful designs and colours which add the much needed depth and class to the otherwise unnoticed wall.
We will discuss some of the beautiful wall hanging designs and ideas that will make you fall in love with your house all over again:-
You must have never thought how an unused fabric can be of great use and become a beautiful wall hanging art. You can use any vintage fabric such as your grandmother's saree which was kept in store trunk for all these years or any old blanket which look alike a vintage art. You can create it on your own by tying the fabric with a bamboo stick and a strong thread.
Mirrors are always your best friend when it comes to wall decoration and wall hangings. You can never go without using them as wall hangings. Take out the old mirrors of your house and make a beautiful wall hanging of any shape and design.
Fix them on the wall which looks comparitvely small in size. Because of reflection, mirrors make visuals appear bigger in size and so when fixed on the walls the mirrors will create a large illusion of your room.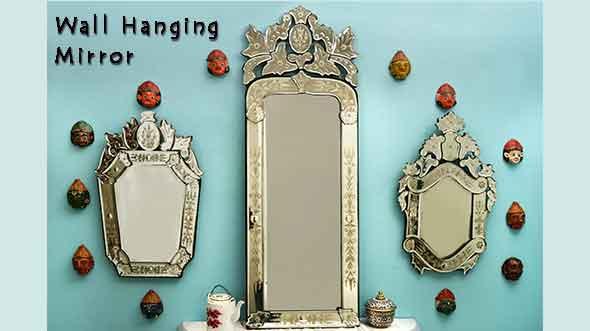 If you are a nature lover then wall-mounted planters are a great option for hanging them on the wall. This cute little garden can be hanged on any side of your wall and flaunted in style. These indoor plants do not require much care and watering. They are easy to maintain and longer to sustain.
Dried flowers wall hangings
Next time you have a bouquet in your house, think before throwing the flowers. Have you heard of dried rose petals often found in your grandparent's books during their romantic days?
Well, this is actually true! Dried flowers look beautiful specially when hanged on bare wall. You can use dried flower petals of bright color flowers and hanged them on a white wall. They will create a beautiful rustic image.
Wooden crates can be an insane option for a beautiful wall hanging. It is not only a pocket friendly option but also serves a useful storage purpose. These wooden crates are available at almost every fruit vendors at cheap prices.
Even if left empty, these crates will still look chic. To think out of the box, you can paint these crates in different colors to give a funky look.
You can never go wrong with string lights. String lights light up any sort of wall whether it is white or cream or any other colour. These lights are a perfect wall hanging to make your wall lit.
You can paste these strings with a wall safe tape in any shape you like. To make it more lively, attach photos with small cloth pins and let the lights reveal their magic.
Create a whimsical wall hanging in bohemian style with different colour beads and branches. You can arrange these beads in any design you want. Use the branch as a holder and then fix this branch on the wall. This unique wall hanging will attract everyone's eyes yet they will never figure out how easy was it to make them.
Dream catcher wall hanging
If you want a fairy kind of wall hanging especially for your room, then go for dream catcher wall hangings. These hangings look very cute because of the feathers and their light weighted built.
Electrify these cute little dream catchers by attaching light strings around them. They look so pretty in their geometrical designs that you cannot stop buying them for your room.
You must have never thought how creative and fashionable a simple wall hook can be. Nowadays wall hooks have made a new trend setter with their irreparable designs and silhouettes. I will name some of the design oriented wall hooks that will leave you awwstruck.
It's a fun activity to add candy colored attractive wall hooks in the kids' room. They become a playtime element with vibrant colours and cartoon designs.
You can find various designs in the category of wooden wall hooks. They can be easily and safely mounted on the walls without causing any damage.
Their minimalistic and subtle designs make them more attactive for quick buying. You can find them in various shapes such as rain drops, circles, squares, mountains and so and so forth.
There are many options to choose from modern style wall hooks. One of them which are my personal favorite are the alternating black block hooks. Their sleek and crisp design make them the major attraction of your house. The best part is when not in use, ther hooks can be pop back or flick out when in use.
Going for canvas hanging will never make you regret your decision. Canvas art can be used in any form and create a beautiful wall hanging. The best way is the canvas wall art which always adds a sophisticated look to the wall.
Other option is the canvas hanging which is same as a canvas painting but it is fixed on a hanger instead of a frame. You can work out different options if you are planning to go for canvas art on your wall.
This is a unique style of wall hanging which requires a grid of vintage lanterns for actual use. You can keep wax candles inside these lanterns to add natural warmth and glow. To prevent the fuss of wax splitting on the floor, you can use battery lights or automatic candles.
You can make your own DIY wall hangings with pom-pom and tassels. To create these fluffy strings, you need colorful beads and tassels. It is completely your choice for the colour, placing and design you want you're hanging to look like.