Most of us spend most of our time in our office or at our place of work. It is nothing short of a second home for many of use. Thus, when a festival is just around the corner, we love decorating and enhancing the look of our place of work just like we do for our homes.
With Diwali celebrations coming closer by the day, the hustle and bustle in the markets. This way, our office will also embrace a lively and festive look instead of looking dull and dreary among lighted up buildings.
If you are keen to decorate your office, here we bring you some of the best Diwali Decoration Ideas for office that will bring positive festive fervour.
Make rangolis, light up diyas, add subtle floral fragrance, and your office will be ready to welcome this festival with open arms.
During Diwali, most of the offices are closed, and people spend these days with their families. Before Diwali break begins, many offices organize Diwali party, and this is the best time to decorate your office and make it ready to sparkle using our décor tips for your office.
Rangoli-The Best Diwali Decoration Idea
Rangoli is the art of making designs and patterns on the floor using colours, flowers, diyas, and more.
Since, decoration starts from the office gate, keep a half working day before Diwali party and engage all employees to come up with an awesome rangoli at the doorstep.
It will result in a fantastic Diwali decoration while at the same time bring employees together and share the spirit of team bonding.
Rangoli With Diyas
You can also make a lovely design or pattern using the only diyas. You can add flowers here and there to amp up the beauty of the entrance door.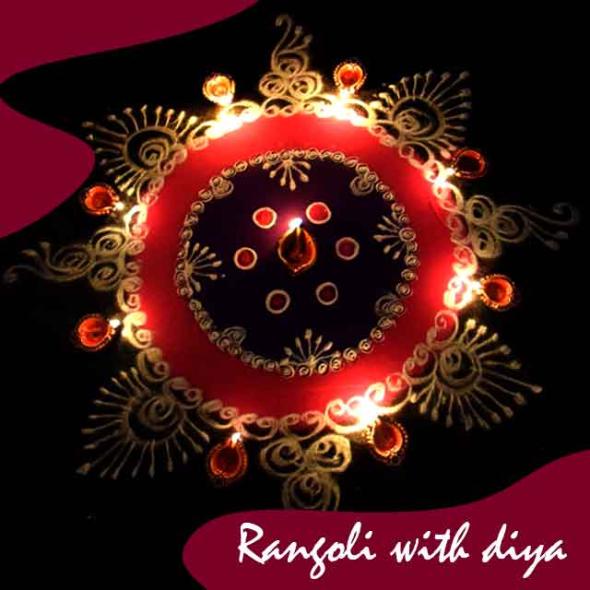 Flowers add freshness while diyas will fill the environment with light and brightness. It is also a symbol of success and prosperity.
Paper Torans- An Interesting Diwali Décor Idea
Ask employees to chip in and come up with colourful torans made up of paper. There is no shortage of festive paper available in the market.
Using a little creativity, these torans can be made if nothing is possible to use brightly coloured sections of newspapers to make these torans and hang them at the entrance.
Use stapler, pins, and tapes readily available at every office. When making these torans, you can try making buds, leaves, many other things that are easy to make and looks nice too.
Paper Frills for Diwali Decoration in Office
Another attractive, comfortable with making and festive spirited Diwali decoration in-office option is frills made up of colourful paper to be hung on cubicles.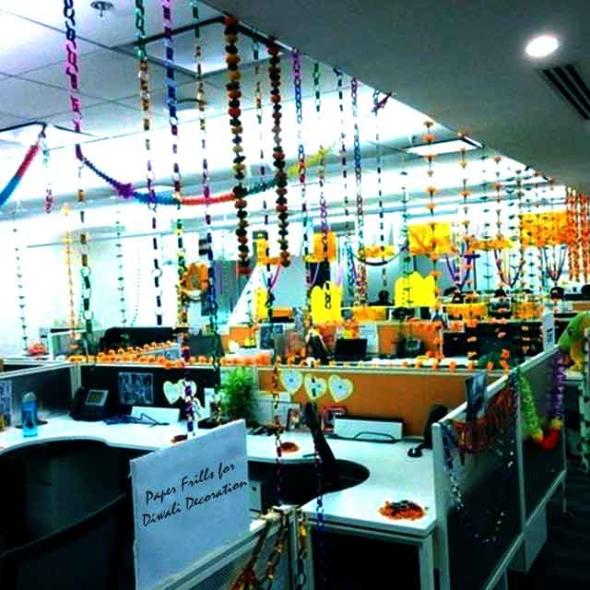 It is effortless to make these frills and do not take much time. Cubicles look very lovely and attractive when adorned with vibrantly coloured paper frills.
Diya Decoration
Use simple terracotta diyas purchased from a local potter to add brightness and cheer to your office ambience. Use decorative diyas and make a design or pattern like a vine-like décor and amp up with fresh flowers like marigold.
The combined effect of diyas with flowers here and there in the office will lit up every corner and make it look stunning.
Tealights for Office Diwali Decor
Another beautiful yet straightforward Diwali décor ideas for office that works very well is tealights. You can go for different coloured lights and place them here and there or hang them from above.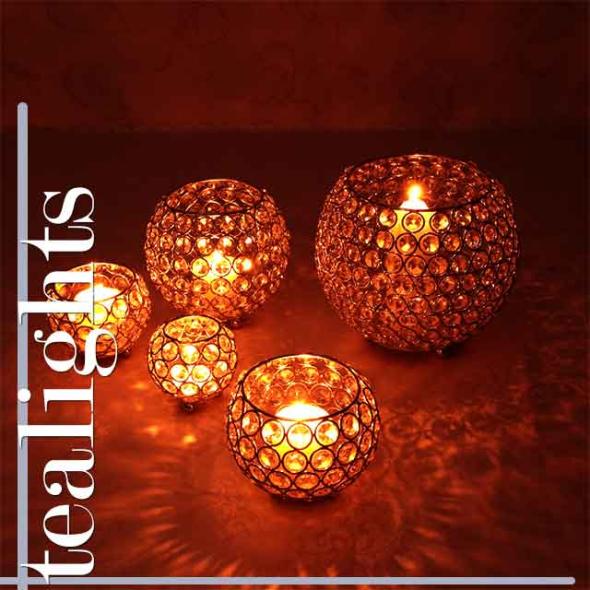 It gives an incredibly beautiful look with brightness spread all over create an aura of positivity and joy all around.
Greeting cards and messages as Diwali Decor-
Colorful and unique greeting cards with Diwali stickers and flowers are also exchanged in the corporate spaces among the employees to promote fraternity among themselves.
They are also used to invite managers and higher-level staff during the events with respectful and vibrant messages. This also helps to build a good rapport with the employees in the long run.
These cards are made of different sizes and patterns according to the user's requirements that include designs like lamps, flowers, artwork, strokes, etc., on the front page.
These designs must be appealing and attractive enough to provide profound vibes of celebration.
Chocolates and sweets-
Everybody like chocolates and sweets! These eatables come in attractive wrapped gifts and shapes which can be arranged in the main area of the office or can be kept at everyone's desk.
It looks very bright and attractive, and they can relish them after or during the events and celebrations. Many people prefer making and bringing home-made sweets to the offices along with different flavours and tastes.
Floral Diwali decoration idea-
Flower decoration is used in every auspicious occasion of the official events taking place in the workspace. Nowadays, sweet-smelling fragrant flowers are available which are used to greet people and are also used in floor decoration in the hallways. Apart from that, they are symbols of unity and strength. Lilies, marigold, and roses are the most used flowers that add up to the Diwali decoration in offices.
Twinkling lights and bulbs-
Nowadays sparkling and fairy lights with different colours and effects are available in the market which can be used to decorate the balconies and the cafeterias in the office areas.
They look beautiful at night and help to increase the overall glamour of the place, especially the garden areas and lawns.
Dupattas and papercrafts-
The employees extensively use them as a means of Diwali decoration ideas in firms and organizations. Dupattas are available in different colours which are used to hang in the walls and ceilings, thus providing a partly-like atmosphere in the workspaces on Diwali.
Clay pots and earthenware-
One of the unique features in the Diwali celebration in offices are using clay pots and vessels. The pots which are used to hold small plants in the office areas can be painted with artistic and vibrant colours to bring a new change to the buildings.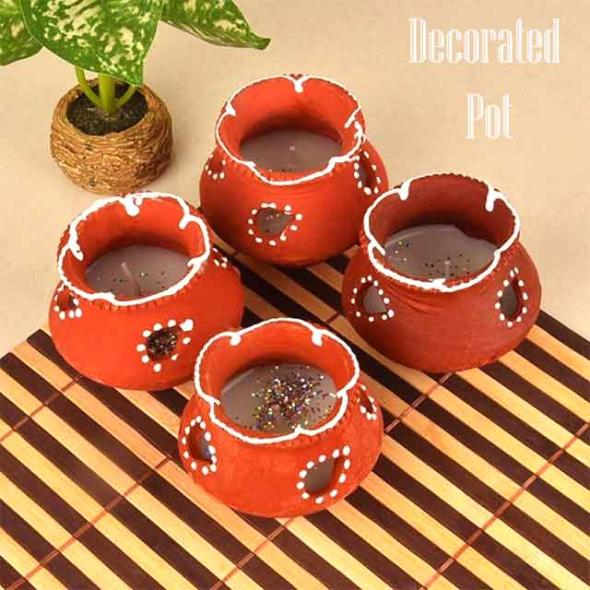 You Can Read Also:-
Traditional artwork-
Since Diwali is the festival of lights, the office spaces can also be decorated with conventional artworks from different states of the country. This includes paintings, pots, kites, curtains, glasses, ribbons, etc.
Diwali coasters-
A coaster is a small mat-like structure that is used to hold a bottle or glass. Diwali themed coasters can be used in the workspaces and cafeterias to enhance the beauty of the corporate ambience.
Table decoration and cushion covers-
Especially in the basement and reception areas, colourful and vibrant cushions can be placed upon the sofa sets and table on Diwali.
Tile stickers-
For the tile stickers, plain paper-based labels come in multicolour, mosaic, and artistic designs that will help to make the stairways, walls, and furniture look vibrant and colourful.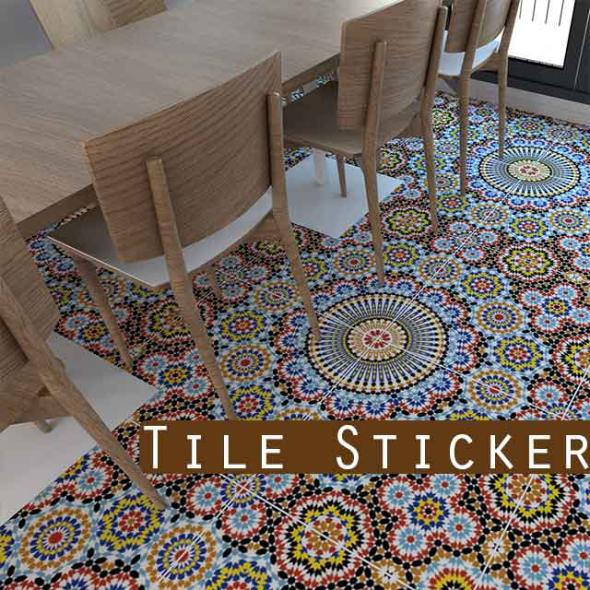 Idols and statues-
During Diwali, worshipping god is also an essential aspect of the celebration. The Laxmi Ganesha Statue is widely used during Diwali because it symbolizes wealth, prosperity, and happiness among the people.
It is available in different sizes and designs and can be used for decoration in the office spaces, especially in the halls or balconies.
Urlis with floating diyas-
Another lovely Office Diwali décor idea is to place rules here and there with floating diyas. It exudes festive light and brightness all around.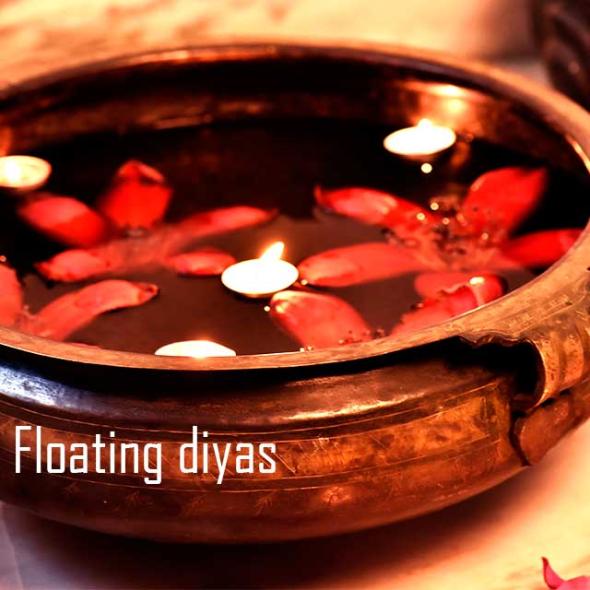 Urlis with flowers-
You can also float vibrantly coloured flowers in water and place the urlis at the doorstep.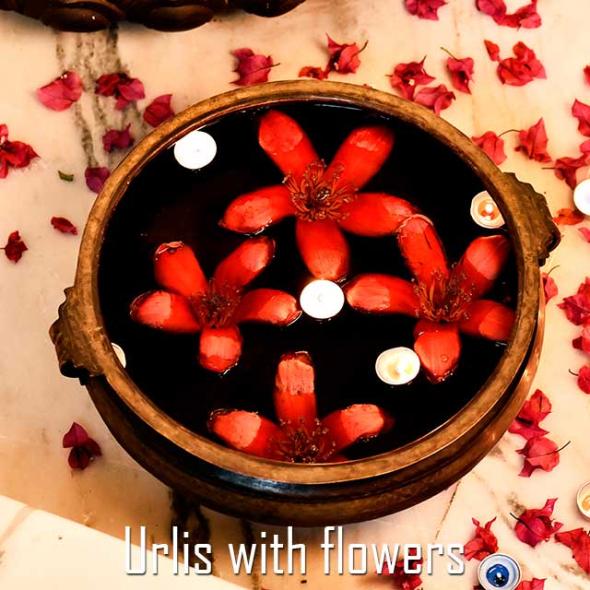 Decorated Snacks Table-
Since it is an office party, you are going to serve snacks, Decorate the table with wax diyas or tea lights to spread festive cheer.
The above tips are especially useful in the process of decorating your office during Diwali. Decorating your office needs lots of patience and active participation from the employees.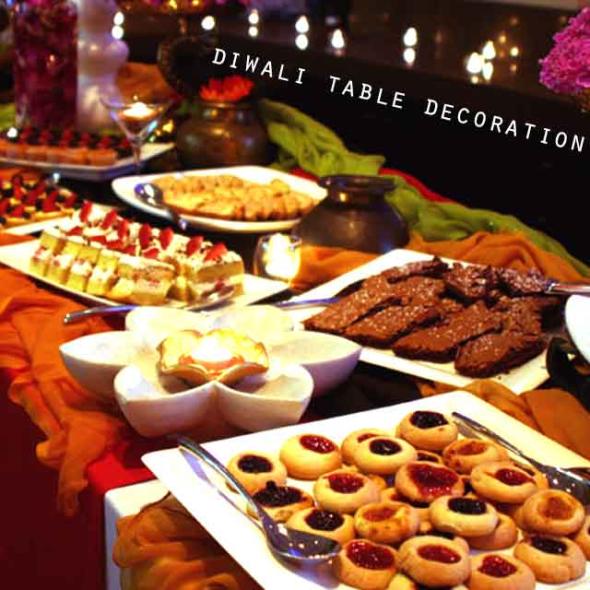 It is that time of the year when everyone should come together and add something valuable and creative in the process of decorating the office.
Many offices follow themed dress code (mainly traditional) on this day where people wear fresh and latest outfits. Men generally prefer wearing kurtas and pyjamas while women prefer wearing traditional silk or cotton sarees.
This is done to bring everyone close and promote equality and togetherness among them. Women also prefer wearing traditional jewellery that adds on to their beauty.
Bursting crackers and lighting candles form a significant part of the celebration, but care is to be taken that no one gets hurt or affected.
It is also the responsibility to check that all the precautions and measures are taken appropriately during the time of decoration so that the office space does not look dirty and congested.
A good decoration theme will consist of single and sterling items that will add on to the natural beauty of the place.