Top 15 Pot Decoration Ideas (Latest Of 2020) | Flower Pot Decoration | IndianShelf
I personally feel that pot decoration is a great pastime and a fun filled activity for all creative minds. There can be extravagant ideas for decorating pots which you will get them in this blog. Pot decoration is all about creativity that gears up to create some extraordinary designs from simple boring pots.
They are easily customizable and a source to add some personal touch and paint your feelings on them. Adding a creativity to the bland flower pots is what this blog will talk about.
Let's get into some details on how you can get into some artistic creations without making holes in your pockets.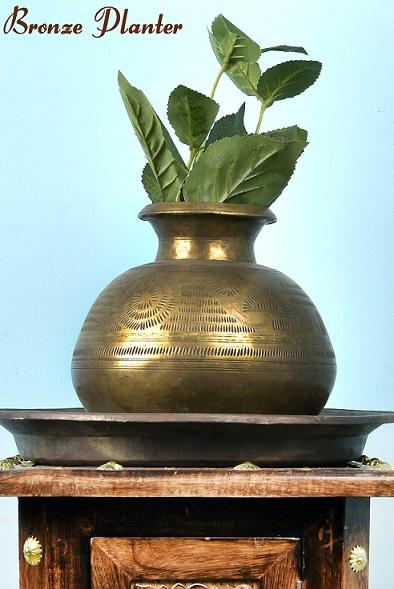 1. Pot decoration with lace
This is a unique and uncommon idea for decorating your pot. It will look great if you are planning to keep your pots indoors. Lace pots look neat and clean and work well to embrace the surroundings.
You can chose the colour of the lace according to the background where you will keep your pots. You need to apply transparent adhesive to the entire body of the pot and stick lace all around the circular body. Let it dry for next few hours.
2. Chalk paint pot decoration
This is a great DIY for pot decoration especially for kids as it is a new way of creativity for the little minds.
You need to paint the pot with chalk paint which is easily available in the market and voila the pot is ready for the little kids to show their creativity. Once the piant is dreid it can be used to write any name or a small drawing.
Another important use for chalkboard pots as they can be named as per the herbs or flowers you are growing. If you plan to change the plant in future, you can easily rename them.
3. Family name pot decoration
Family name pot is a great idea to make a unique f your entire gateway. You need to paint your pot with some steady acrylic shiny paint and once it is dried, use a contrasting colour to type the surname of your family.
You just need to keep your hands steady while writing the names. These creative cute little pots can be kept at the front of your lawn or at the entry gate.
4. House number pot decoration
The idea is similar to one explained above, instead of surname you can add house number. This might require a big size pot and not much a shiny paint as the house number must be visible from a certain distance.
Neatly paint the house number in big font and use the big pot to plant some beautiful flowers.
5. Seashell pot decoration idea
It is mainly for the ones who are nature lover and live near the beach side as seashells are easily available in that particular area. You can use different designs of sea shells and cover the entire pot with these shells. Though this decoration idea is quite but yet it's unique in its own way. There uniqueness will be reflected with different shapes of seashells.
6. Glass stone pot decoration idea
Glass stones have always been in our boxes of décor items since childhood. So why not use them for your pots. These cute little glass stones can be glued easily to your pots if different shapes and create a multi illusion effect.
7. Mosaic pot decoration idea
Mosaic art has always been my favourite. It works great while working for home décor without much of a pain. You would require a terracotta pot and some broken chips of old unused tiled or pots.
Spray the pot as you like depending on the location where you are planning to keep the pot. Now glue the vase chips in mosaic art form as you like. You can create some amazing designs with the vase chips.
8. Recycled cans as pot decoration
This is a smart eco-friendly idea to recycle old cans and use them as planters. You can paint them as you like and plant small herbs and plants with shallow roots for an environment friendly planting.
9. Fabric lined pot decoration idea
This idea for pot decoration is a treat for the designers. You just have to buy a beautiful bright colourful fabric or some with nice sturdy patterns and abstract designs. Apply adhesive all around the pot and tightly wrap the fabric around the pot.
You need to take care while wrapping the fabric as there must be no wrinkles or crease while pasting. This is easy to work with yet the results are quite vibrant and stylish.
10. Decorating pot in a new style
It is not always necessary to plant flowers in the decorated pots. You can create some masterpieces with them by painting or decorating them in a unique style and placing them upside down.
One such idea is to make a nice handsome light house. Place the pots upside down with the larger one at the base and then gradually place them in descending order. Paint these pots in a way as you like and at the top place a lantern. This will not only look unique but will also be used as a garden night lamp during nights.
You Can Read Also: Garden Decoration (Unique): Top 10 Innovative Ideas For Garden Decoration
11. Broken pot decoration idea
Have you ever thought how you can recreate a broken pot in a unique and apparently create a look of a miniature art form? The broken part of the pot can be used to place some tiny object like the lego blocks, placing them in such a way to make them look like small garden. The otherwise unnoticed pots will be the star of your complete garden.
12. Rope wrapping pot decoration idea
This is one of the easiest form of pot decoration but it will give more or less of a vintage look. Apply adhesive all around the pot and tightly tie the hemp rope wrapping all around the pot.
You can add beads or glass stones or tiles to give it more of a customised design.
13. Wooden bark pot decoration idea
Well this a great for all the nature and forest lovers. You can cover your pots with small cut outs of tree limbs, barks or rubber corks and paste them all around the pot.
You can then plant some beautiful flowers like white roses or also what about planting aloe vera.
You Can Read Also: 9 Highly Luxurious Wedding Flower Decoration Ideas
14. Moss covered pot decoration idea
This is the most terrific idea for decorating your pot as it will look more lively and antique. Take some handful of dry moss and blend in a mixer with one cup of buttermilk and water. Paint this milkshake like moss mixture all around the clay pot. Sprinkle some water and in a few days you will see the moss growing.
15. Spilled paint pot decoration idea
This is especially for your kids who over to make things messy around them. Just place the pot upside down and pour colourful paints from the bottom. This will make a beautiful rainbow of mix and matched colours and will shine under the sunlight.