Punjabi Lassi Cups:- When we talk of Punjab, we are immediately transformed to beautiful mustard fields, Sarson ka Saag, Makki ki Roti, Phulkaris, etc. However, there is much more to Punjab than these Bollywood inspired images. The state is also known for beautiful handmade crafts and decor items.
The first taste of Punjab comes from watching the enthusiastic dance of Bhangra and tasting the spicy food of authentic Punjabi dhaba on a highway.
However, nothing completes the food and the fervor of the festivals at the Punjab without a special and thick creamy lassi served in super tall lassi glasses.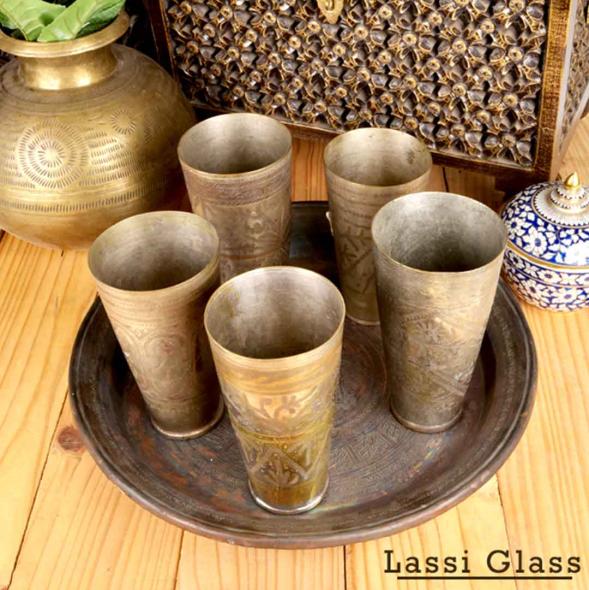 1. Importance of lassi and lassi glasses!
Lassi is a special Punjabi drink that is made from yoghurt or dahi that is churned in electrical or traditional matkas. It is then spiced up with sugar, spices, special flavors, etc. and then served super chilled in the tall brass lassi glasses. So, if you are venturing out to eat the authentic Punjabi cuisine, Chicken Tikka or Malai paneer recipes, remember to order a tall glass of the traditional lassi to balance the meal of desi ghee and heavy spices.
Even if you are ordering the traditional aloo paratha with butter, bring a tall glass of this sweetened drink to get the most authentic taste of Punjab.
2. Benefits of opting for lassi
The lassi is a thickened and creamy mix of spices, yoghurt, flavors, etc. that is much more than a normal drink. It is a healthy drink for sweltering summer months that can-do wonders for your health as well. It helps to save you from the summer heat and cools you down.
Lassi served in authentic brass or copper lassi glasses are also known to provide a boost to your mental and physical health.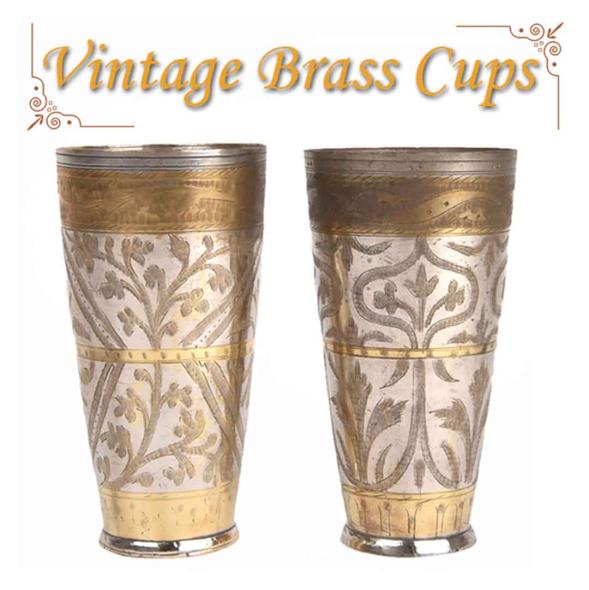 The drink is lightweight and perfect for your stomach. It lubricates your intestine and aids in smooth digestive health. If you are suffering from constipation, look out for a zeera and ajwain rich lassi.
The calcium in the lassi is an excellent way to keep your bones stronger and can contribute to your dental health.
3. Why to opt for lassi glasses for your home?
Now that we have highlighted the top health benefits of opting for lassi, it is time that you opt to buy the lassi glasses for your home decor and health needs.
Preparing an authentic lassi at home is not an uphill task and drinking the same from the traditional glasses will help you considerably.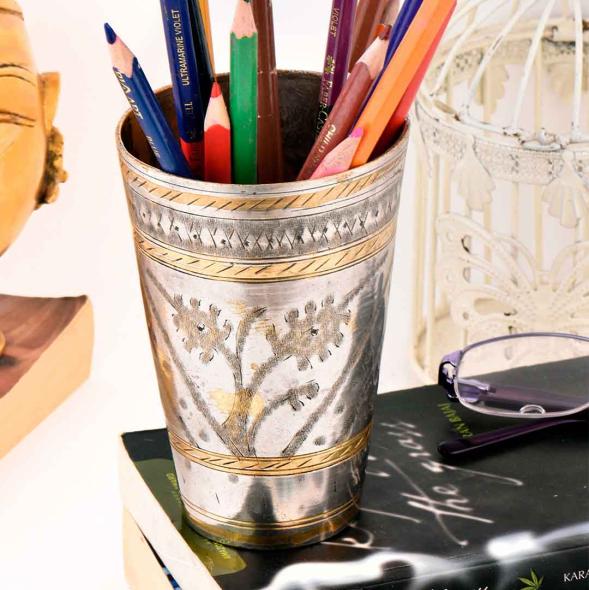 There are extra-large lassi glasses for serving lassi. The reason that each Punjabi household carries such glasses is that the same balances the heavy meals and brings probiotics to boost the immune system.
5. The traditional lassi glasses
The traditional lassi glasses were designed from super heavy brass. This was then given a Midas touch by the local artists to highlight the importance of the household.
The heavier the glass and its designs, the richer the household. Although, these are nowadays more of a novelty item rather than a utensil.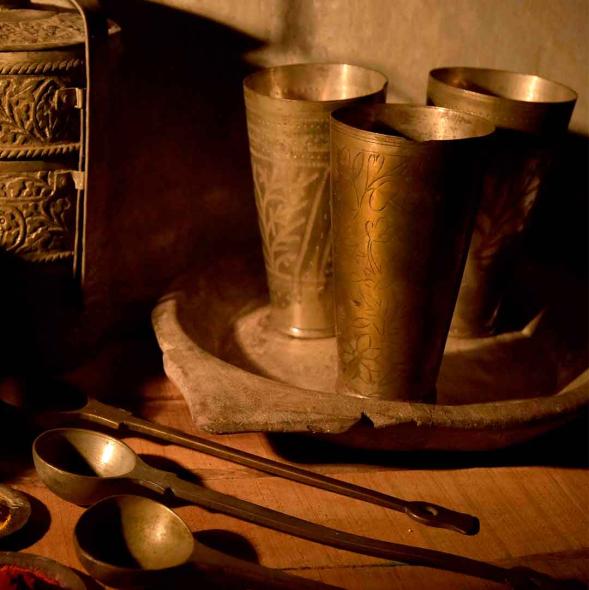 6. Using lassi glasses for home decor
Considering the large amount of work done on these glasses, these can be placed in your living or drawing room area. The best idea is to place it on a pedestal and use lights to create a beautiful decor item.
If you have wooden decor area, place these on the same and use showroom style lights to create a breathtaking view of the metal work.
7. Brass lassi cups for children
Often the tall lassi glasses seen at the authentic Punjabi restaurants are made from brass variants and are adorned by traditional artists with floral or animal motifs.
On the other hand, smaller variants of the same are called as the lassi cups. These were designed to serve this buttermilk concoction to little children and aid in their physical growth and immune health.
8. Lassi glasses made from copper
Since brass is an expensive material, people opt for copper glasses with stylish designs and engravings. The metal is also known to aid in boosting mental health. Thus, these can be used for satisfying your needs at an affordable price than the brass variants. We recommend that you buy the lassi cups made of copper to get the best results.
9. Silver lassi cups
The authentic and old lassi cups used by the elite of Northern India were made from silver. These were hand etched with floral work and heavy designs, pictures, etc.
10. Plain silver lassi cups
If you venture out to buy the silver lassi cups, be prepared to bring in a piece of original Indian rural art to your home. The item is a perfect gift for a young child or an art enthusiast.
11. Brass and silver alloy glasses
Since silver is a precious metal and lightweight, people often opt for an alloy of brass and silver to get the best results on an affordable price than pure silver ones. Further, if you are looking for tall lassi glasses, opt for brass ones with silver coating or alloys to get the best results.
12. Heavily etched silver glasses
To get the aged look, the artisans use techniques that ensure that the final version is a lovely worn patina. These can be used to store kitchen utensils, paper napkins, paint brushes or can even double up as beautiful vases.
13. Other forms of lassi glasses
Since lassi is served chilled, the lack of refrigerators in the earlier times meant that people had to make use of clay pots, pitchers, etc. to cool and mix the lassi. Such a lassi is naturally cool and makes for a perfect summer drink.
14. Vintage inspired clay glasses
Each of the lassi cups designed by the local Potter is comparable to a traditional khulhad. These retain the freshness of the drink and keeps it cool.
The lassi cups are extremely unique and interesting. Also, these are naturally degradable and hence do not pollute the environment.
15. Lassi shot glasses
These are modern versions of the lassi glass that combine the shape of a kulhad into glass. Since the material is see through as a result, you can savor the taste and the awesome colour of a flavored lassi like the mango, strawberry, mint, etc.
The material is extremely affordable and reliable. You can use them with friends for a dine-in.