Diwali is a festival of lights that sparkles and make the environment glow and illuminated. It is one of the significant Indian festivals that is celebrated across the world by Indians as well as people following different faiths. On this day, Lord Rama came back to Ayodhya with his wife and brother after 14 years of exile. This day, elaborate Lakshmi pooja is carried out.
Preparations for this festival begin days earlier with houses being cleaned and painted, a lot of sweets and savouries prepared, diyas bought, and rangolis created. This year, instead of using simple clay diyas, why not go for exciting and a little embellished diyas that add to the style and décor of your home. Here, we bring you 13 interesting and exciting ideas for diya decoration. These ideas are straightforward and easy to follow.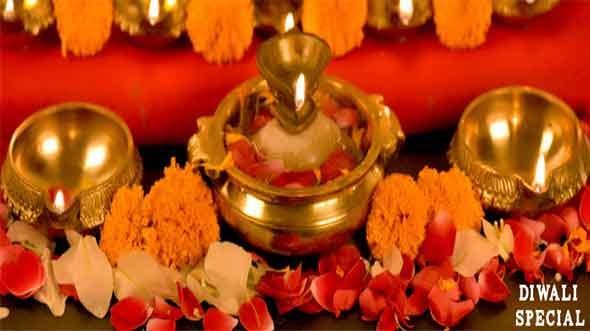 1. Clay Diyas
Illuminate your surroundings with these artfully created and decorated clay diyas and dispel darkness around you. You can use this diyas any day to add a festive touch to your home. Light up your house with these fantastic ideas.
2. Paper Lotus Diya Decoration Idea
This year do something exciting and decorate diyas in a simple and easy idea. Create paper lotus diya. For this, you will need white coloured beads, red coloured paper, and fevicol—cur red paper as per lotus flower drawn on it. Cut the flower carefully and ensure smooth edges.
Apply glue on the flower edges and stick dainty white beads on it. Finally, place diya in the middle of the flower. When lighted, the red hues of paper and sparkling white beads add to the splendour of your home.
3. Glitter Your Home with Glittering Diyas
Diwali is the best time to bring joy and cheer to your household. Adding glitter diyas to your Diwali décor ideas can make a massive difference to the overall looks of your home.
Take out your craft bag and use brush, sparkle glue, glitter, and glue to decorate clay diyas. Paint diyas with sparkle and give them a lovely traditional look.
Use a thick brush for this purpose so that sparkle can be evenly spread all over diyas. Let diyas dry for some time. When lighted, these diyas spread glittery hues all around. This is one of the best and easiest diya decoration ideas.
4. Kundan Diya
It is another lovely diya decoration idea that is easy to follow. You need glue, coloured stones or Kundan, acrylic paint, and mud or clay diyas for this diya decoration idea. Apply acrylic paint on mud diyas and let it dry.
Once dried, use a glue stick to stick Kundan or coloured stones on diyas. When lighted, these lovely stones will come alive with illumination. Using this idea, you can add a special sparkle to your house.
Best out of Waste
5. Waste CD Diyas
Another interesting idea that works well is using waste or unused CDs for Diwali diya decoration purpose. You will need rhinestones or beads, hot glue, and CDs for this purpose.
Use a 3-D outliner to create designs and patterns on the trackside of the compact disc. Using a glue gun, stick stones or beads in lovely models on the CD. Place a clay diya in the centre. This décor idea will look attractive and make the best use of discarded CDs.
6. Painted Coasters
Take old, discarded coasters and paint it with acrylic colours. Use vibrant colours so that a festive look is added to your home. Allow the paint to dry and then to use a glue gun, start sticking, tiny, white, pearls beads on its edges. It will look lovely and spectacular when lighted diya or candle is kept in the middle.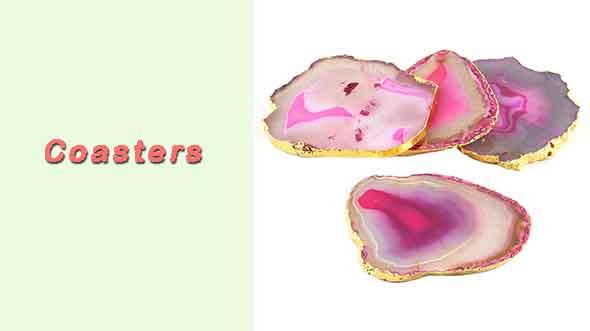 7. Tin Cans
Do not throw away your old tin cans. Instead, save them for this Diwali when you can use them to make your home come alive with a festive glow.
Paint tin cans and poke a hole on its side. Place a tea light in the middle. Decorate the tin can in lovely colours and patterned designs. Tie a jute thread to the tin can through the holes and hang it on the window. When lighted, it will look lovely and exciting.
8. Tea Light Holder
You can create your own tea light holder using an old heatproof glass jar. Take some paint and shilpkar clay or modelling clay and some glitter.
Create a dish using shilpkar clay that can be then placed in the glass jar. Create designs and patterns on the jar side to add more attraction to it. Using sparkle, shimmering patterns can be created. When lighted, it brings spaces aglow with warm illumination.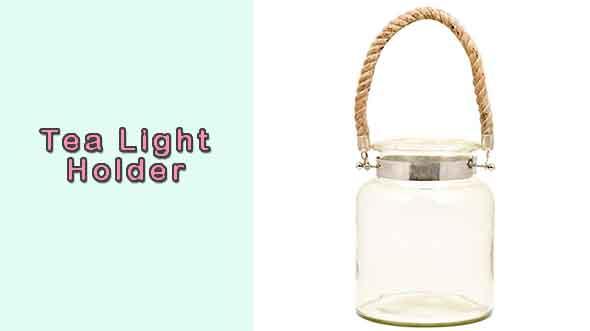 9. Conch Shell Diyas
It is another one of the lovely Diya decoration ideas. Here, you need candlewick, wax, and big-sized conch shells. Clean these shells and leave it to dry. Melt beeswax and pout it into the crust. Place the wick in the wax before it cools off and dries. Let it set for some time, and now it is ready to be used. You can make the conch shell look more attractive by decorating it with Kundan, beads, paint, etc.
10. Pebble Stone Diya
It is undoubtedly one of the unique diya decoration ideas. For this, you will need large-sized pebble stones, paintbrushes and paint, and hot glue.
Paint these stones in hues of vibrant colours and allow them to dry. Once dried, stick pebble stones on top of each other using hot glue. It will create a lovely diya stand. Place a diya on the topmost, flat rock. You can also place a tea light.
11. Brass Oil Lamps
Another way to make your home come alive with warm hues of light is by using brass oil lamps. These oil lamps are available in unusual varieties and can be decorated in unique ways.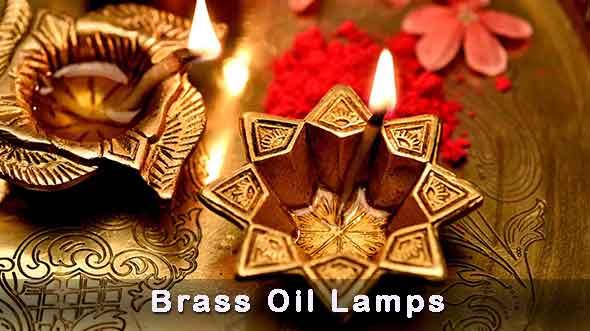 Place in the Temple
Temple in our homes is one of the most sacred places. You can place a brass oil lamp in the temple and illuminate the entire area with its soft, warm glow.
Place on the Console Table
When having guests over to your place, take out your brass lamps, fill it with oil, and light them up. Place them on your console table in the living room and surround it by petals of fresh flowers. The fantastic fragrance of the flower petals will be more pronounced when bathed with the soft glow of the candles.
12. Hanging Brass Lamps
You can also use hanging brass lamps to bring a soft glow to the room. There is no dearth of varieties available in these lamps. It can be a simple lamp with one wick or a lamp with five or more candles. Choose something that adds elegance and grace to your home décor.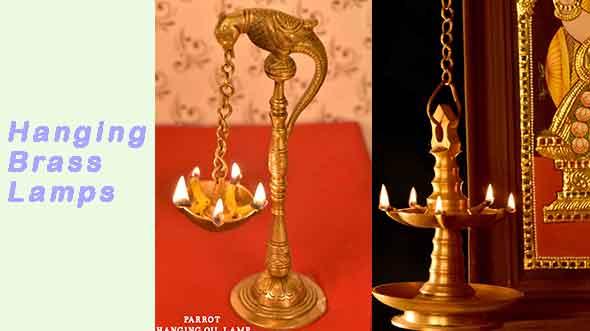 13. Brass Diyas
These days, brass diyas are also very popular. You can place them close to the entrance of your home or in a line through the door to welcome Lord Lakshmi by illuminating her path.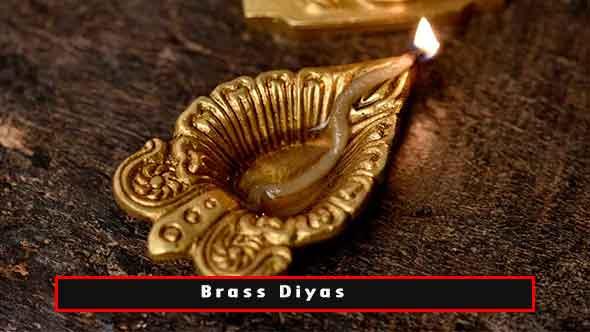 All these lovely diya decoration ideas are straightforward and easy to follow. Use them and add your creativity to make your home ready this Diwali. Your guests are sure to appreciate your creative acumen.