Swings are an inherent part of many Indian homes. In some regions like South India or Gujarat, it is a part of our age-old culture to have a swing or a jhoola installed in our rooms, terrace, or balconies.
Besides being a part of our culture, many people also get the swing installed to create a perfect place where they can relax after a long day at work. It is fun watching scenic outdoors while swinging gently on the swing.
Irrespective of where the swing is installed, it is necessary to buy sturdy swing chains that can sustain the weight of the swing as well as the person using it.
There must be no compromise in the quality of swing chains as it can lead to grave injury. Let us understand the factors we need to look into when planning to buy these swing chains.
1. Solid Construction
The first point that you need to keep in mind is that if the jhoola is made up of solid construction, it will need equal or sturdier brass swing chains that can sustain the weight of the user and the swing.
It is basically a holding device and a lot depends on its strength. Thus, look for the sturdiest option available in the market. Usually, swing chins made up of brass are very sturdy.
2. Multiple Purposes
Although it is referred to as swing chains, it can be used for multiple purposes. You can use the chains to hang a brass lamp. It can simply be used as a home décor accessory. When looking for purposes other than using it for a swing, also pay attention to its look and designs.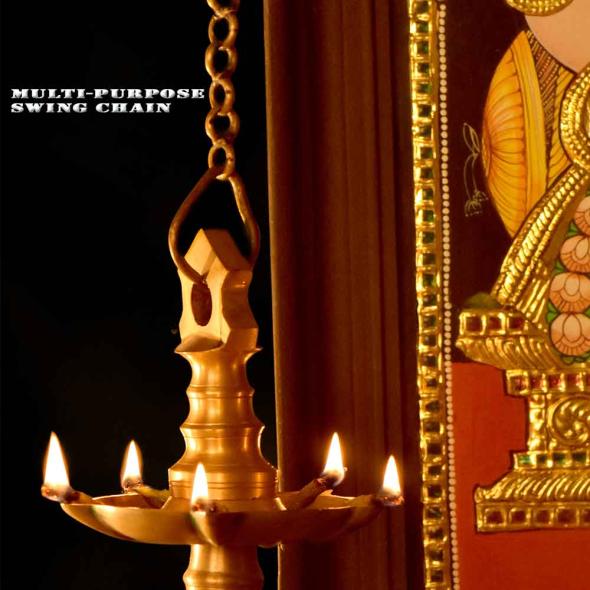 3. Aesthetically Pleasing
There is no dearth of chain options available in the market. Instead of choosing the first one coming your way, spend some time and research well.
This homework will lead you to a selection of classy and attractive looking chains. Whether you use it to hang the swing, lamp, or generally use it as a home décor accessory, it will always attract the attention of the onlookers.
A veritable choice of designs and patterns are available in them giving you a lot of choices.
4. Robust
Always pay attention to the strength of the chain depending on the purpose you are going to use it for. These chains are available in different materials.
Gauge the strength of every material vis-à-vis its load taking capacity and make the best choice. Usually, brass is the commonest choice. You can hang a heavy swing without worrying about its capacity to withhold the weight.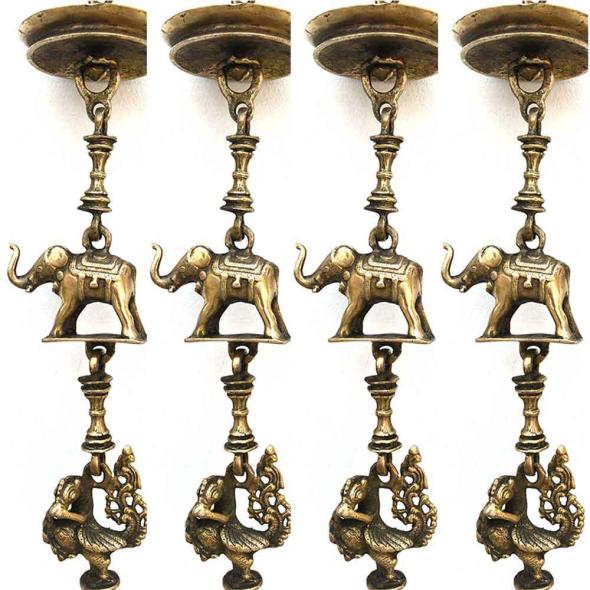 5. Décor Accessory
If you are looking for chains purely for decoration purposes, you can focus more on its looks and appearance rather than its strength and load bearing capacity.
You can hang these chains on walls close to the entrance or in the vestibule to give a unique look to these areas. Hang a colourful bird or any other animal from the chains to give a dash of colour to the area.
6. How to hang swings?
Swings always bring a smile on our face. It seems as if our childhood memories come alive whenever we look at a beautiful swing. It is super cozy, comfy, and relaxing. Remember, we use to lounge on the swing all through the day indulged in our favourite activities.
When planning to decorate your home, look for an ideal space where your lovely swing would look just apt.
The spot chosen for the swing must be such that it has adequate room around it. After choosing an appropriate spot, look for ceiling joust. It must be very solid and capable to handle heavy load of the swing. Choose sturdy chains to hang the swing. All this done and you are ready to enjoy swinging on your swing.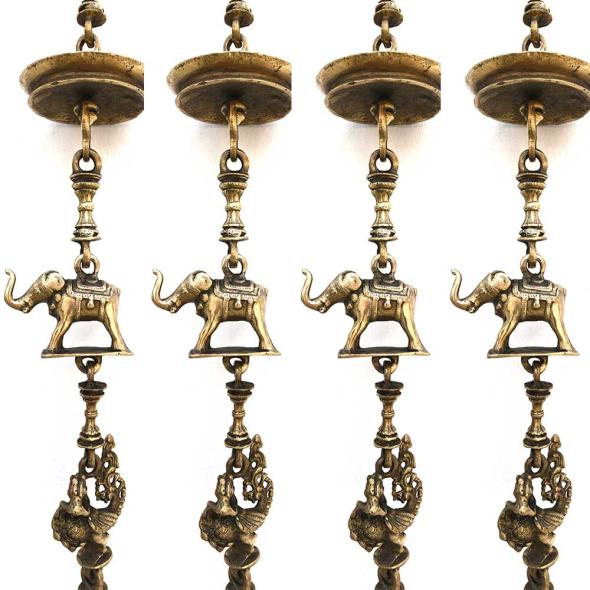 7. Where to hang swings?
You can hang a swing using brass swing chains in the living room. If you have chosen an ethnic looking jhoola, choose other furniture items in the same décor style. You can create a lovely typical Indian styled living room.
Another idea of an appropriate space to hang a swing is your balcony. If your home is surrounded by verdant greenery, the pleasure of enjoying these scenic views while lounging in your jhoola is going to be an out of the world experience.
Install a jhoola in your verendah and enjoy looking at outdoor activities. Soon this place will become one of the most important places in your home where all family members come together to spend quality time together.
Many people love installing a single seater swing in their bedrooms. You can do so but make a suitable swing chain choice. It is necessary to not only ensure the strength and stability of the swing but also its contribution to room décor. Choose from among several options available and choose something that is in sync with overall décor of your home.
All these tips and ideas are surely going to help you make the perfect swing chain choice.