Diwali decoration is incomplete without the addition of lights and sparkling colours. The living room and adjoining areas can be decorated with candles and flowers to make it befitting for Goddess Laxmi to bless your home with her divine blessings.
If you have a small outdoor space, balcony, etc. you can use these Diwali decoration ideas to spruce up the same. Also, hanging lights, candles, Quirky decors make the place more inviting.
For a more elegant addition to the Diwali party, you can easily create a small pond at the front of your house using a kiddie pool and place floating candles to lend a welcoming and aesthetic appeal to your home.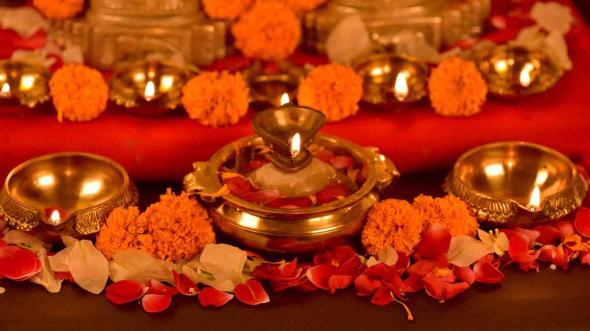 Furnishing and Diwali decoration ideas for 2020
You can use a variety of ideas and options like best out of waste ideas, recycling projects, or DIY decor methods to bring a positive impact on your guests.
By adding simple items like cushions or decor items made from leftover fabric, pieces can make a significant impact on your home decor. What's more, these ideas are simple and affordable and bring incredible benefits.
Repainting Diwali decoration ideas
Give a new lease of life to your home by repainting the same using bright colours. You can opt to repaint one single wall or give it a green makeover using pots and succulents. This minor change can have a massive difference in your Diwali decoration theme and home decor.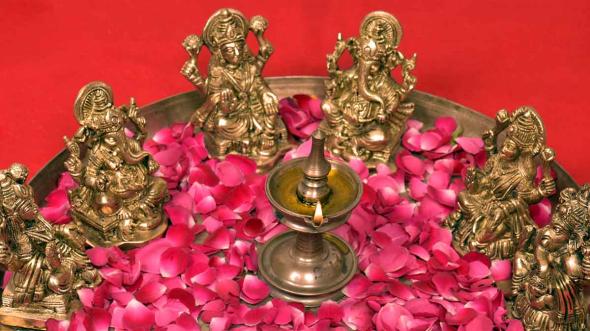 Pooja thali decoration with best out of waste ideas
Use a pooja thali and give it a makeover using best out of waste ideas or giving it a new lease of life with beautiful flowers. You can opt for velvet or ribbons to create small roses and stick around the diameter of the same.
Flower Decorations
Create a central flower theme and place diyas to light up space. You can also use the same to create a Ganesha statue to add auspiciousness to the day.
Place floral arrangements and fairy lights to create a bedecked theme for Diwali. You can use the same to fashion an old glass utensil to create an aromatic centrepiece.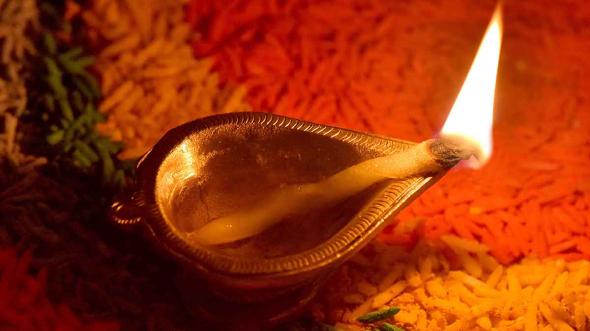 Pedestal base for jars
Use glass pedestals and place on them huge scented candles to create an aromatic centrepiece. These can be used with mason jars to refine your home decor.
If you are feeling extremely creative, give these jars a makeover with your favourite nail polish colours to add to the Diwali charm. Place them at strategic points like the Puja room for the best results.
Brass diyas for the best results
Use leftover craft paper or tissue paper to create flowers to adorn the brass diyas. These buntings can also be used as streamers to complete the beauty of hanging balloons.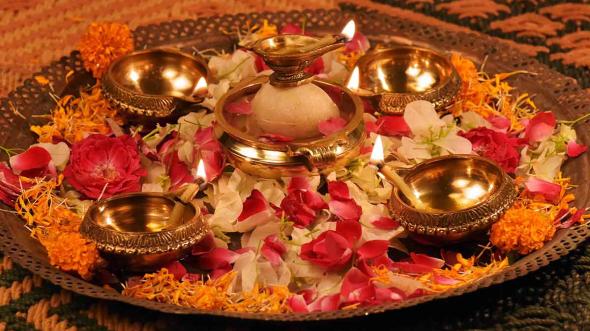 Clay diyas in vintage bottles
Use vintage bottles and clay diyas to create excellent Diwali decor ideas for home. You can also use milk bottles, each with a single flower stem inside.
You need to cut the stems to fit inside each container, and then resize them accordingly. It is an excellent idea for hosting the Diwali dinner or bash. Undoubtedly, these look extremely cute when placed on the table!
Helium to the rescue
Use helium-filled balloons along with hanging lights to impress your guests. You can place it in your lobby, balcony, or any other room to create beautiful views.
You can also opt for single colour plain balloons or abstract ones. Set beautiful indoor accents using tulle to create an impressive decor idea!
Floral grids from waste wires to arrange flowers
It is another vital idea to create Diwali decoration with flowers. Create a grid pattern using old wires and frames to help you to arrange flowers in a better way. Decorate the frame using golden paint and arrange flowers in a manner that the same appears to be voluminous.
The outcome is extremely professional and can be placed in your hallway or front door for the best results. It also prevents the flowers from sticking or towards the edge of the base to create a fuller decoration.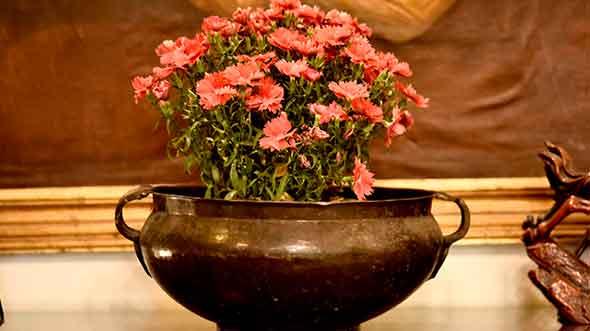 Balloon garlands
One of the significant Diwali decoration ideas is to make the use of balloon garland at home. It is an easy and affordable method to make the decorations fun and exciting.
You need to take a thread and string it, or you can also use the hot glue gun to have a garland that can be used for tying across the room. You can opt for a colour-coordinated version of these decor ideas as well.
Marigold and roses
While using the decorative oil lamps around the house, make sure that you add a classic touch to the decor through rangoli. For auspicious reasons, use from petals of different flowers like marigold and roses.
Use an excellent choice of floral shades to make the home ready for a fabulous festive season! You can use the full marigold or rose flowers to design a colourful and modern festival door decor pattern for your home.
Hanging lights and pots
Now you do not need to burn a hole in the pocket to buy impressive flowers for the Diwali parties! You can transform the supermarket flowers into an affordable masterpiece by hanging them along with hanging lights.
Use a floral design to create a chandelier on these hanging lights through a hot glue gun. Once done, your guests will be amazed by this unique chandelier on a budget.
Mosaics for Diwali decor projects
If you are a big fan of best out of waste ideas and projects, use CD's to create a rainbow mosaic on any surface of your choice.
You can quickly adapt this idea to decorate your terracotta pots and planters. Use these CDs in a stackable manner to watch it bring a style statement to the home. It works best for indoor decoration ideas, mainly when used on the entrance.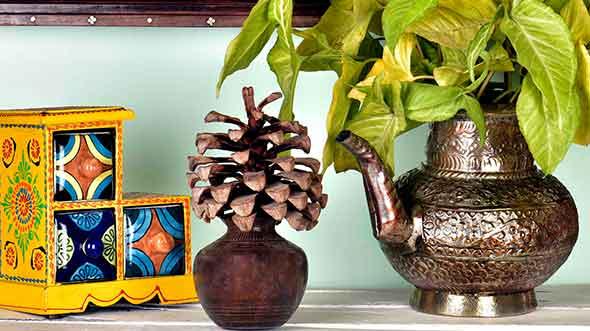 Waste-paper or old calendar Streamers
For this DIY idea, you need an assortment of coloured fabric, old calendar, or ribbons in varied colours, widths, textures, etc.
Your room will instantly turn into a beautiful place and bring festive cheer! Place these around the hanging lights to create an excellent and elegant decor idea.