If you love to spend time close to nature or have a green thumb, then you need to show your love for these through the right pot Decoration ideas. Undoubtedly, many such DIY decor ideas are easily available all over the internet, but we have something that is unconventional, beautiful and breathtaking for your home.
If you merely have flowerpots around your small garden, you can use these DIY decor ideas to create an outstanding job in home improvement on a budget and win praises and admiration from all. So, if you are prepared to impress your friends and family with your creativity then use these unique ideas and charm all with your worthiness and cool ideas.
1. Charming balcony pot decoration ideas
Having a balcony - no matter how small a clear blessing is. This becomes your go to place if you wish to catch up with the early morning sun and enjoy your morning tea in the crisp cool air. Nothing beats the fun of having a good selection of pot decoration ideas to amp your space using DIY ideas.
When decor is done in the right way, these can become an extension of the house itself and brings a calming effect to the space. However, it is best to avoid placing clothes for drying out or cluttering the same with old stuff.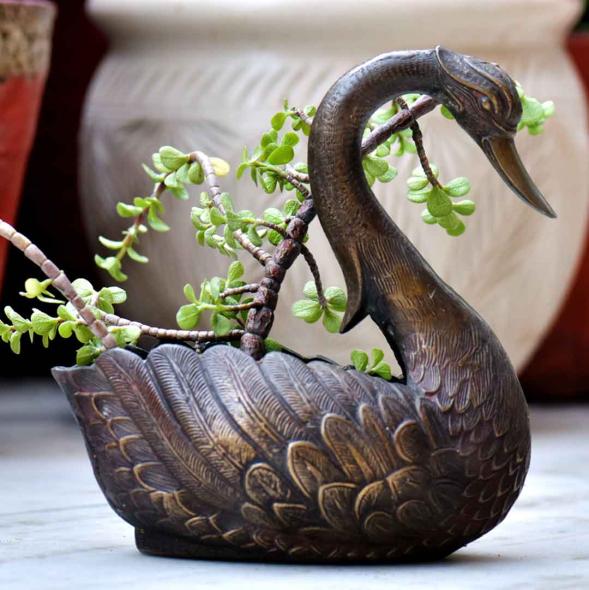 2. Mason hanging jars
You can opt to use mason jar to create a beautiful vertical garden. This is an awesome decor idea that uses negligible pot decoration items to deliver the best results. You need to use wooden panels and then place or hang them parallel to the balcony wall. This is an awesome idea that is extremely low cost and looks satisfying.
You can opt to label these jars and place them in a lopsided way to get the best results. Similarly, using jute rope can turn these mason jars into a stylish statement piece. Simply hot glue the same to create a breezy and perfect decor idea.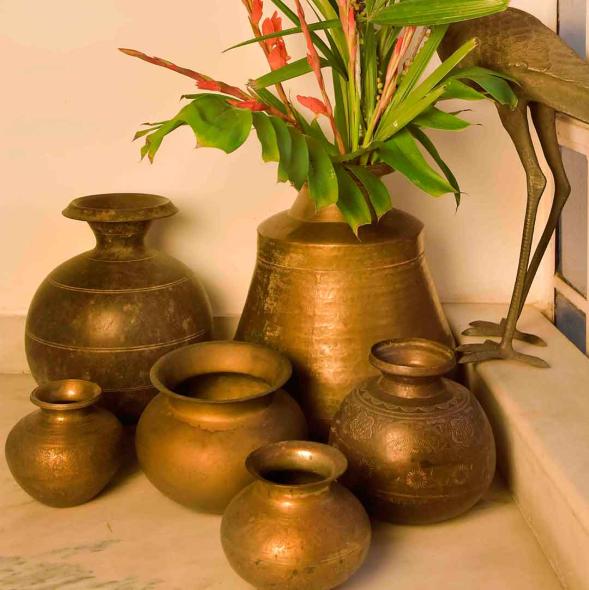 3. Use wired baskets
You can use small wire baskets to make an impressive and attractive balcony display. Use any storage basket at your home and add some pom-pom around the same to create a handicraft look. Use mirrors to spruce up your decor needs.
For such a hanging decor idea, can also be used to hang air plants as these needs little upkeep. Use a rounded design to create a perfect addition to both indoor and outdoor space. Use a black finished wrought iron chain to support the weight of the plant and the basket. You can also use twine or jute baskets to get similar results.
4. Create stylish woven pieces
Use handicrafts and crochet to weave a stylish hanging for your regular pots. This is both stylish statement piece and an excellent choice for pot decoration.
You can opt for couple of glass hanging terrariums and opt to decorate them using sand, succulents, mosses, activated charcoal, bark, stones, etc. These look uber stylish and functional for a balcony garden.
5. Terracotta pot decoration
There are numerous blessings of having terracotta pots in abundance around the house. The first one is that the terracotta pot decoration is one of the easiest and fun ways to brighten up your space on a budget. These pots are beautiful and airy. This aids in plant growth and development. Therefore, decorating these using clever ideas and beautiful alternatives can have a huge impact on your home decor needs. Once you adopt the below mentioned processes, you can very well understand that why we love these pots so much.
Moss covered flowerpots
One of the best and most classy ways to lend a new life to an old clay planter or terracotta flowerpots is to use a buttermilk and moss solution to aid in moss growth. This is an affordable yet time intensive process. However, once you have a moss-covered pot, these can make as an excellent gift choice for a gardening enthusiast. You can also personalize these using tapes to get the desired results.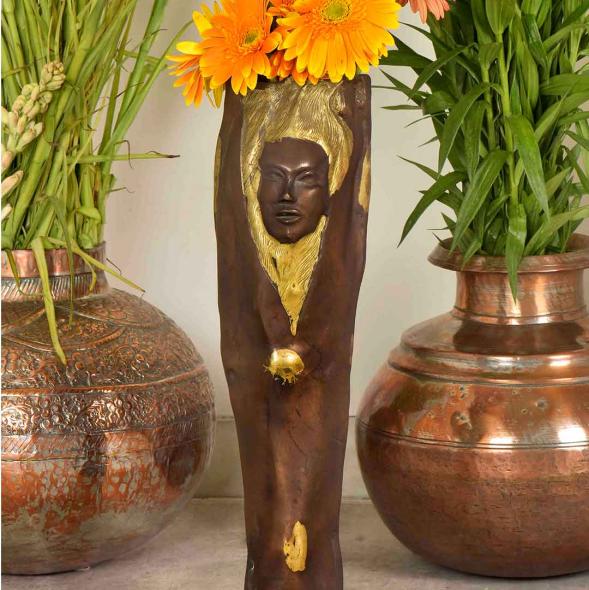 Paint them up!
One of the best reasons to go for a painted version of the terracotta pots is that the same can easily be given a makeover at any point of time. You can use varied colour patterns or styles to get your perfect pot.
It is recommended to always avoid green colour to decorate your pot or planters as it clashes with the actual colour of the potted plant. Similarly, small designs can be lost on a large pot.
As a result, you can opt for colors like red, midnight sky, etc. that create a charming contrast to the actual potted plant. Another great idea is to use overlapping layers of gold in addition with white or red shade.
6. Mosaics and pot decoration
Another great idea to use your old pot is through stylish pot decoration using mosaics. You can use varied stones, old, crashed CD's, large crystals, etc. along with mod podge, newspaper and fevicol to create a perfect trend for your needs.
It is best to clean up the old clay pot properly and then place them on old newspapers. Once done, allow your pot to dry naturally and add a thin coat of varnish.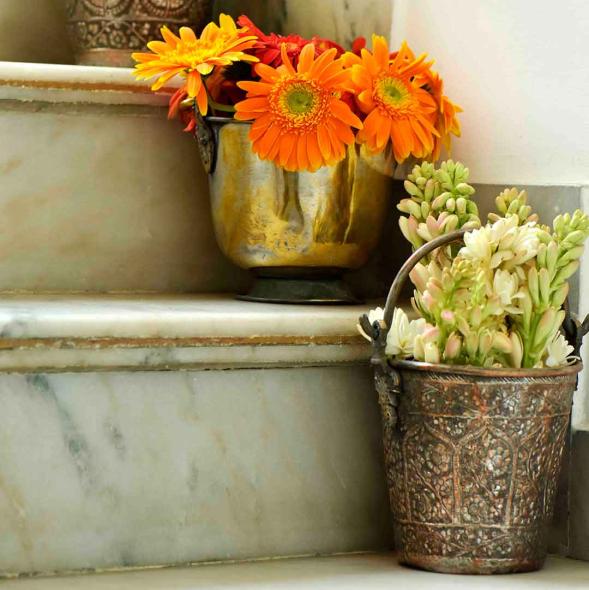 Splodge them in bright dots

This is one of the easiest pot decoration ideas and you can take the help of your little one for getting a lovely pot decoration on a budget. Use a smaller paintbrush, range of colors to create polka dots. Try to avoid making a uniform pattern for the best results. You can also opt to use twine pieces to create string art that is both random and beautiful.
7. Bringing in jute and baskets
Incorporating various types of plants into your home decor can have a relaxing effect on the available space and makes it the perfect place to retrospect and brainstorm. These provide you with oxygen and act as a natural humidifier, reduce airborne disease and help to keep you healthy.
If you are looking for some unconventional planters or hangings to grow your indoor edible garden with herbs like thyme, rosemary, and oregano, bay leaf, curry leaves, etc. then use these below ideas to gain the best results on a budget.
8. Bathing pot decoration ideas
One of the best ways to create an herb garden is by using a hanging or shelf style pot decoration ideas. For this, you can bring in an old bathtub and call in the help of a handyman to install the same right outside your window. You can use DIY decor ideas to create a new appeal and refurbish the same. This reduces the eco wastage and helps you to have a perfect sunny window and allows ample space for your garden decor.
9. Old storage basket planters
You need to use old storage baskets especially those made from wicker as the perfect DIY decor idea. This can act as a perfect planter for your home. These baskets are budget and eco-friendly. These also look amazing when hanged from the right height.
Larger variants of wicker baskets may catch mold or mildew so these can be cleaned up easily and given a new lease of life using golden paint or varnish. Once done, place these outside of your window and watch your little garden come alive. We warn you that these can easily replace the flowerpots.