Diwali, the festival of lights is just some time away. This festival of lights celebrates the victory of good over evil. The day brings in shimmering lights, diyas, candles, and lanterns to spruce up space.
Each year, creative minds try to find new and unconventional Diwali decoration ideas and help bring festivities closer to home.
Diwali Decoration Ideas 2020
Use these DIY decor ideas to spend some quality time with your friends and family. We warn you that these decor ideas are extremely easy and indulging. So, look around the house for the supplies and get ready for an awesome Diwali decoration experience.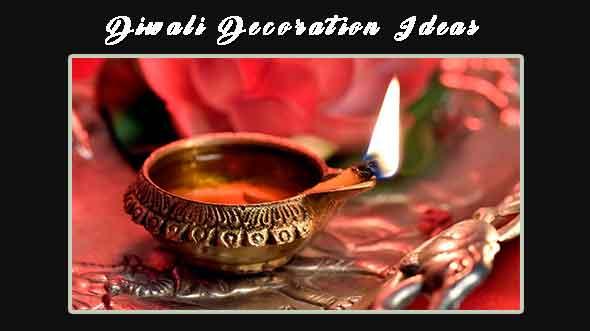 Floating flowers and diyas
Fill your home with a good collection of homemade candles and diyas. To decorate diyas, use henna to create awesome designs.
If you are feeling luxurious, opt for old pearls and decorations. Place them on existing candles or lamps to create Kundan diyas or pearl decor.
Seashell tea lights
Use scented candles along with seashells to create a unique table light. You can use a few strokes of fabric paint and then place these candles inside the shell. Use zigzag pieces of white wax to fill in space and to create a complete look.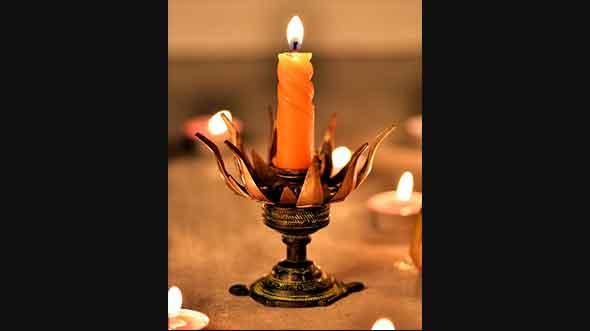 Best out of waste ideas for thali decor
Opt for a thali from the local flea market. Use old fabrics like bandhani, shiny lace, pearls, pom-pom, glitter to create awesome decor.
Another great best out of waste idea for thali decor includes the use of wooden thali decorated with ribbons made from ribbons or paper.
Green thumb to the rescue
Undoubtedly, Diwali is all about decorative oil lamps and glittering decors. Here is something that can last you for a lifetime. Use cane sticks, berry baskets, etc.
And give them a coat of metallic paint. Use bonsai or succulents in these and watch them grow on your desk. Place these near a desk or inside a lopsided decorated pot for the best results.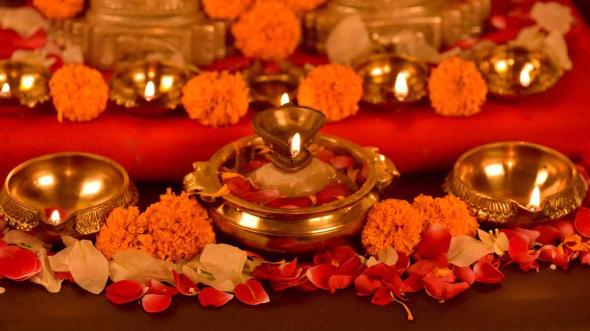 Table runners made from old denim
Use Diwali decoration through the use of old denim and t-shirts to create a zig-zag table runner. Use braiding techniques to get the best results. Arrange flowers, candles, diyas on the same to get the best results.
Decoupage decor themes
It is an affordable and a simple-to-do project. Get your friends and family to help you gather supplies like bottle openers, etc. to get the process right.
These also make for extraordinary gifts and look awesome under hanging lights. You can personalize the above decoupage in any way you like and then use it to present as a special return gift for a Diwali party.
Burlaps and ribbon decor
Use a burlap sack along with a wide ribbon to make a cute pot decor. Cut the sack into small pieces and wrap around the pot and place a decorative scented candle inside the same.
Once done, tie the ribbon in a big bow to get the best results. You can also directly create a giant bowl and then stick to the burlap.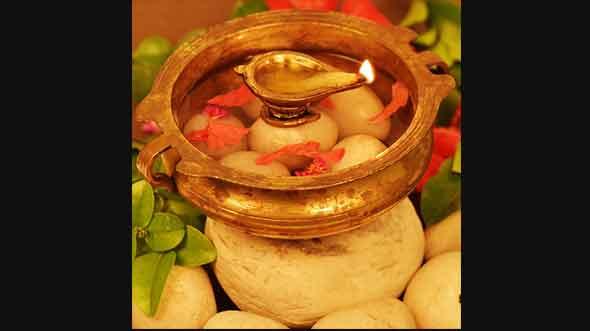 You Can Read Also:-
Etch projects
To accomplish the etch projects, you need to have supplies like a standard glue gun, wine bottle, decorative oil lamps, twine, etc. to get the best results.
Write down your favorite song, phrase, deity name, religious symbols, or number. The etching work is easy to do using stencils and is an excellent idea when you wish to redecorate the glass jars, pots, etc.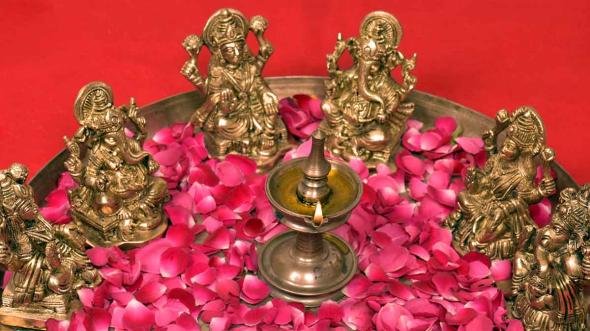 The twine project
An excellent idea for giving a new lease of life to your discarded jam jars is by using twine or rope. These deliver a simplistic charm to your home.
Buy twine and then wrap it carefully around the dimensions of your bottle and decorate, use the tiny rosettes to get the best results. You can also use Rosettes to adorn large clay diyas.
Putty pot decoration ideas
Using putty paint to make the pots stand out. Your plants will look exceptionally beautiful in this case. The putty can be used for decorating holders for scented candles and is an excellent choice for improving your home decor. This idea helps to add both print, paints, stencils, and unconventional design solutions for your needs.
Decor ideas for brass diyas
Decorate brass diyas using yarn pieces, beads, pearls, and earthen diyas. Give them a coat of polish before using these for your decor ideas. You can decorate or create torans using cardboard and yarn pieces and adorn the same with beads.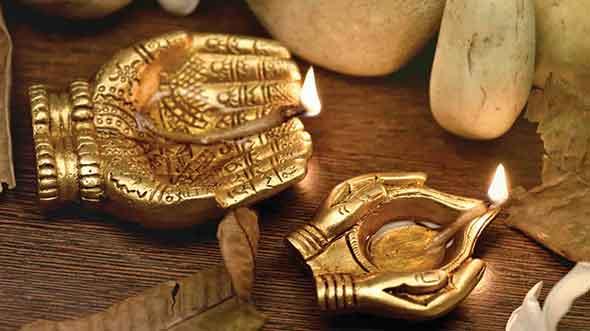 CDs Diyas
If you love the designs of the Brass Diyas, you can easily create a tea light version of the same using old discs. You can also paint them on the writing side of your favorite color. If you wish, you can decorate these diyas using beads and glitter. Watch the light play beautifully inside the tea lamp.
You can also opt to use other waste materials for decorating ideas to make a sound impression on the guests.
Newspaper recreated pots
Use this DIY idea to create a beautiful flower pot with old newspapers. This project is quite simple. You need terracotta pots, mod podge, newspapers, white acrylic paint, and twine.
Use mod podge to stick the torn pieces of newspaper. Once done, put mod podge and then paint the rim using the white acrylic paint.
Giant betel nut leaves
The Ganesha statue design is a Diwali decoration favorite. You should try to reuse and recycle items that will help you to save money.
Anything around the house can be reused. Plus adding a little creativity by putting giant betel leaves alongside decorative oil lamps helps you bring new air to the festival decor.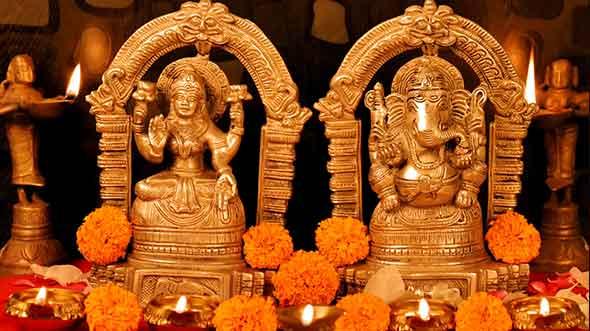 Festival mobile
Another simple handmade decoration idea that can be used for your kitchen or living room is to design a festive mobile. Use recycled materials, beads, deity images, mirrors, etc. to create this hanging mobile. Then add small bells under the same and place it near the window for the best results.