Mirrors are a great way to light up your home, create an illusion of open spaces to make the rooms appear larger in general.
Reasons to opt for stylish mirror decoration
There are numerous ways in which you can include mirror decoration ideas as the core part of your home decor needs -
1.Consider your reflection
Before giving a detailed thought to the DIY mirror decoration it is important to ensure that you have sufficient space for placing the same. Similarly, you need to be aware of what is getting reflected from the same. Similarly, whenever possible, hang a mirror across from the window to create an impressive amount of light entering into the room.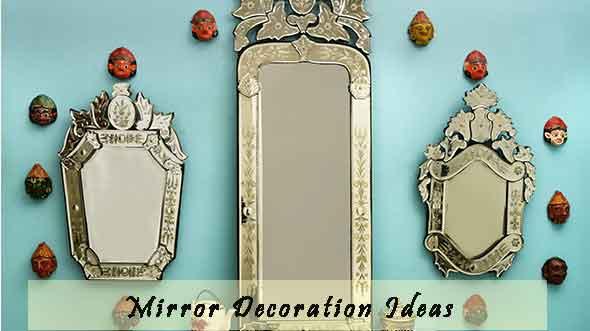 The Midas touches!
You can explore a variety of fantastic and fancy DIY mirror decoration ideas and then use the final version to enhance your home improvement needs. Many DIY projects are simple and easy to execute and do not take up much time and resources.
For this project, you need to use a combination of gold and silver spray paint and then place around the frame smaller PVC pipe cut outs to create a smaller size sum for your home. This beautiful mirror will deliver a definite pop of colour to any room.
Refurbished plastic spoon floral motif
Use the chrysanthemum mirror decoration project that makes use of plastic spoons to create an artistic effect. You can opt to spray paint these spoons in different shades of the same colour to get the best results. We recommend that you go for ombre painted color on the spoons for the best results. You will surely love the final version of these products to get the best results.
2. Placement matters
Place the mirror across something that is extremely visually appealing and thus, the same must be placed at an appropriate height. So, mirror placement is important and is dependent solely on what you want to be reflected.
Similarly, you can also opt to place a large mirror even in a small room for creating an illusion of depth and space. In such a case, a leaning full-length mirror can be used for highlighting the small room.
The DIY decor idea using color wheels or wood
Go for this gorgeous wheel mirror that is perfect for adding design to any space instantly. You can also go for mosaic tiles or hues in the form of a colour wheel for the best results.
Similarly, you can use a full-length mirror and then embellish it with rustic wood to get the best results. This is perfect for any bathroom and bedroom.
The zebra print for mirror decoration
If you are looking for a nautical theme, then this mirror is perfect for your needs. You can use rope to create a big and bold circular theme for your home. This mirror is the perfect choice for your home decor needs and expectations.
Similarly, you can hot glue the same in a zig-zag pattern to create a perfect match to a zebra skin. Once done, use white and black colour to get the best results. It will help you to save money on buying the similar product from the leading department stores.
3.Create focal point
Using the below mentioned mirror decoration ideas, you can create a focal point. These are hence great for mantels, dining room buffets, etc. To accentuate these further, use scones on either side to create an artistic effect of you can go for an entire wall covered with mirrors to create a beautiful Decoration idea on a budget.
Seashell mirror decoration ideas
One of the most popular DIY mirror decoration ideas is to use seashell mirror design using a variety of seashell mirror designs. Similarly, you can opt for starfish to complement these seashells or can opt to create multicolored hues of seashells by gluing these on top of each other.
The idea is a practical and easy way to decorate any room of your home on a shoestring budget. This idea brings a hint of the summertime.
Floral mirror decoration
Another fantastic DIY mirror decoration project uses a variety of sensational floral arrangements or succulents that are attached to create one of the most awesome decor ideas. This fits beautifully to your living room and keeps things within your budget.
You need to start by assembling the box shaped wood frames that are supported using stapled chicken wires. The mirror should be placed in a smaller frame and use moss to create a garden like effect. You can also use extra plywood to hold the same together. Arrange these in a unique fashion to get the best results.
4. Modern in design
Mirrors are modern, classy and elegant and sophisticated - it depends on the overall effect that you wish to create when choosing a mirror frame.
Use many mirrors for the best mirror decoration ideas
A beautiful chinoiserie mirror can go a long way to boost your home decor needs instead of merely focusing on bringing in a wooden frame. Similarly, smoky glass variants, Venetian mirror or antique ones work the best for you and help you to create a perfect decor idea.
Do not be afraid to use multiple mirrors to create a gallery wall with mirrors. For instance - You can use Venetian mirror along with any photo wall and create an effect of being a single unit.
Creating a starburst mirror
Use the above DIY mirror decoration to get the best decor on a budget. These projects are extremely easy to complete and do not require a huge budget. Use the larger one and use metallic Decorative skewers plus a few tiny mirrors. This will create a constellation effect for the best results. Similarly, you can easily create a wall collage using mirror pieces and watch your room come alive.
Frequently asked questions
Question 1 - Can I place my DIY mirror in my dining and living room?
Answer - Absolutely. You can place a large mirror in a small dining room to create an illusion of depth. Simply placing a big mirror on the wall above the table can help to reflect the awesome chandelier or that expensive piece of artwork.
It is best to place mirrors in the entryway, dining areas, living room areas and even the bedroom. Long variants of mirror can work wonders for your needs and help to create drama and appeal.
Question 2 - Where you should not hang the mirrors?
Answer - You should avoid placing a mirror close to a window or opposite one. This is because the same will reflect the sunlight and can warm your home further during summer months. The same should never be placed inside a kid's room. It is best to use reflective sheets to replace the need of a mirror in such rooms for the purpose of safety and security of your children.
Question 3 - How do you stick something to a mirror, especially a Venetian one?
Answer - You can opt to attach lightweight wood and flowers to the existing decor. Similarly, you can buy stuff from XXX Store to get the best results. Some of these online stores even sell liquid nails, hot glue, 3M sticky strips for the best results. Similarly, you can go for double sided tape to hang lightweight decor around the mirror. If nothing works, use epoxy resin, Plaster of Paris, drywall compound, etc. to add charm to the same.
Question 4 - For how long can a LED mirror last?
Answer - LED mirrors are one of the most energy efficient ways of lighting up the mirror and saving both money on installation and usage. These are smart lighting solutions that help you to boost the lifespan of usage and hence save you additional cost. A typical LED light has a lifespan of 50000 hours of usage. This is 42 times more than a standard version of incandescent light mirror.
On the other hand, going for a backlit mirror can be nice as it helps to create a subtle glow that can be used to light up your room. These mirrors however are more expensive than LED variants. Therefore, use DIY decor ideas to create your own version of a professional decor idea on a shoestring budget.
Question 5 - How to create super impressive artistic effects using the mirror theme?
Answer - Use the modern yet jungle themed decor idea for your bedroom. This high-end luxury version of the room decoration buses round mirror that is layered with bold and botanical wrap around wallpaper.You can opt to use these wallpapers all around the room to make sure that the motif is reflected to create a seamless pattern that brings intriguing addition to the place. This will instantly add sparkle and shine to the same.
Similarly, you can use your creativity to bring a full-length mirror to your bedroom. Placing one of these on your bedroom door can help to create a large window template that can brighten the room and reflect its beauty easily. You can go for wooden accents and accessories to keep the decor warm and welcoming for you.