A pooja thali carries a significant symbolism among people carrying out different religious rituals and spiritual ceremonies. If you have visited a temple already, you would have seen a pandit jee arranging or holding a pooja thali so gracefully.Often, out of which, they would put a prasad offering in your palms while flecking a red, yellow or orange tilak dot on your forehead.
Well, if are likely to offer a pooja or a worship ritual on daily basis, certainly you can be your own pandit jee in the house, thereby decorating your pooja thali in your style.
To help you create a beautiful thali, here are some amazing thali decoration ideas. They are categorized into different festivals, events & occasions but, you can always mix-and-match them up as per your wish!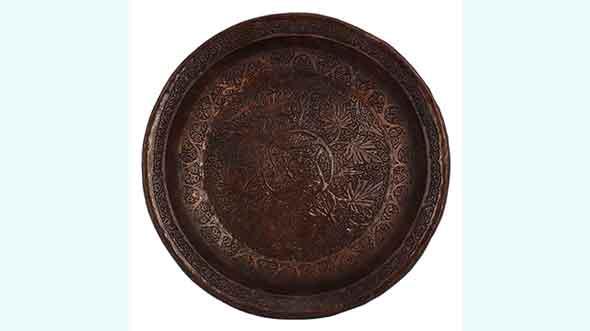 Colourful Thali Decoration Ideas For Festivals
For festivals like Rakhi, Bhai Dooj, Lohri, Baisakhi, Holi, Chatth Pooja, Basant Panchmi etc.
The day of a festival like Raksha Bandhan or Bhai Dooj is mostly a reminiscent of childhoods of both the sister and brother. And so, a decorative thali full of colours, secrets and playfulness will best do the trick in addition to the essential pooja items such as roli, rice, tilak paste, sweets etc.
As an example, you can create your own thali at home. If you are thinking of a steel thali, consider painting it with some brightly oil paints.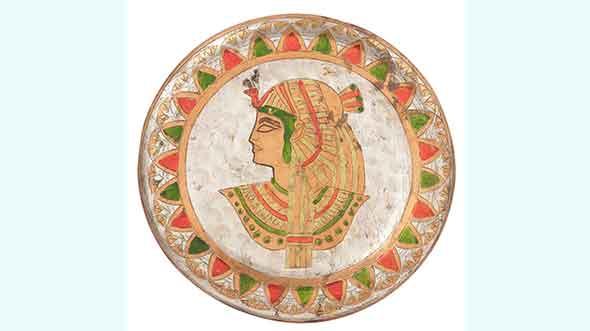 If you are using a china plate or a ceramic platter instead, you can make its base using velvet or a printed cloth piece.
Decorate the periphery of the thali with embellishments of pompoms, dangling trinkets, many little gifts and crafty decorations.
Apart from Rakhi, a thali like this is also ideal for occasions like Ganpati and Janamashtami.
Feminine Style Thali Decoration Ideas
For festivals like Karva Chauth, Teej, Raja Parba, Navratri, Naga Panchmi, Durga Pooja, Vat Purnima etc.
The day of Karva Chauth is celebrated in order to worship the moon for a happy married life and so are the festivals alike. So, a great idea for decoration is to choose a marital or bridal style theme for the pooja thali. Besides these decorations, add a clay lamp, a beaded chann-ni, a water pot, flowers, kalava, fruits, a few blades of durva grass and cereals.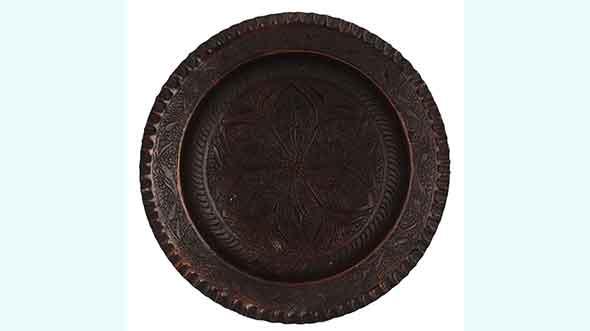 A base made of red dupatta or a red cloth piece is perfect. A bandhani dupatta or cloth is a spectacularly wonderful choice for adding a feminine touch to the thali. Paste it on the thali with a glue stick.
Pookalam Style Flower Bed Thali
This might be the simplest of ideas you'll to decorate your thali with. If you have been to a South Indian festival celebration, you'll come across a type of flower rangoli known as Pookalam. Now bring a pookalam in your pooja thali, why not!
Make a bedspread of flowers in your thali with lots of colourful flower petals. Then top it off with a diya at the center and a few flowers surrounding it. Examples are roses, chrysanthemums, marigolds, hibiscus and jasmine among others.
You Can Read Also: Reception Stage Decoration Ideas: A Quick Guide on Reception Stage Decoration
Bejewelled Thali Decoration
Be it velvet, dupatta or flowers, once you have selected a base for the thali, there are embellishments to think of. Apart from these ornaments, you can also use decorative accessories like mirror finished rhinestones, or petal shaped crystal stones to adorn the design.
For a jewel-dripping look, decorate the periphery of the thali with a pair of your old chandelier earrings, chains, anklets, or ghungroos. Bonus, if this is the day of Karva Chauth, you can also ask your husband to put these earrings in your ears as a romantic gesture under the moon!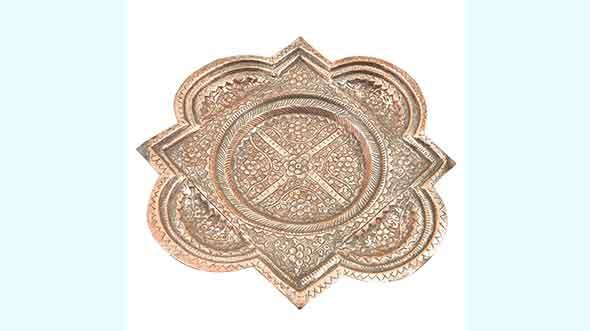 Take a sharp pointed henna cone and make an intricate mehendi design on the thali, leaving the space for essential thali equipments. Once it is dry, complement the spaces with sequin style bindis. In the middle, put a small kalash or earthen lamp.
A great idea for Navratri! Use kajal for drawing the eyes and facial outlines. Fill the outlines with a paste of vermilion (red kumkum powder). In addition goddess face, you can also draw a small kalash in the plate using the same technique.
You Can Read Also: Stage Decoration Ideas: How to do Stage Decoration for A Wedding Using Pots & Planters?
Royal Style Thali Decoration Ideas For Festivals
For festivals like Diwali, Shivratri, Gudi Padwa, Dhanteras, Ganesh Chaturthi, newlywed ceremonies etc.
Think of a royal style thali made in silver, brass or bronze. Put tiny statues of Ganesha-Laxmi, Radha-Krishna or any deity of your choice. Make the statues wear teeny weeny clothes and jewels. Put a bowl containing sandalwood paste and an incense holder or anything else you'd like.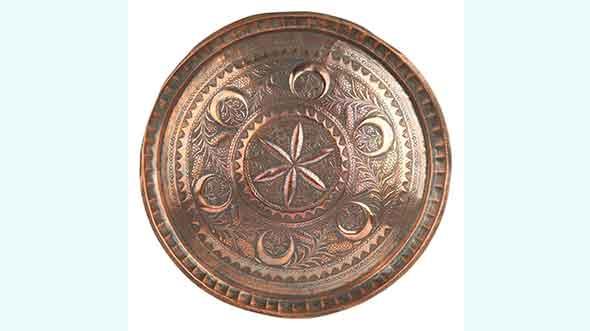 You'll find many readymade plates featuring a patterned design with a Swastika or Om motif at the center. If you want to use a handmade thali instead, consider painting the base with a dark colour and drawing the motif with a white-dipped brush.
Surround the motif with a beautiful mandala design or a simple pattern. Shove off the Prasad or your favourite pooja items including jaggery, paan, nariyal (coconut), boondi laddoos, etc.
Beetel leaves are considered to be symbolic of the dakshina, an offering made in a ritual related to the worshipping of money. They are sometimes placed with money or coins in the pooja thali. Particularly on Diwali, gold and silver coins are splattered in the thali. So, if you too are using beetel leaves in your thali, think of them as the base.
Now surround the periphery of the platter with a series of little-little Kalash shaped bowls. You can use these bowls to keep the pooja essentials such as rice grains, incense sticks (agarbatti), camphor balls, mithais, prasad, a spoonful of dried nuts and more. In the center, you can draw a holy symbol with turmeric (haldi) or saffron (sindoor) for the complete look.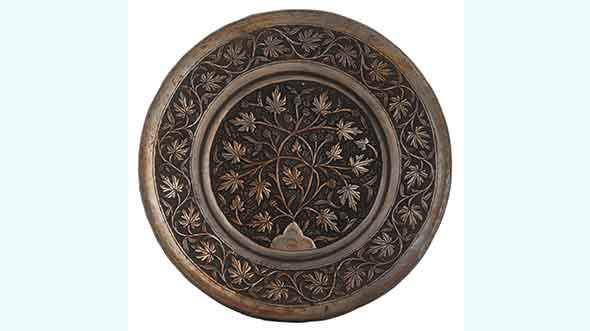 Thali Decoration Ideas for Daily Worship Rituals
Also ideal for your home's mandir
Gota & Gulal Thali Decoration
Keep your daily pooja essentials in a plate and fill the space with a smoothened layer of one or two gulal colours. Using golden lace or coloured threads, cover the rim of the thali. A quick and easy thali ready for your worshipping!
Use paper clips, acrylic bubble beads or clothing gems to craft your desirable design on the pooja thali. A yellow or green paint will make as a pretty base for daily prayer offerings.