Getting a wedding gift for the bride and groom who are your friends or relative is actually a tedious task. You have to gather all unique and different ideas to find a perfect gift for your loved ones.
But now there is no need to worry as in this blog we will tell you about ten best wedding gift ideas you can give to your loved ones without giving stress to your mind!
Planning out gifts for a couple that has everything requires some time. As you cannot gift them all the basic gift items such as bedsheets or cutlery. You need to go off the track to think something different for them. Such as why not to look what is common between the two as in their likes or dislikes, if they are nature lover or party poppers.
We have rounded some of the best gifts you can gift your loved ones so that your job is made easier:
1. Customized photo prints
This is one of the most fascinating gift idea to the bride and groom as who would love a photo of their life in a single frame? There can be end number of ideas that can be added in customized photo frames.
This is a trendy option where you can get a custom photo of the bride and groom printed on a mug. This gift is not only memorable but also durable enough for a long period of time.
This is very much in trend where the neon color frame does not have any photo initially and then you connect it to a plug, the frame gets illuminated with your photo.
You gift set of three photo fridge magnets so that every time whenever they will open the fridge, their memories will become alive.
2. Silver jewellery
Silver jewellery has never been out of fashion ad is still much in trend. Without wasting much of your time thinking the ideas and also your budget, you can go for a pair silver jewellery for the bride and groom.
There can be end number of designs and varieties for silver jwellery like silver rings or sterling silver neck piece.
Silver choker is a perfect gift for a junk jewellery lover bride. Similarly a heavy silver ring looks a superb gift for the couple.
3. Fancy luggage
This might sound an obvious item with the newlyweds but no one would ever thought of giving it as a gift. A nice fancy, durable luggage is what everyone wants. You gift a customized luggage set with couple's name inked on it. It looks a perfect wedding gift for their honeymoon and will be cherished by them forever.
4. Silver earrings
Who doesn't love earrings? Well silver earrings is very much in trend this days and I believe this is the best gift for a modern day bride. There are end number of varieties in silver earrings and you can easily gift her a set of four five without losing on your budget.
Jhumkas or chandbalis are one such tremendous gifts that the newly wed bride will never forget and will always long to wear it.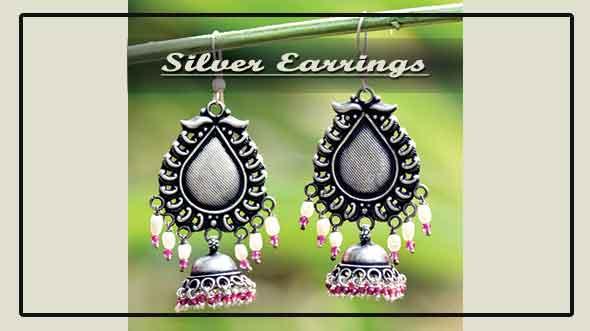 5. Personalized sign board
What better gift can be than a customized sign board with their name and wedding date engraved upon it! It is the most precious gift which I am sure your newlyweds would love to have.
You can chose any material for the sign board such as teakwood or marble, keeping in mind that the board is durable enough. This sweet gesture can be used by the bride and groom at their entrance to make their guest fee homely whenever they come to visit them.
6. Alcohol serving set
We all live in a modern world and gifting the bride and groom some amazing wine serving se will be a great idea.
Glassware is a common gift item but you can make it uncommon by gifting a complete set of four glasses long with a serving tray. The cherry on the top will the initials of the newlywed couple printed on it!
This will look great whenever they will share their drinks with friends or family.
7. Personalized doormat
Why not surprise your loved ones this time with a gift they would have never thought anyone would give them. But it will as practical as their daily chores! How about a personalized door mat?
Once the newly wed start setting in their new house or room, they require some basic items which are of their daily requirement. And doormat is one of them.
Yu can get the doormat customized with some classic quote along with their now common surnames.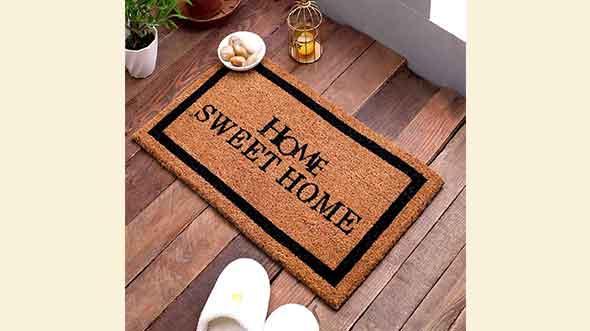 8. Marble coasters
Coasters is one such gift which the newlywed couple might have always thought of having it but would have never bought it. So why not gift them this time in a unique and a different ways.
To the otherwise boring coasters, you can go for marble coasters with their initial name in a fancy handwriting engraved on it. This classic and sophisticated set of gift will always be an attraction for everyone. You can always chose either a set of six or twelve depending on how many members are there in their new family.
9. Canvas print of their love story
The newlywed couple always and will forever cherish their moments from the time they met to their final wedding date. So why not to capture their precious moments and gift them?
This gift can become more special by making this on a canvas print. The bride and groom will love such an amazing piece of décor which will look beautiful in their room.
10. Yearly subscription of gifts
Well this is quite a unique and a thoughtful idea of a gift. You ca select an annual subscription for the bride and groom where they will receive small gifts for all the twelve months! Isn't that an amazing idea to make our loved one remember you every time they get a surprise!
You can choose small gifts every month such a customized passport cover, wallets, shades, photos print and so on and so forth.