Janmashtami Decoration Ideas: It is that time of the year when we welcome Laddu Gopal Krishna into our home. The temples are decorated with flowers and leaves. The pretty swings also called as palnas are placed inside homes and temples to showcase the young Krishna. So, if you wish to bring in Krishna to bless your home then you need to follow these Decoration ideas for the best results.
1. Kanha ji and his jhula
One of the major charms of the Janmashtami decoration starts with the welcoming of the Kanha ji and his cradle. On this day, devotees recreate the cradle of Lord Krishna and bedeck the same with a huge amount of flowers and similar paraphernalia.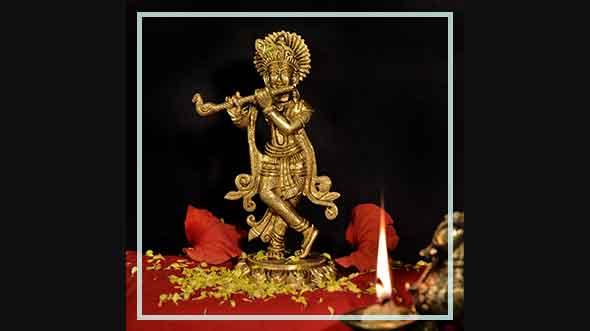 2. Jhulas for Krishna statues
It is important that if you opt for Krishna statues to form the part of your Janmashtami celebrations, you need to bring in a cradle for him.
You can opt to create one using a rhinestone crystal along with velvet to create a lavish lifestyle for the Lord. You can easily use acrylic paint, silver, gold gotas, mirrors, pom poms and hot glue to get the best results.
3. Use newspapers and tea lights for Janmashtami decoration ideas
If you are looking for awesome Janmashtami decoration ideas and wish to create a perfect cradle then you need to bring in newspapers or tea Lights, coasters to get the best results.
4. Berry and cane baskets as stylish jhula
Use berry or cane baskets to spice up your Janmashtami decoration. You can opt to paint these in gold or metallic shades or place velvet all around for that uber chic decor. You can also use the traditional tissue paper arrangements along with a generous offering of pearls, glitter and spray paint to make an impressive Janmashtami Decoration
idea on a budget. Also, this method is extremely chic and reliable way to amp your festival decor needs in a quick way by using the material available around the house.
5. Janmashtami decoration ideas using ice-cream stick
If you wish to create a peppy wooden base for your Krishna statue or idol, you need to use ice cream sticks to create a jhula. You can opt to create a whole jhula using these or can also use these to simply create the base for these.
6. Bring in peacock feathers
If you wish to have awesome decor ideas for small Krishna statues, then you need to bring in peacock feathers to make an awesome decor idea. These can be decorated with the use of cardboard jhula and peacock feather to catch the eye of the guests.
7. Recreate the life of Lord Krishna
If you are looking for stylish ways to create mesmerizing Krishna statues and associated decor ideas, then use the below mentioned ideas for getting the best results for your Janmashtami celebrations on a budget.
8. Smaller version of birthplace
You can opt to recreate the best of Vrindavan by using special stuff like flowers, wheels, animals, etc. as a part of the Janmashtami decoration. You can add flowers, rope lights, leaves, Little Krishna and friends to create a beautiful scenery.
9. Hang matki on the walls above Krishna Statues
If you have opted for the best one out of available Krishna statues online, it is time to add another flavour to the celebrations. Bring in an earthen pot and
decorate the same with thermocol and hot glue to create an impression of Makhan. Similarly, you can add smaller versions of matka and decorate them using floral motifs, stickers, etc. To add complete charm, add marigolds, jasmine and ribbon to add festival fervor and charm.
10. Floral decoration for Janmashtami Decoration
Any Janmashtami decoration ideas are incomplete without using floral arrangements. So, if real flowers are too expensive for you then go for DIY tissue paper flowers, smaller lotus flowers made from craft paper, peacock feather made from glitter paper, etc.
You can opt to combine these floral arrangements along with fairy lights to gain the best results. Similarly, inverted wine glasses, mason jars, old wine bottles, etc. can be used to create a charming decor idea by adding these floral arrangements for an aesthetic yet affordable decor idea.
11. Getting the ceiling and walls ready!
Recycle DIY lighting projects
One of the most affordable ways to light up your room using DIY Janmashtami decoration ideas is using old cans and bottles. You can opt for coke cans, remove their base, poke few holes here and there and place these on walls. This awesome idea brings in positive vibes to the home decor through the impressive use of the regular household stuff to bring in the best results - even on a shoestring budget.
Once done with the above process, spray paint these cans in bright shades, silver, golden ombre or other metallic shades. You can also adorn these with the traditional earthen diyas.
You Can Read Also: Diwali Decoration Ideas
Stick a few glass bangles together in creative patterns to build up an awesome tealight or diya holder. This type of idea is an extremely simple tip to make a lasting impression on your guests. So, bring out your multi-shaded and stylish bangle collection nicely and stack them in various shapes or use it to create Stylish and simple diya holders, lamp decor, etc. and impress your guests easily.
The best part about this design is that it never fails to impress. What is more, the same never needs to be complicated and intricate. As a result, you can reuse items that are available at your home like- traditional fabrics, old sarees, wood, trims, etc. along with glitters or pearls to give your decor a fresh touch.
Paper quilling designs for Janmashtami Decoration
Paper quilling is an awesome idea for Janmashtami decoration especially behind the jhula. Here you need to cut large but thin strips of craft paper. These are then folded and tweaked out into various shapes and styles to form special decorative and artistic pieces.
These are also used for detailing or furnishings during the festival or Holi celebrations by creating using in the form of flower garlands or similar assemblies. There are several videos ready to help you to master the art on a budget.
Alternatively, you can use the above craft to create designs like lotus, peacock feathers, butterflies, petals, flowers, and leaves, and then use hot glue to put them on a wall or cloth for a customized design.