Indian women have been loving jewellery since thousands of years. From the hinged jewelled bands worn by the ladies of Mohenjodaro to the gem-studded royal jewellery collections of maharajas and ranis, Indian history provides a trunk of jewel artefacts to dive right through.
Amidst these jewels, the metal silver has been used extensively in combination of other metals and materials for the purpose of jewellery. In different stages of civilizations through the passing of time, some of these materials have been white gold, shell, enamel, bone and ivory.
Most of all, the metal silver, along with gold, carries a sacred symbolism among the women of India as well as providing them with a means to build their financial assets or their patrimonial collections. Earrings, rings, anklets, kada bangles, nose pins, necklaces, pendants and jewels like these make up the contents of most modern women.
In the present day, the two most popular forms of jewellery silver include oxidized silver and sterling silver. While a sterling silver piece is too elegant to resist, the oxidized silver jewellery imparts an antique fashioned addition to the lady's wardrobe.
If you too have been planning to buy a piece of silver jewellery for yourself or a woman you know, below are some of the most popular silver pieces dominating the trends in India.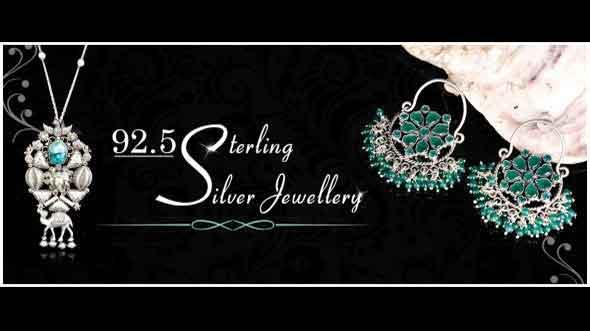 SILVER JEWELLERY SETS
Silver Temple Jewellery Set
Temple jewellery is a popular choice among South Indian women. Many of these jewellery items are plated in gold and often handcrafted by the jewellery designers or silverworkers.
A temple jewellery set made in silver and dipped further in gold, gems and beads is gorgeously well suited with a silk saree, a half saree, lehenga cholis or any other traditional Indian outfits.
You will find a varying array of design elements in this category such as floral designs, embossed deity motifs, peacock design, leaf neck strands, little round jingle beads, heavily carved pendants, maangtikas, haars and dome jhumkis.
In addition to these, there's another form called the coin style silver jewellery, which is in vogue too. For a sensual and playful touch, try adding a silver waist belt or a silver hair pin in your collection.
You Can Read Also: Silver Jewellery: 10 Silver Jewellery Trends That Will Never Go Out Of Style
Silver Jewellery With Pearls
Top quality pearls are mostly paired with either silver or gold. Guess the best thing about having pearls in your wardrobe; that is, they mix up pretty beautifully whether it is a formal occasion or a wedding party. As for the duo of marriage and pearls, nothing could be better. The duo reflects both the Western as well as Indian styles coming together in one piece.
The metallic charm of silver combined with the iridescent appearance of pearls is no less than a reminiscent of the jewellery worn by the historical Nizams and maharajas.
A layered silver necklace dripping with pearls, a multi-strand silver-pearl chain, a pair of silver earrings with pearl danglers, a silver jewellery set comprising of white-silver-golden pearls and pieces alike are choices that last evergreen.
Sterling Silver Jewellery Set With Embossed Rudraksha Beads
For people with inclination towards spirituality, these necklaces
Well suited both for men and women.
SILVER NECK PIECES
Traditional Silver Choker Necklace
A choker necklace is that one style which is enough even if you don it solo with a plain sari. A silver choker necklace is quite an equally ideal choice for a wedding evening, an award function or a grand festive celebration. Unlike a gold choker, a silver choker also goes good with various Western outfits such as gowns and long skirts.
The most popular forms of traditional Indian choker can be spotted with Afghani-style black metal or silver bead tassels, polki or kundan stone designs or silver coin strands layering.
Silver Filigree Medallion Pendants
Filigree is a bold jewellery design carrying origins in the ancient India. Call it Bohemian or call it American. Call it Indian or call it Persian. A filigree style pendant is that piece which is flexible enough to fit in the fashion jewellery of any culture, country or tradition..
In India, you may find women of all ages wearing silver filigree pendants in reception parties, offices and even college. Choose a plain silver chain with an intricate medallion style filigree pendant and complete the look with a pair of studs or matching earrings..
Rajasthani Style Silver Snake Chain Necklace
Since the dawn of 15th century, royal Rajasthanis have been famous for their heavily bead-dripping jewellery. Ever seen a Rajput princess? Anyhow, there is one such Rajasthani style which is as popular as stunning.
That is, a silver snake chain necklace. While offering a bold look, the grisly appearance of a snake chain is a reminiscent of the thick arm bands of the Rajasthani women carrying water pots on their heads.
For accentuating the look, think of a snake chain bracelet or a pair of silver earrings.
Heavy Silver Mangalsutra
A mangalsutra is the traditional Indian neck piece featuring a chain of black metal beads, which acts as a symbol of marital bliss when worn by a woman. While some ladies like to wear it for a period of time post their marriage, others are likely to wear it lifelong. If you too wear it on regular basis, a silver mangalsutra might be an ideal purchase for you.
From chains featuring pure silver to the ones coming in brass-silver or glass pearl beads, there are many fancy designs of mangalsutras available these days. In fact, even if you are likely to wear it on seldom basis, you'll find many designs which you can wear in any occasion or party.
You Can Read Also: Silver Jewellery: Online History Of Silver Jewellery | Indianshelf.in
Antique Style Oxidized Silver Tribal Necklace
Oxidized silver jewellery is one of the top-spot and hottest jewellery trends in the current day. Best, if you want to sprinkle some unique antiqueness in your contemporary looks. The slightly blackish and tarnished appearance of oxidized silver goes well on nearly every skin tone, from fair to dark.
For casual wear, try some chunky necklaces coming with colourful beads. For other special occasions, look for a necklace made in oxidized German silver. And no wonder its size or length, nothing can match the look that an oxidized silver necklace over a fabulous Kanjeevaram saree.
SILVER EARRINGS
Silver Chandelier Jhumka Earrings With Ghungroos
College girls, office going women, ladies in a wedding or an elderly grandma; there wouldn't be a woman of any age who doesn't like to receive a pair of silver jhumkis as her birthday gift.
The bulbous domes with tiny ghungroos beads dangling at the hems is much, much more than just beautiful or fashionable. And call silver, jhumkis couldn't look better than that!
Team up a printed kurti with a pair of silver jhumka and your selfies will thank you later.
Simple Silver Baalis
A form of hoops, a baali is also commonly worn by girls and ladies. Even some men too. Besides, a pair of silver baalis is also a cost-effective jewellery choice for adding something long lasting to your jewellery collection. Wear with a pair of coat-pant, or an Indian dupatta-suit, they offer the look of neatness and wealth.