Are you the one who is dying to party with a friend amid the coronavirus pandemic? If you are social distancing, then that does not mean you cannot party with your friends.
You can be as creative as you can be to make your virtual celebration successful. In this blog, we will discuss some practical and innovative ideas in which you can party while maintaining social distancing.
Coronavirus world widespread has locked every one of us inside our houses and has demanded social distancing. But this current quarantine situation has made each one of us creative in its way so that we can party as we used to do before while maintaining social distance.
Let's get into details with some social distancing party ideas: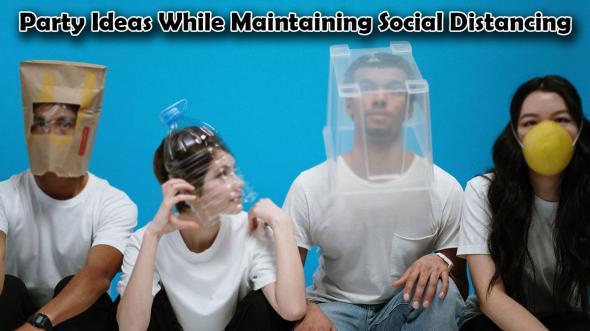 Binge watch and chil

l
Well, this is the best option when it comes to hosting a virtual party with your friends. You can set a day and time and decide your web series you were waiting to watch with your friends.
Set the lights, tone, laptop, phone or TV and connect with your friends at the same time!
Many applications allow you to connect with your friends at the same time so that you can chat while watching your favourite series.
Virtual game hours
One such idea to party with your friends while maintaining social distancing is converting your happy hours to "virtual game hours." Yes, you can plan a game night and enjoy playing together with your friends along with your favourite drink and snacks.
Other than PUBG, there are many Indian games that you can play with your friends together, such as the very famous, LUDO King, Tambola, UNO, Cards and a lot more. Enjoy the night with your favourite games along with some hilarious chats with your friends.
Go live
Going live might sound an absurd idea for the ones who are reserved and hate being in public. But trust me, this live option will boost up your confidence, and you will get to know your friends who are interested in your life!
Forgoing Facebook or Instagram live, do not start talking with your best friend and spend 30 minutes wasting other's time. Set a fixed time and a talk show format so that everyone can be a part of your live session and in this way, you will be connected with all.
Go face to face
Even while staying at homes and staying away from your friends, you can still manage to have a happening virtual party. There are many apps such as Zoom, Facetime, Google Hangout and more so that you can see all of your friends together at the same time.
There are so many creative ideas that you can enjoy with your online friends such as a virtual snack time where you can try your hands-on cooking and make some light slip smacking snacks and enjoy eating with your friends at the same time. Another unique idea can be preparing some handy questions that you might want your friends to reveal or plan some exciting dares.
Happy hours
Prepare your favourite cocktails and ask our friends to do the same. Now go face to face at the same time and start your booze night with your friends while maintaining social distancing. Start with a virtual 'cheer' and discuss the best of your moments spent together.
Go fitness crazy
Partying with your friends while maintaining social distance with cocktails, snacks or gams is not the only option. You can plan a healthy get together where all your fitness freak friends can come together at the same time and start with your daily work out. There are many applications that are now offering fitness classes for free to keep yourself fit at the time of coronavirus pandemic situation.
Send some delicacies
Social distancing has made us realise the importance of small start-ups who want to make it big but are not able to do because of the irreplaceable power of big companies and their cut-throat competition. This is the time when you can help such small start-ups.
You can order some excellent delicacy for your friends such as cakes, cookies or chocolates from your local shops or small bakery and get them delivered at your friends' doorstep. You can enjoy that delicacy time together by having the first crunch at the same time.
Go creative
This idea can be more beneficial if your entire group is artistic. Ask your friends to make or plan something creative which can be a painting, an art, music, song or dance and log in at the same time.
Each one of you then shows your artistic talent. It does not necessarily mean that you and your friends have to be perfect in anything. Just try your hands on something unique and creative and let you and your friends' enjoy and laugh together.
Virtual glam
Just because you are staying in your homes does not mean you cannot get ready! Connect with all your girl gang and set a fixed time to meet virtually and start with your glam look.
Make this virtual glam party more exciting by getting ready according to a theme. This will cheer up your boredom and will keep yourself motivated in this pandemic situation. There can be different theme options such as retro theme; masks make up looks: Colour theme, 90s theme and much more.
Cook together
Almost every other individual is spending time cooking and experimenting new things, so why not you step into your kitchen and make this cooking time a social distancing get together?
List out your favourite recipes which you cannot have outside, gather all your ingredients, connect with your friends and voila you are all ready for a group cooking. Never thought food could be so much fun together!
Virtual concerts
If you are a fan of live concert and missing them the most, you do not have to worry. Many of the famous pop artists are hosting their live performances on Instagram so that you can connect with them and other people and dance and enjoy their music together.