With Christmas just around the corner, the cheer and enthusiasm surrounding this festival have reached a crescendo. Markets are full of enthusiastic shoppers looking for appropriate gifts to exchange. Décor objects are available in multiple varieties. Home decoration activities have begun in earnest. If you are planning to decorate your Christmas tree uniquely and distinctively this year, here we bring you some exciting and easy to use Christmas decoration ideas for your tree that are sure to resonate with your impeccable style. Choose any of these ideas and make your Christmas tree look more festive and attractive this year.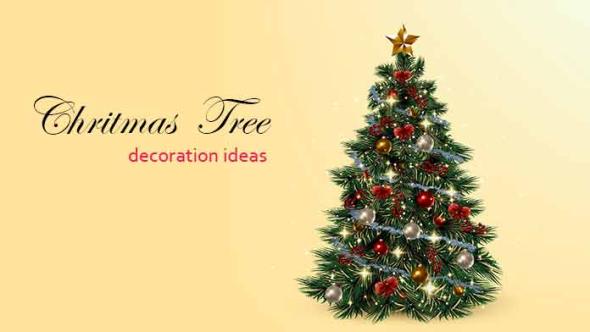 Go, Silver
This year why not go for a silvery look for your Christmas tree. Whether it is a small tree or a towering one, silver décor ornaments will give a very calm and stylish look to the tree. Brighten up your tree with this metallic hue. If you want, you can add a dash of colour to make it look more striking. Choose any colour of your choice and stick to it. Here and there, you can use some ornaments in this colour and make it look livelier and attractive. When you look at your tree once it is ready, it will appear shining and glittering raising the festive spirit of everyone.
Pink Hues
If you wish to experiment a little and go for a truly out of the world Christmas tree décor idea this year, go for pink perfection. Check out this Christmas tree décor idea with a lovely pink-hued monochromatic look. Choose every Christmas ornament, streamers, glitters, and other decorations in this beautiful pink shade. Start decorating your tree, and as it takes shape, you will be mesmerized by its sheer elegance and beauty. It will not only grab the attention of your guests but keep you also hooked to it. You will not be able to resist throwing a glance at it now and then. You can add a bit of gold tone to give a dramatic look to the tree.
Rustic and Vintage Look
Another lovely idea for your Christmas tree decoration for this year is to go for a vintage and rustic look. Choose natural textures and neutral colours that will accentuate the natural verdant shade of the tree. It is going to be the highlight of the decoration with vintage or family Christmas ornaments gracing its branches and adding to its beauty. It will look graceful with its understated style.
Warm and Soothing Tones
If you are having a white Christmas this year with bone-chilling winters, choose warm and soothing tones for your Christmas tree décor that brings a glorious effect to the room. Make your room look a bit warmer by selecting warm colours like red, yellow, golden, etc. It is the perfect way to make a style statement by choosing vibrant and bright colours. Choose some attractive and cool looking Christmas tree hangings that will further add grace to the whole décor idea.
A Whimsical Look
You can also plan to create a warm and whimsical look for your Christmas tree. You need to add a lot of fairy lights to your tree which lights up the tree and makes it look simply glorious. The decorations used on the tree will look softer with the ambient light and make the whole space look comfy, cosy, and warm. Watching this tree will make a person feel like snuggling in a warm blanket while enjoying Christmas festivities.
An Eclectic Blend of Traditional with Modern Décor Style
Suppose you still enjoy decorating your Christmas tree using traditional décor ideas and ornaments but want to add a dash of modernity. In that case, you can strike a balance between the two by choosing ornaments and hanging Christmas ornaments that are a blend of both styles. Look for decorations that are traditional in looks but comes with a modern spin to add a unique look to your Christmas tree.
Go All Out with A Modern Look
You can go all out with a complete and genuinely modern-looking Christmas tree. Instead of getting a green Christmas tree, check out an all-white, feathery soft, and distinctive looking Christmas tree. Decorate it using unique ornaments, hangings, lights, and streamers to make it attractive and inspiring. Choose neon-coloured, vibrant Christmas ornaments that help you create a modern focal point. Your guests are sure to be mesmerized by your cool handiwork.
Copper Hues
Another colour that is so in these days is copper colour. It is a blend of gold with shades of rust which makes it look truly spectacular. Create your own showstopping Christmas tree décor by featuring a rich palette of copper, navy blue, and gold. Fill it with so many ornaments that the tree is barely visible underneath. It will give a rich and opulent look to your Christmas tree.
Ribbony-ribbon
Why not deck up your Christmas tree in an ultimate looking style, replete with satin ribbons? Go for Christmas ornaments and other décor objects to decorate your tree but spread a lot of ribbons all over the tree, giving it a unique look. The hanging ribbons from the tree branches will look genuinely grand and spectacular. Choose stripes in multiple colours or stick to any one colour to create a monochromatic look. Go with your sense of style.
Stick to Traditional Christmas Colors
You can also stick to the traditional Christmas colours, that is, red and white, and add a festive touch to your Christmas tree. Choose Christmas ornaments, streamers, ribbons, décor objects, hangings, and more in these two colours and make it look completely traditional. These colours never fail to create a unique festive feel. You can also use your family Christmas ornaments to decorate your Christmas tree.
Check out these ideas and explore every option in detail. Choose something that is sure going to appeal to your sense of style and decoration skills. This Christmas go all out with your creative talents and décor acumen and decorate your Christmas tree in a truly distinctive style.
Come Christmas, a variety of Christmas baubles and ornaments are in demand. These are used to decorate the Christmas tree and various areas of the home. Some of the most popular Christmas tree ornaments used are lights, tinsel, garland, tree toppers, twinkling stars, fairies, streamers, gnomes, and more. When the home and tree are decorated using them, it adds a festive cheer to the whole place. People get into the festive mood and have a lot of fun decorating their homes for the festival.
Yes, it is possible to recycle some of the Christmas ornaments. Although in many families, there is a tradition of storing the ornaments for next year's use, some ornaments may be recycled. You need to use tough plastic and other materials recycling system. It is extremely easy to recycle paper made ornaments, but ornaments made up of tough materials like glass, plastic, etc., may take more time to recycle. It is always better to use upscaling ideas to make optimal use of used Christmas ornaments and avoid filling landfills with waste materials.
In these modern times, Christmas ornaments and using them for decoration has largely become somewhat commercial, but the use of these ornaments have Germanic beginnings. Its use can be traced back to 16th Century Germany where twinkling stars were created using interesting materials. Later, berries and streamers were also added to the range of ornaments. Today, as the festive season begins, people start making these ornaments at home or buy them from the market. When used to decorate the Christmas tree, it looks as if stars twinkling in the sky above are visible below. It creates a lovely festive ambience. Kids especially love these ornaments and decorating their trees using them.
Ample ways are available using which Christmas ornaments can be decorated. Look for DIY Craft ideas and craft materials that are generally available in homes to decorate these ornaments. Unleash your creativity and make ample use of glitter, glue, sequins, stars, colours, ribbons, and more materials to decorate these ornaments as per your taste and imagination. You can also use things lying unused in homes and give them a lovely twist by using attractive raw materials and craft items. For example, use small plastic balls to create hanging Christmas ornaments. Similarly use shimmering ribbons to hang from the Christmas tree branches. You can also place miniature ferries and Santa on the tree to make it look more attractive.
People usually use Christmas ornaments that are between 3-4 inches in size for residential purposes. If the Christmas tree is huge, you can go for Christmas ornaments size that is more than 3-4 inches in size. Thus, a lot depends on the size of the tree. Companies selling these ornaments have a Christmas ornament size calculator using which it is easier and convenient to find the perfect size for the ornaments. When a suitable size is chosen to decorate the tree, it looks good and interesting. Check out an amazing array of Christmas tree ornaments available in amazing styles, designs, colors, and patterns that shall add a lovely look to the tree.
Christmas Ornaments are made using a variety of high-quality raw materials. These ornaments can be hand-made or man-made. The basic material used is glass which is predominantly used in slender tubes in different sizes or gauges or bulk form for ribbon machine manufacturers. The glass material is moulded to form different shapes and ornaments. An artisan blows glass into a specific mould that helps them to create detailed objects. After the glass is suitably cooled and removed from the mould, the next process of silvering begins, and beautiful and attractive Christmas ornaments are created. The size and style of these ornaments may differ. Choose something that best suits your interest and choice.