Diwali Decor Ideas | Last Minute Diwali Décor Ideas That Will Make Your Home Look Gorgeous
With Diwali just around the corner, homes are gearing up to get ready to begin the festivities. If you have not yet started, you have a lot of work cut out for you. If you are one of those who wait for the last moment to start with the Diwali Decoration, this article is just for you. Here, we bring you some of the best last-minute Diwali decoration ideas that will dress up your home to welcome the festival with open arms and that too, without spending a lot of time and efforts on the same.
These ideas are especially curated for you to brighten up your home this festival season. These are simple to use ideas that do not require a lot of time, money, or efforts but the result is astounding. You will not believe your eyes when you see your home with a transformed look. So, what are you waiting for? Go for these ideas and get ready for the festival days to begin.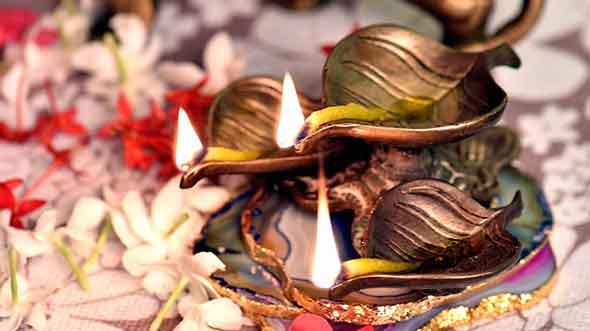 Brighten Up your Home
There are several ways using which you can brighten up your home. One of the ways that you can use is a variety of diyas and lamps.
Illuminating them will fill your home with a golden glow and make it look stunning. Even simple décor objects would look appealing bathed in the warm glow of these diyas. Here are a few diya and lamp options that you can use.
Brass Diyas
Brass is a lovely metal that is perfect for ethnic ambiance. Choose high-quality and designer brass diyas that when lighted envelop every corner of the home in its soft, warm hues. Fill it with oil and cotton wicks and light them up at the dusk time.
Oil Lamps
A variety of oil lamps are available in the market. Choose something that is classy and attractive in looks and goes well with the feel of this festival. Place these lamps in your verendah or temple or living room. Lighting them up will make your home look beautifully illuminated in warm glow of light.
Gajalakshmi Vilakku Oil Lamp
If you wish to add a traditional and religious touch to your Diwali celebrations, look for the Gajalakshmi Vilakku Oil Lamp. It is a traditional lamp from the state of Kerala. It is commonly used in South Indian temples by the priests when conducting artis.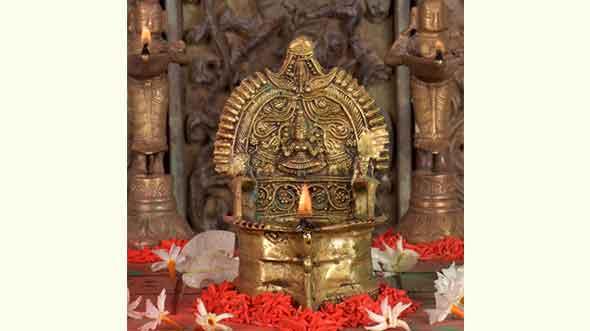 You can place them in your pooja room or living room. Goddess Lakshmi, the Goddess of Wealth flanked by elephants makes its look very beautiful. Fill oil in the lamp and light the wicks when starting the Diwali prayers.
There are many other lamp options available like Mayur South Indian Oil Lamp, Kamatchi Vilakku Oil Lamp, Thooku Vilakku, and Nilavilakku Oil Lamp. All these lamps are the best choice if looking for traditional lamps with religious and cultural significance.
Colourful and Vibrant Furnishings
Another way to add a dash of colour to your home is by choosing vibrantly coloured furnishings. Change your curtains, cushion covers, and replace them with multi-coloured or bright coloured options. It will immediately brighten up your living room.
Choose colours like red, magenta, blue, green, and orange. All these colours are bright and have a festive feel to it. Check out table mats, runners, and bedsheets in classy material like velvet and raw silk.
Floral Ensembles
You can put up cut-glass vases here and there in your home and fill them with brightly coloured flowers. These cut flowers will continue making your home look beautiful and attractive for several days while spread its heady fragrance all over.
This fragrance mixed with the warmth of the lighted lamps will create an amazing heady ambiance. Your guests are sure going to appreciate your sense of style and décor.
It is a fine example of how even some simple touches here and there can bring an amazing change to your home and get it ready for the festival.
You can also choose metallic vases for your lovely floral ensembles. Here are a few ways using which you can use the simplicity of flowers to make your home look grand and beautiful.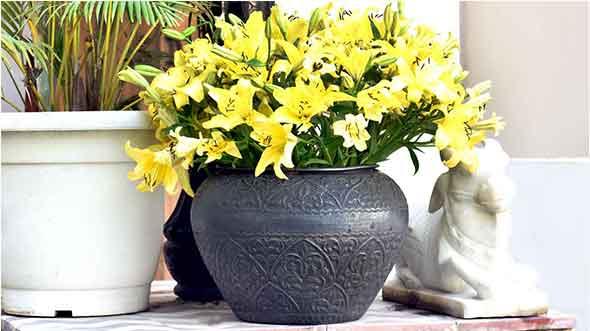 A Coffee Table Vignette
Decorate your coffee table by using some commonly found Indian accents like statues, bowls, bells, trinket boxes, spoons, etc., and arrange them nicely. Add flowers along with lovely diyas or tea lights to add brightness to this ensemble. It is sure going to become the centre of attraction for the guests.
Marigold Flowers Hangings
Marigold flowers are known for their bright colours and it is usually used for religious and auspicious ceremonies. Use these flowers to make long floral hangings and decorate your walls, gates, prayer area and more. This flower is also used to make elaborate floral rangolis.
Make it close to the walls or at the entrance or anywhere you have enough space. It will add a lot of colour to the area and make the place pop up with lovely hues. You can also float them in ceramic or brass urlis with a diya or lamp in the centre.
Entrance Diwali Décor Ideas
As per Hindu Mythology, Goddess Lakshmi or the Goddess of Wealth visits households that are decked with lights. So, pay attention to your entrance door and make it look beautiful and attractive so that you can welcome the divine deity to your home and never let her go.
Hang strings of flowers along with Ashoka leaves from the entrance door. Make a rangoli right outside the entrance door using colours or flowers. Place a lot of diyas along the entry way so that it is well-illuminated and look beautiful. Place brass statues here and there to add grandeur to this area.
Fairy Lights
Another option that works well for your Diwali Décor is fairy lights that can illuminate every corner of your outdoors. Wrap them around tree trunks, shrubs, plants, hang them from the tress or create a lighted canopy. As soon as these lights are lighted up, it is going to bathe your entire entryway and outdoors in soft, warm lights welcoming the guests. You can also place tea lights here and there ir hang hanging lights in votives.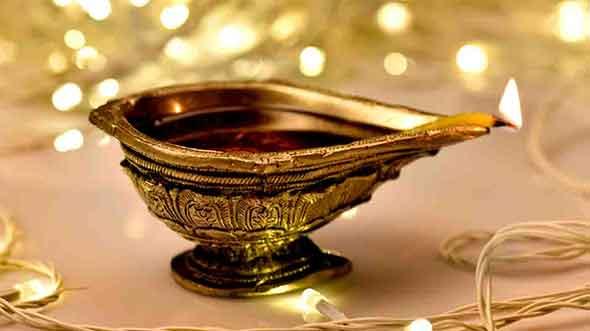 All these are some of the best diwali decoration ideas online. Choose any of them and get your home Diwali-ready.