Gangaur is one of the major festivals celebrated in Rajasthan with a lot of pomp and show. The festival is celebrated to honour Goddess Parvati or Gauri.
This festival is celebrated by married and unmarried women across all ages. In Jaipur, Rajasthan, a lavish procession of Goddess Gauri is taken out from the City Palace amidst a lot of excitement.
The festival of Gangaur is celebrated to seek divine blessings for a good soulmate and marital bliss. The festival starts right after Holi and culminates on the 16th day.
On the last day, the statues of Goddess Parvati or Gauri and Lord Shiva or Isarji is decked in beautiful, new clothes and ornaments.
Mehendi is applied on their hands and women pray to the deities for a happy and fulfilling married life. In Rajasthan, most of the Hindu households have statues of Gaur and Isarji in their homes. Today, Gauri head statues are kept in homes as a décor accessory and also to ensure a divine presence in the home.
1. Story of Gangaur
There is a beautiful story behind the celebrations of Ganugaur festival. One day, Goddess Gauri and Lord Shiva went out with Naradji.
They reached a village while out for a walk. It was a very auspicious Chaitra Tritiya day. As soon as the women of the village heard about their arrival, they started cooking delectable dishes so that they can entertain their guests with a lavish spread. While engaged in cooking, it got delayed.
In the meantime, women of normal families came to visit them with a plate of prayer with turmeric and rice. They sought blessing from the Goddess Parvati for eternal marital bliss.
The Goddess blessed them, and the women returned with the promise of getting marital blessings. Later, when women of higher castes came with delicious dishes to seek divine blessings, Goddess Parvati gave them the blessings of marital bliss by cutting her small finger and sprinkling them with blood drops.
After blessing the women of higher caste, Goddess decided to take a bath and started praying the statue of Lord Shiva made up of sand.
She also served the statue with delicious food and then circumambulated the statue to seek blessings. All this delayed her a lot and Lord Shiva asked her why she took so long.
Goddess Gauri lied that she met her family members and talking to them and eating with them delayed her. Lord Shiva being a God realized that his wife is lying to him.
He asked her what you ate with your family members. Goddess names a lot of tasty dishes. Hearing this Lord Shiva also started towards the river to enjoy these dishes.
Now, Goddess found herself in a predicament. She asked for forgiveness. Lord Shiva did not stop there and reached the river side.
Goddess Parvati was just behind him. There she saw a huge palace with her family members present. They stayed there for two days.
After returning from the palace, Lord Shiva told Gauri ji that he had forgotten his prayer beads in her home and asked Naradji to get it back.
Narad ji went to the riverside and there he was amazed to see no place or her family members. The prayer beads of the Lord were hanging on a tree branch.
Naradji came back and told everything to Lord Shiva. He smiled and told Narad ji about amazing powers of the Goddess and it happened because of her sat.
Thus, this day is celebrated to commemorate eternal marital bliss of Goddess Parvati ji with other women also seeking blessings from her.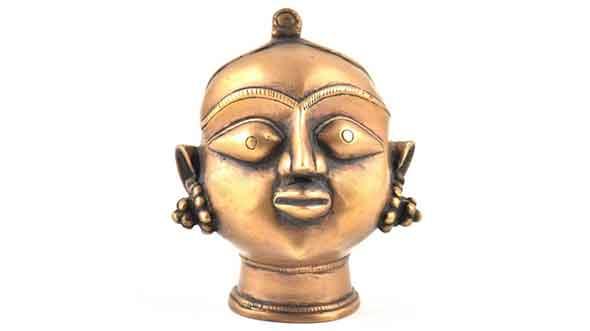 2. Significance of Gangaur Festival
This festival is also celebrated to mark cutting of harvest and onset of Spring season. It is for these reasons that the festival is also popularly celebrated among the farmers.
The festival celebrations are a colourful affair. Women get decked up in beautiful dresses and ornaments and keep a day long fast. They decorate the statues of Gauri and Isarji for the prayers. On this day, a procession of Goddess Gangaur is also taken out in Lake Pichhola in boats.
All over Rajasthan, women pray for the long life of their husbands and a happy and content married life. Unmarried girls and women pray on this day to seek a good husband.
3. Gangaur Gauri Head in Homes
Just like placing Lord Ganesha's statues in the home, the trend of keeping these statues in homes has gained a lot of popularity these days. Let us see how we can use them to augment the beauty of our homes.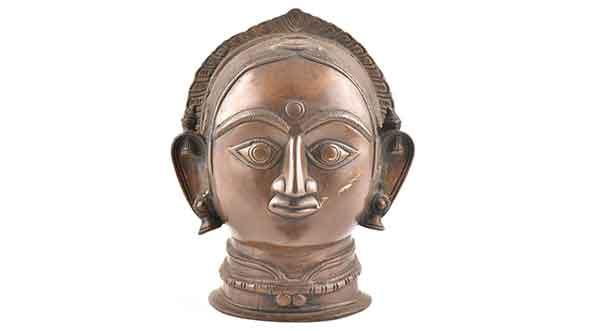 4. Place Gangaur Gauri Head Statue on a Console Table
Every living room has a console table where people usually place decorative objects to create a focal point in the room. Place two lamps on either side of the statue. Lights when on will make the statue come aglow with its vibrant colours and ornament details looking lovelier than ever.
5. Corner Table With Wooden Details
If you are choosing a Gauri head statue in brass, place it on an intricately carved wooden table to enhance its look. This combination will give a good ethnic touch to your lovely abode. Place a lovingly adorned Gauri statue on the table. It is sure to catch a lot of glimpses of guests coming to your home.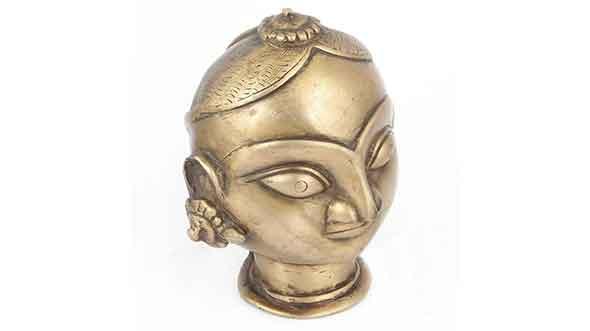 6. In Your Prayer Room
You can also place the head statue of Goddess Gauri in your temple or prayer room. You will find immense peace and serenity washing over you whenever you look at the statue. The presence of sati Gauri in the prayer room is sure to bring you a lot of blessings and good luck in your life.
There is no dearth of online and offline stores where you can find an amazing array of beautiful Gauri head statues available in different sizes. You can bring them home either for prayer or décor purposes. The presence of these statues is also an embodiment of the rich culture of our country.