Diwali, the festival of lights is one of the most prominent and major Hindu festivals celebrated in India and all over the world with a lot of joy and happiness. Preparations for this festival begins early and people start decorating their homes to get ready to welcome this festival. As per mythology, the festival is celebrated as a mark of victory of good over evil. This day is celebrated to mark the return of Lord Rama along with his consort Sita and brother Lakshmana after completing 14 years of exile. Every house gets ready to join in the festivities. It is a five-day long festival with a lot of prayers and poojas to the divine deities.
This Diwali get your home and place of work ready for this important festival by using the latest Diwali Decoration Ideas. From beautiful rangolis to well-lit lamps, flower decorations to incredible craft ideas, there is so much to try and use for Diwali Decoration. Here, we bring you some amazing ideas that are sure going to help make these places deck up for the festivities ahead.
Illuminate your home and office with amazing Diyas
Light up a variety of diyas and lamps on this day to illuminate your home and office in the soft glow of light. There is no dearth of options available in diyas. Choose anything from earthen diyas to beautiful lamps. Here are some interesting ideas.
Brass Diyas
Brass is one of the most famous and popularly used metals. Buy brass diyas available in interesting designs and patterns. Some are available with single wick, some with double, and many with multiple wicks. Choose something that looks lovely and add grace to the place it has been kept. Once the brass diya is lit, the whole surroundings get bathed in soft, warm light creating a lovely ambiance.
Oil Lamps
Check out the interesting range of oil lamps available in multiple designs and patterns. If you wish to use them in your temple or place of prayer, choose a design accordingly. If you are looking for oil lamps to light up your living areas or outdoors, you will find a lot of exciting options available that would add elegance to the place.
Gajalakshmi Vilakku Oil Lamp
The Gajalakshmi Vilakku Oil Lamp is the traditional oil lamp from the God's Own Country, that is, Kerala. In this lamp, Goddess Lakshmi is placed in the centre sitting on the fully bloomed Lotus and flanked by two elephants. It is a very intricate looking lamp that looks very grand and elegant when lighted up. On Diwali, we pray to Goddess Lakshmi, the Goddess of Wealth for her blessings. Lighting up this lamp is just a way to invoke Gods and request their presence for the prayers.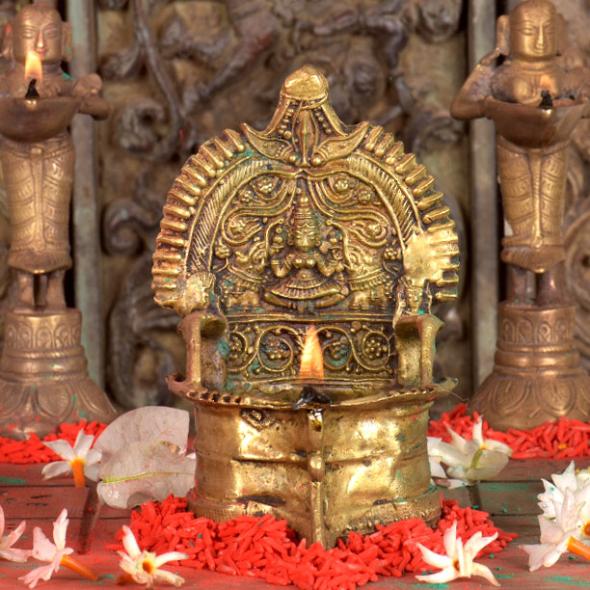 Kamatchi Vilakku Oil Lamp
It is another traditional lamp that can be lit up during Diwali prayers to invoke the God Almighty. The Kamatchi Vilakku Oil Lamp is a lovely looking lamp with Goddess Lakshmi at the back and a beautiful lamp in the front. In many temples, this lamp is used by the priests when performing arti. It has a solid base and is carved intricately.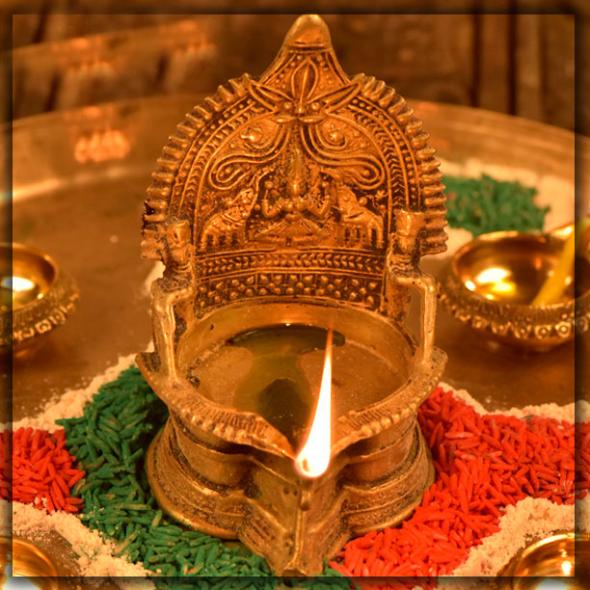 Mayur South Indian Oil Lamp
It is a tall lamp and is a South Indian traditional lamp predominantly used in temples. On the top, it has a peacock, hence the name Mayur South Indian Oil Lamp given. It is usually 5-faced or has place for placing 5 wicks. It can be less or more too depending on the size of the lamp. It is usually placed in home prayer room. It looks lovely when lighted up.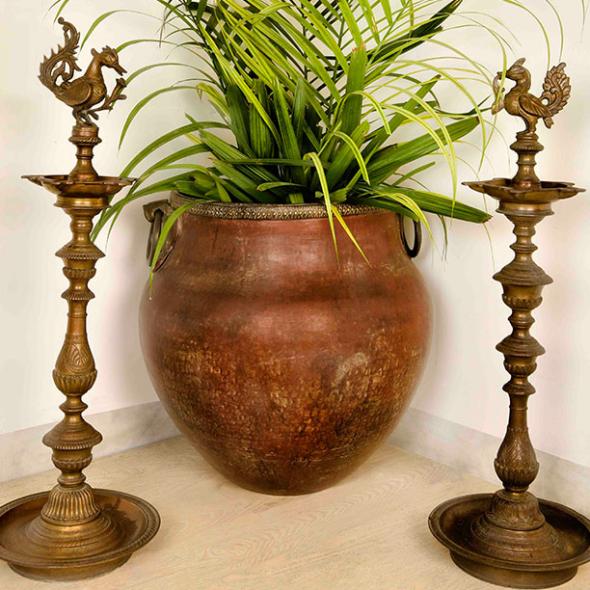 Nilavilakku Oil Lamp
It is a beautiful lamp from Kerala. It has place to pour oil and light up wicks in two or more levels or steps. Made up of brass, it is a traditional lamp that is lighted up during special occasions. It is perfect for Diwali Decoration. The Nilavilakku oil lamp is very prominent in Hindu households in Kerala and Tamil Nadu.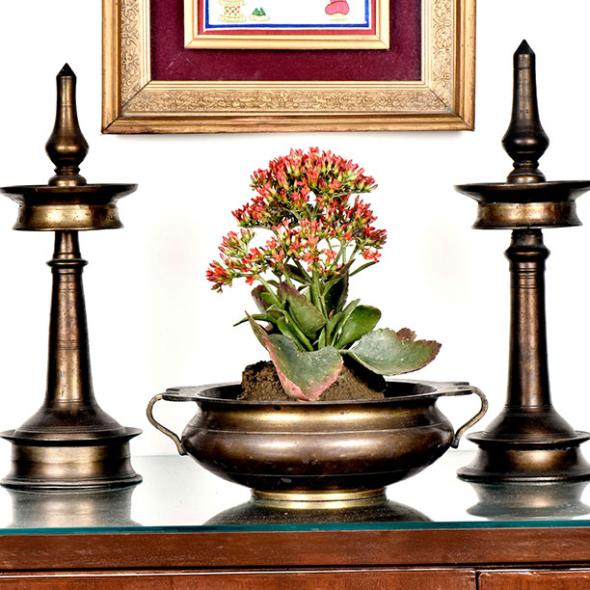 Thooku Vilakku
It is a hanging lamp from the state of Kerala. Made up of brass, this lamp is not only used in Pooja room but also as a home décor option. Thooku Vilakku is found in many South Indian households and can be found used when praying the deities in the morning and evening prayers.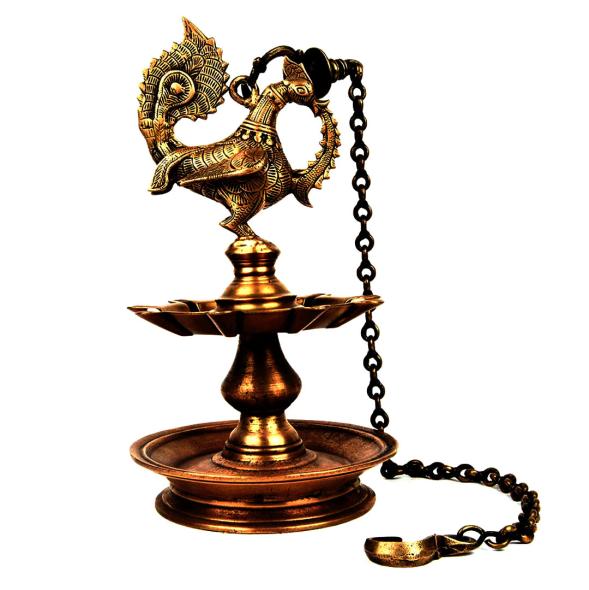 Although all these are traditional lamps, these can also be lighted up during Diwali. It makes the room glow with muted light and fill it with warm and comfort, a perfect way to decorate your home and office for Diwali. Besides illuminating your home using these Diwali decoration ideas, you can use many other ideas to make your home look dressed up for Diwali.
You Can Read Also:-
1 - Top 10 Diwali Decoration Ideas
2 - Best 20 Diwali Decoration Ideas
3 - Stunning 20 Ideas to Decorate Your Office This Diwali
Colourful Rangoli
Making Rangoli at the entrance of the home is one of the age-old customs that we are following since ages. Rangoli can be made using vibrant colours or flowers in different colours. Depending on your choice, you can create a beautiful rangoli.
Lovely Kandeels for Diwali Décor
You can hang lovely Kandeels in multiple colours to make the room look more vibrant and beautiful. It is an art and craft activity and even kids can make kandeels at home.
Tea Lights and Fairy Lights
Since Diwali is the festival of lights, why not hand lovely tea lights from the ceiling and create a beautifully illuminated look. At the same time, deck up your plants, pillars, and shrubs with colourful fairy lights. As the sun sets at the horizon, light up these lights and admire the transforming look it brings. Adorn your walls with lovely lights and get ready to welcome joy, happiness, good fortune, and wealth to your home and office.
There is no dearth of some of the best Diwali Decoration Ideas Online. Choose from among these options and dress up your home. Guests, friends, and relatives dropping in at your home for exchanging Diwali wishes are sure going to be mesmerized and impressed by your efforts.