Best 20 Diwali Decoration Ideas
Diwali is by far the most awaited festival of the year. It is the festival of lights, sweets and beautiful decoration.
When it comes to decorating the house for Diwali, multiple ideas come to our minds and ultimately there is a plethora of confusion all around. But in this blog we will read some of the best Diwali decoration ideas you can experiment with and easily implement it in your household.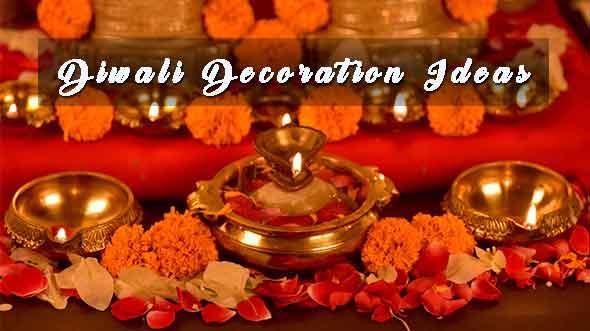 Diwali is that time of the year where the entire house is either white washed or cleaned, not leaving even a single corner behind.
It calls for filling the house with colours, lights, candles, oil lamps, crafts and much more. We will discuss all of these in this blog. So without further words, let's get with some amazing ideas further:
1. Diwali decoration with rangoli
I pretty much believe that we must be on the same page if I say that Diwali is incomplete without rangoli. Rangoli making is a fun filled activity which does not require any expertise.
A spacious place and creativeness is all what you need.
There are a huge variety of rangoli ideas that you can implement in your home.
2. Rangoli from colours
This the very basic rangoli making idea. You can use different props such as ear buds, strainer or bangles to create some amazing ideas. Try adding maximum of colours while making rangoli to make it look vibrant.
3. Rangoli with flowers For Diwali Decoration
Diwali is market if filled with great rangoli designs. Other great idea to make rangoli is from flowers. Flower rangoli are environment friendly, unique and look beautiful once completed.
4. Rangoli with stickers Diwali Decoration Ideas
You just need to stick them where you want your rangoli to be placed. It is the easiest of all and requires only a few minutes.
5. Diwali decoration Ideas with Diyas and candles
Decorating the house on Diwali with diyas and candles is by far the most common yet most beautiful way of celebration. You literally cannot think of Diwali without diyas and candles around the house.
We can nowadays see a huge variety of scented diyas and candles available in offline as well as online market. These scented objects are a great fragrance infuser for the entire house and are lit when kept in rooms.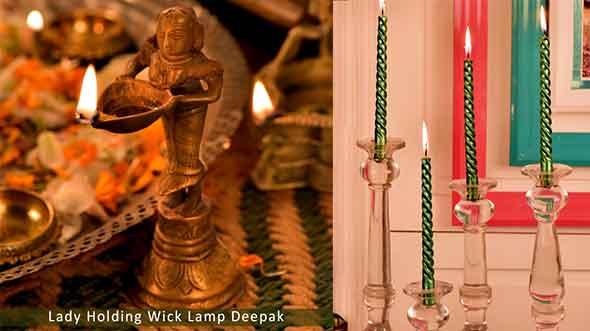 6. Diwali decoration with flowers
Flowers are always a treat for the home décor enthusiasts. They not only look beautiful but also add positivity to the entire room. Their aura of tranquillity in the entire ambience is breath-taking.
There are a huge variety of flowers that you can use for decoration. Marigold flowers look lovely when hanged at the gates or staircase railings. Similarly, you can use red and white roses for Pooja is mostly done in the evening.
7. Diwali decoration ideas with lanterns
Lanterns are a perfect combination of handmade art with creativity and neatness. The best part is they are very easy to make. You just need woollen yarn, glue, balloon and some water.
Add some amount of water in a bowl filled with glue. Dip the woollen yarn in the bowl and keep it aside for some time. Now, wrap the entire yarn neatly around the floated balloon and let it dry for few hours. Once completely dried, burst the balloon and carefully pull it out.
Fill the lantern with a variety of bulbs of string lights and hang then wherever you want to.
8. Diwali decoration Ideas with lampshades
Lampshades are an evergreen element for light even without any festive season. They light up the entire room with peaceful aura all around. What if we can make lampshades of our own and then use them for Diwali decoration?
Handmade lampshades are easy to make, you just need a cardboard paper, some nice design and a compass to for perforation. Wrap the cardboard around and stick the edges with glue. Put any sort pf bulb you want to.
9. Diwali decoration with mason jars
Mason jars have been the trendiest DIYs nowadays. These plastic or glass jars are great when it comes to lighting up the entire house. You can place a variety of electric lights, glitters or any creative objects in the jars and enjoy the illuminating effect they make.
10. Diwali decoration with paper cups
Paper cups is by far the easiest way for Diwali decoration. Make small cuts in a crisscross form at the base of the cup. Fix strings lights from the bottom and hang the entire string of the cup anywhere you wish to.
11. Diwali decoration with Toran
Handmade torans or market available ones are a great ideas for Diwali decorations.
You can create a hell lot of artefacts with handmade torans and hang them anywhere you wish to. Apart from the handmade items, there are a huge variety of beautiful colourful torans available in the market.
12. Diwali decoration with bells
There is no rule that bells can only be used for Christmas. Think of an amazing masterpiece of a hanging made with a mix and match pattern of bells and marigolds. Won't they look breath-taking!
You can go for any colour or pattern of bell you like.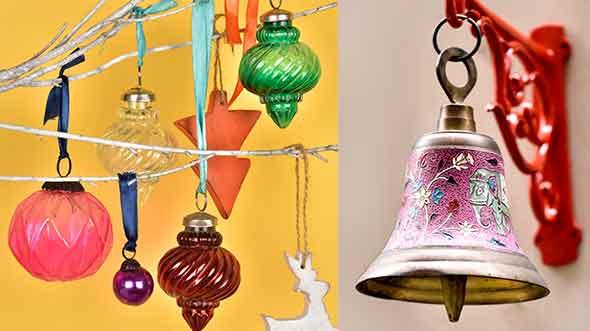 13. Diwali decoration with handmade diyas
Diyas are a great obsession when it comes to Diwali decoration. Since childhood, diya decoration has been the most loved activity during Diwali time.
You can add a handful of creativity to make your favourite diyas and paint them the way you like.
14. Diwali decoration with fairy lights
Fairy lights look decent when it comes to Diwali decoration. They are your true saviours when you lack time and have nothing to do for Diwali decoration. They can be laced anywhere in the house, whether in your Pooja room or simply hanged outside your gate.
15. Diwali decoration with candles
Candles have been our childhood friend when it comes to Diwali decoration idea. I remember one of the favourite things of mine for Diwali was nicely placing the candles at the boundary of my gate. With time there have been amazing upgradation when it comes to candle decoration.
There are a huge designs and sizes of candles available. Apart from this, you can also place the simple white candles in glass jars or small glass containers and use them as floating candles.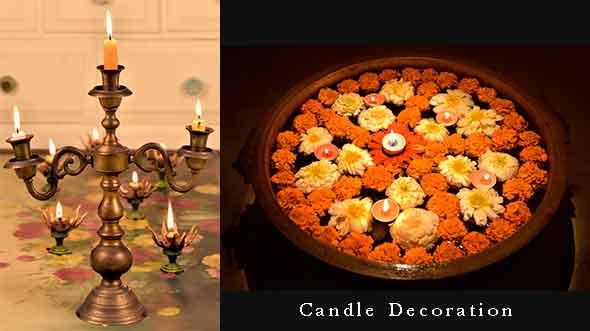 16. Diwali decoration with pistachio tray
This is a unique DIY which looks beautiful when placed at the centre table of your dining area. You need a circular cardboard cut-out for the base, good quantity of pistachio peels and glue.
With neatness and accurate precision, stick the pistachio peels in circular flower like structure by leaving some space in the centre. You can now place and handmade or colourful diya or tea light candle in the centre.
17. Diwali decoration with DIY fruit candles
I have seen many videos on social media as how people use fruit peels as mini lampshades. I never thought this could actually work! All you need is a hard fruit peel such as of orange or lemon.
Cut the fruit peels in different shapes and remove all the eating part from the peel. Let it dry for a day and then place tea light candles inside them. You can also paint them in different colours.
18. Diwali decoration with winding lights on plants
Diwali decoration is incomplete without lights. When you have a big garden area in front of your house or a spacious balcony with lots of plants, then how can you leave them unattended in the festival of lights?
String can be placed, hanged or attached anywhere. This time we are using them wind them around plants and trees in your garden and balcony.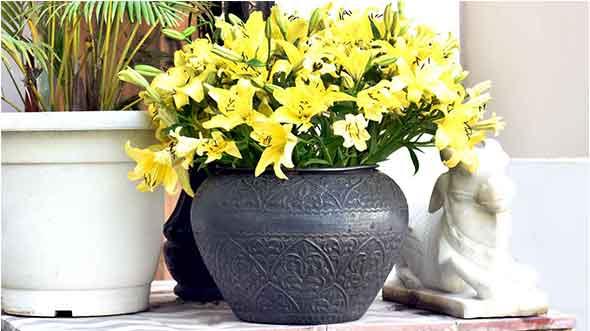 19. Diwali decoration with box lights
Box lights Diwali decoration is similar to the paper cups lighting idea. All you need is to make cute little origami boxes and make a criss cross cut at one base. Now insert white or yellow string lights inside these mini lampshades.
20. Diwali decoration with chandeliers
Last but not the least, chandeliers add an ultimate charm to the entire house. You can make chandeliers of your own. Find any suitable big size object such hula hoops or any wooden log. Wrap the string light around them and hang the beautiful chandelier anywhere you like.